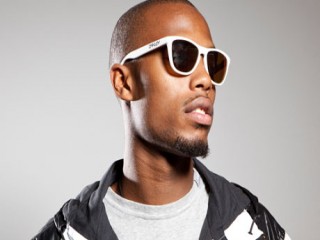 B.o.B (rapper)
Date of birth : 1988-11-15
Date of death : -
Birthplace : Winston-Salem, North Carolina, United States
Nationality : American
Category : Arts and Entertainment
Last modified : 2011-06-23
Bobby Ray Simmons, Jr. better known by his stage name B.o.B, is an American rapper, singer-songwriter and record producer. He is currently signed under the labels of Grand Hustle Records, Rebel Rock Entertainment, and Atlantic Records. His debut single "Nothin' on You" reached number one in both the United States and the United Kingdom. "Airplanes", B.o.B's second single, emulated this success, peaking at number one and number two in the U.K. and the U.S., respectively.


In spite of the plethora of rap artists who emerged from Atlanta during the late 2000s, B.o.B -- who was only 17 when he signed his first major-label record deal -- was still unique. His borderline eccentricity and artistic mind, belied by his music's conventional Dirty South appeal, raised his stock above his Southern comparisons and welcomed comparisons to OutKast, specifically that group's offbeat half, André 3000. B.o.B also chose his partners wisely, scoring a handful of Top 40 singles during 2010 by collaborating with vocalists like Rivers Cuomo, Hayley Williams, and Bruno Mars. Although he grew up on the east side of Atlanta in Decatur, Bobby Ray Simmons was born in North Carolina on November 15, 1988. Making music became an early hobby, and he played trumpet and other instruments throughout grade school. By the time he was in high school, he'd already secured management and had formed a production duo called the Klinic.

At age 15, he even successfully sold a beat of his own to Slip-N-Slide recording artist Citty. When his partner left for college, though, B.o.B decided to launch a solo career and subsequently recorded a hazy, spoken word-like ode to marijuana named "Cloud 9." In 2006, B.o.B's manager helped sneak him into Club Crucial (owned by Atlanta rap star T.I.), and the teenaged MC wowed the audience with his self-produced song. Industry veteran TJ Chapman was part of that crowd and agreed to co-manage B.o.B, a partnership that only one month later led to B.o.B's signing with Atlantic and subsidiary imprint Rebel Rock, run by Florida producer Jim Jonsin. His first single for Atlantic, Haterz Everywhere (2007), showed lots of promise, reaching the Top Five of Billboard's Bubbling Under R&B/Hip-Hop singles chart. Before long, publications like XXL, Spin, and MTV took notice of the Atlanta rapper, running "Artist to Watch" features and tagging him as the next Atlanta rap artist to blow up nationally.

B.o.B's second single, "Grip Your Body," guested by British soul siren Amy Winehouse, also fared well. B.o.B's official breakthrough came in 2010, though, when he topped the charts with "Nothin' on You" and reached number two with "Airplanes", the latter song featuring special guest Hayley Williams of Paramore. Both songs appeared on the full-length The Adventures of Bobby Ray, released that same year.

His third single, "Magic," became B.o.B's third consecutive top ten hit on the Billboard Hot 100. B.o.B was named the ninth Hottest MC in the Game of 2010 by MTV.

On March 22, 2011 Electronic Arts released the Launch Trailer for the upcoming first-person-shooter Crysis 2 with a featured song by B.o.B. entitled "New York New York" containing the main piano chorus from the song "Theme from New York, New York" commonly sung by Frank Sinatra; the song's featured artist, who sung the chorus (similar to the original's), is unconfirmed.

On March 25, a song titled "No Future" was leaked. The song was dissing Tyler, the Creator.

View the full website biography of B.o.B (rapper).