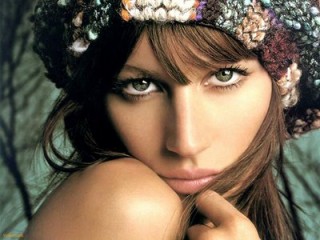 Bündchen Gisele
Date of birth : 1980-07-20
Date of death : -
Birthplace : Horizontina, Rio Grande do Sul, Brazil
Nationality : Brazilian
Category : Arts and Entertainment
Last modified : 2010-06-06
Gisele Caroline Bündchen (born July 20, 1980) is a Brazilian model and occasional film actress. According to Forbes, she is the highest-paid model in the world and also the sixteenth richest woman in the entertainment world, with an estimated $150 million fortune. Bündchen also acts as a goodwill ambassador for the United Nations Environment Programme.

HEIGHT: 5′10″
MEASUREMENTS: 34-24-34 (on her comp card) 36-24-35 (according to Cosmo, March 2000).
HAIR: Brown
EYES: Blue
BORN: 1980 in Horizontina, Brazil.

At age 14 while eating a Big Mac with fellow classmates on a school trip. She later entered the Elite model competition and came fourth.
AGENCY: New York-Elite
INCOME: $5 million US in 1999 and $8 million in 2000. In 2000, for runway shows, Gisele commanded between $7,000. and $15,000. (paid by Tommy Hilfiger to make two turns on his catwalk) per hour. In 2003, the gorgeous Brazilian made $10 million. Gisele has a contract with Victoria's Secret that will make her $30 million between 2004 and 2008. Her current runway rate is $50,000-a-time – putting her at No.76 in the list of the world's biggest earners.

Has appeared on most of the major magazines covers in the past year. Models in ads for Ralph Lauren, Celine, Christian Dior, Michael Kors, Zara, Dolce & Gabbana, Bulgari, etc.

KNOWN FOR: Being the biggest, newest supermodel. Nicknamed "The Body".
HOME: She lives in Los Angeles with Leonardo DiCaprio, has a loft in Manhattan's celeb-studded TriBeCa neighbourhood and a country house near Woodstock, NY.
TATTOOS: A star on the inside of her left wrist. She got it after her first night in New York, when she couldn't find a star in the sky to help her pray.

SWEETIE: In late 1999 to early 2000 Gisele split with long-term love, model Scott Barnhill, for fellow countryman (and multi-billionaire) Joao Paulo Diniz. She has since moved on and has been dating Leonardo DiCaprio for several years. She has said that she will not marry Leo until he stops partying and going to strip clubs so often.

OTHER: Gisele has five sisters: Raquel, Graziela, Gabriela, Patricia (twin) and Rafaela. Gisele was awarded 'Model of the Year' by VHI and Vogue. Gisele is quoted as saying "You know, I'm a normal person is a business that's not so normal." She has a belly-button ring and breast implants.

As an occasional actress, she had supporting roles in Taxi (2004) and The Devil Wears Prada (2006).

From 2000 to 2005, Bündchen was in a much-publicized relationship with American actor Leonardo DiCaprio.She married New England Patriots quarterback Tom Brady in 2009.

In 2006, Gisele Bundchen became the dream girl for geeky eyes everywhere when she inked a deal with Steve Jobs and the gang at Apple Inc. to be the face of the Get a Mac advertising campaign. She would add to her bank account as the centerpiece of the "Gisele Plays with Vogue" eyewear campaign and by renewing her Victoria's Secret deal for a whopping $25 million. Gisele and the lingerie superstars would part ways a year later, but she would continue to expand her horizons through her new sandal line, Ipanema Gisele Bundchen, which became the hottest-selling Brazilian-made sandals on the planet. With that, Forbes christened Gisele as the world's richest annual model, a title she would not soon be giving up.

As the fashion industry and the world economy came to grips with the early days of the economic downturn in 2008, Gisele Bundchen continued to her reign as the richest model in the business.

As she celebrated her marriage to Tom Brady and the birth of their son, and continued pondering her next big industry move, she continued to give back as the Goodwill Ambassador for the United Nations Environment Program and through a $1.5 million donation to the Haiti Earthquake relief efforts in 2010. Bundchen also donated $1 million to the earthquake fund set up by the Japanese Red Cross Sociry in March of 2011, after Japan was hit by the most powerful earthquake ever to go on record as striking Japan.

View the full website biography of Bündchen Gisele.