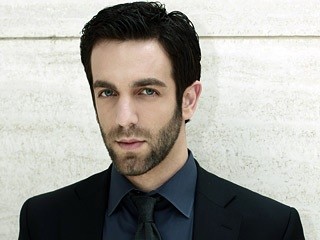 B.J. Novak
Date of birth : 1979-08-31
Date of death : -
Birthplace : Newton, Massachusetts, U.S.
Nationality : American
Category : Arts and Entertainment
Last modified : 2011-06-23
B. J. Novak is an American actor, stand-up comedian, screenwriter, and director. He is best known for being a writer and co-executive producer for and playing the role of Ryan Howard on the US version of The Office. He is also known to international audiences for appearing in the Quentin Tarantino film Inglourious Basterds.

Born Benjamin Joseph Manaly Novak on July 31, 1979 in Newton, MA, Novak was the eldest of four children. His father was the editor of 1981's The Big Book of Jewish Humor, regarded by many comics to be the definitive tome on the history of Judaic comedy. Novak attended Newton High School with childhood friend and later co-star, John Krasinski. After high school, Novak enrolled at prestigious Harvard University, where he majored in Spanish and English Literature.

In 1999, Novak became one of the youngest editors ever in the history of The Harvard Lampoon, considered by many in Hollywood to be America's foremost training ground for tomorrow's sitcom writers and producers. Joining such distinguished alumni as George Plimpton, Fred Gwynne, John Updike, Conan O'Brien, and countless writers and producers for "The Simpsons" (Fox, 1990- ), "Futurama" (Fox, 1999-2003), "Saturday Night Live"(NBC, 1975- ), "Late Night with David Letterman" (NBC, 1982-1993) and "Seinfeld" (NBC, 1990-98), Novak's future was set in stone by his sophomore year. Graduating summa cum laude from Harvard in 2001, Novak's senior thesis on Shakespeare's Hamlet won him an all-expense paid trip to the U.K. to lecture at London's Globe Theater – all by the age of 21.

Soon after, Novak moved to Los Angeles where he began working as a comedian and comedy writer. Thanks to his exceptional connections, Novak landed his first professional gig as a writer for the short-lived sitcom, "Raising Dad" (WB, 2001) starring Bob Saget. Though critically praised, the show failed to find a sizeable audience and was canceled after just 22 episodes.

At the same time, Novak kicked off his stand-up career. His first live gig was in October of 2001 at the Hollywood Youth Hostel. As one might imagine, the country's sense of humor was at a collective low point just one month after the 9/11 terrorism attack. Undeterred, Novak kept at it and took a couple of months off to refine his material. Starting fresh in 2002, Novak honed his comedic chops by working crowds on open mike nights at coffee houses and bars all across Southern California.

Novak's hard work eventually paid off. By the summer of 2002, Novak had become a crowd favorite and had earned himself a solid reputation as a "nice comic" in the mold of a Jerry Seinfeld. Within months, Novak found himself a fixture at such popular L.A. comedy clubs as the Improv, The Laugh Factory, and even Hollywood's elite M Bar. That same year, Novak's career got its biggest boost yet when he was named by Variety as one of the "Top 10 Comedians to Watch in 2003."

During one of his summer time performances, Novak came to the attention of an MTV producer who brought him in to meet actor and rising producer Ashton Kutcher. Impressed by Novak's quick wit and poker-faced delivery, Kutcher hired Novak on the spot as a performer on his hit celebrity prankster series "Punk'd" (MTV, 2003- ). Novak participated in many sketches, but his most memorable performance hands down was a segment in which he nearly drove actress Hilary Duff to tears as an overzealous driving instructor.

In 2005, Novak was hired to perform both writing and performing duties for the Americanized version of the landmark British sitcom, "The Office." Novak's role was that of Ryan Howard, the reluctant protégé of boss from hell Michael Scott (Steve Carrell). An intelligent, level-headed young temp, Ryan is the sole employee of Dunder-Mifflin who appears to have any semblance whatsoever of office politics.

In May 2006, Novak drew the ire of his higher-ups by making the following comment during the opening days of the critical 2006-07 season "upfronts:" "I may be the highest paid temp on TV, except for [embattled NBC Entertainment President] Kevin Reilly." Though reportedly less than amused, Reilly gave no public rebuttal to the quip.

View the full website biography of B.J. Novak.