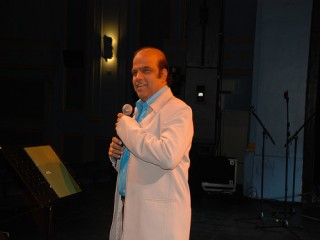 B. H. Abdul Hameed
Date of birth : -
Date of death : -
Birthplace : Tamil Nadu, India
Nationality : Sri Lankan
Category : Arts and Entertainment
Last modified : 2011-07-07

B. H. Abdul Hameed was a very popular Sri Lankan Tamil radio broadcaster of Radio Ceylon - the oldest radio station in South Asia. Abdul Hameed hosts many Tamil cultural events around the world.

He joined a band of announcers who enjoyed iconic status across South Asia. Millions of listeners tuned into the radio station once known as Radio Ceylon. One of the most papular Tamil radio

Hameed also made a special appearance in the 2001 Tamil Indian film Thenali directed by K. S. Ravikumar. Now he is usually chosen as master of ceremony for many international-Tamil events, especially in Canada and Europe. He currently hosts the game show Rasigan aired on Kalaignar TV.

He occasionally works on other Tamil television channels across the world, such as Sun TV, Raj TV, TVI and Tamil One.

View the full website biography of B. H. Abdul Hameed.