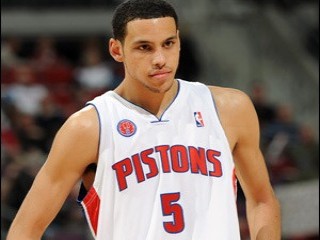 Austin Daye
Date of birth : 1988-06-05
Date of death : -
Birthplace : Irvine, California, U.S.
Nationality : American
Category : Sports
Last modified : 2011-05-02

Austin Daye is an American professional basketball player from Irvine, California. He was drafted 15th overall in the 2009 NBA Draft by the Detroit Pistons of the National Basketball Association (NBA). Daye follows in the footsteps of his father, Darren Daye, who played five seasons in the NBA.

During Daye's senior year at Woodbridge High School he averaged 30.9 points, 12.4 rebounds and 5.4 blocks per game. He played college basketball at Gonzaga University.

CAREER:

Selected by Detroit in the first round (#15 overall) of the 2009 NBA Draft.

In 69 career NBA games has compiled averages of 5.1 points on .464 shooting (137-295 FG) with 2.5 rebounds and 0.5 assists in 13.3 minutes per game.

2009-10 (Detroit):
Appeared in 69 games (four starts), averaging 5.1 points (.464 FG, .305 3FG, .821 FT), 2.5 rebounds and 0.5 assists in 13.3 minutes per game…In four starts, averaged 13.5 points, 7.3 rebounds and 1.3 assists in 34.8 minutes per game…Scored 10-plus points 11 times, grabbed 10-plus rebounds once and led the team in rebounding three times…Recorded a career-high 16 points at New York (1/18)…Recorded career highs in rebounds (10), blocks (3) and minutes (44) vs. Atlanta (4/7) en route to his first career double-double…Teamed with Jonas Jerebko to become the first rookie duo to start a game for Detroit since Lindsey Hunter and Allan Houston started at Philadelphia 4/24/94…All four of his starts were with Jerebko…Played 20-plus minutes in 16 games – averaging 8.6 points, 4.8 rebounds and 1.0 assists in 25.2 minutes per game…Grabbed five-plus rebounds 15 times…Dished out a career-high three assists vs. Philadelphia (1/9)…Recorded a career-high three steals at Boston (3/15)…Missed the first regular season game of his rookie season at Memphis with an NBA suspension (10/28)…DNPCD 12 times.

COLLEGE:

2008-09 (Sophomore): Averaged 12.7 points (.477 FG, .429 3FG), 6.8 rebounds and 2.06 blocks in 34 games (33 starts)…Finished the season with 70 blocks, the third-best single-season mark in program history…Scored 10 points in each of Gonzaga's three NCAA Tournament games… Scored a career-high 28 points (10-13 FG, 3-4 3FG) against Santa Clara…Had back-to-back double-doubles against Pepperdine and Loyola Marymount…Opened the season with a double-double (15 points/12 rebounds) against Maryland.

PERSONAL:

Full name is Austin Darren Daye…His father, Darren Daye, was drafted in the 10th round of the 1983 NBA Draft and played five seasons in the NBA with Washington, Chicago and Boston…Active in the Detroit community, he made appearances during the Pistons 2009 Community Relations Kick-Off Event where the club teamed with Samaritan's Feet to distribute over 1,500 pairs of shoes to needy youngsters in Detroit as well as holiday food distribution events with Feed The Children during Thanksgiving and Christmas holiday seasons…Also teamed with Jonas Jerebko and DaJuan Summers for a special ticket section called ""he Rooks" in which deserving youngsters in the Detroit Metro area could come and enjoy NBA basketball first hand at all home games…A natural in front of the camera, he hosts the popular "Daye Walking" trivia segments which are shown to Palace fans during timeout breaks on Palacevision…The segment was created as a spin-off on the popular Jay Leno segment called "Jay Walking" on The Tonight Show.

View the full website biography of Austin Daye.