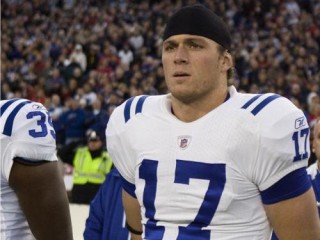 Austin Collie
Date of birth : 1985-11-11
Date of death : -
Birthplace : El Dorado Hills, California
Nationality : American
Category : Sports
Last modified : 2010-12-20
Austin Collie is a American football wide receiver of Canadian descent for the Indianapolis Colts of the National Football League (NFL).

CAREER

2010: Appeared in eight games, starting five at WR…was inactive vs. Houston 11/1, vs. Cincinnati 11/14, vs. San Diego 11/28, vs. Dallas 12/5 and at Tennessee 12/9…was 11-163, 1 TD receiving at Houston 9/12…73t reception was career-long…was 4-25, 1 TD receiving as reserve vs. NY Giants 9/19…was 12-171, 2 TDs receiving at Denver 9/26…receptions and receiving yards were both career-highs…became fifth player in club history to record TD reception in first three games of season…was 5-39, 1 TD receiving at Jacksonville 10/3…became third player in club history to record TD reception in first four games of season...was 5-48 receiving vs. Kansas City 10/10…was 7-57, 1 TD receiving at Washington 10/17…was 1-(-1) receiving in start at Philadelphia 11/7…was 5-60 receiving at New England 11/21.

2009: Opened five of 16 games at WR as rookie…starts came at Arizona 9/27, vs. Houston 11/8, vs. Tennessee 12/6 and in final two games…was 60-676, 7 TDs receiving, 2-1 rushing and 1-8 KOR…led all NFL rookies in receiving TDs (7) and tied for most receptions (60)…finished with 4th-most catches by rookie in franchise history (65, Bill Brooks, 1986; 64, Marvin Harrison, 1996; 62, Edgerrin James, 1999), 5th-most receiving yards by rookie in franchise history (1,131, Brooks, 1986; 836, Harrison, 1996; 820, Andre Rison, 1989; 726, John Mackey, 1963) and seven receiving TDs marked T3rd-most among rookies in franchise history (8, Brooks, 1986; 8, Harrison, 1996; 7, Mackey, 1963)…was 6-65, 1 TD receiving vs. Seattle 10/4…21t reception with :03 left in first half was first of career…was 8-97, 2 TDs receiving at Tennessee 10/11…receptions, yards and 39t reception all marked career-highs…was 4-36, 1 TD receiving at St. Louis 10/25…was third consecutive game with TD…was 4-18, 1 TD receiving vs. Tennessee and 3-39, 1 TD receiving vs. Denver 12/13…was 3-27, 1 TD receiving and 1-2 rushing at Jacksonville 12/17...was third consecutive outing with TD reception…was 6-94 receiving vs. NYJ 12/27. POST-SEASON: Started one of three games at WR and was 17-241, 2 TDs receiving…started at WR vs. Baltimore 1/16 in Divisional Playoffs and was 4-52, 1 TD receiving…was 7-123, 1 TD as reserve WR vs. NYJ 1/24 in AFC Championship Game…set club rookie post-season record with 123 receiving yards…123 receiving yards was 10th-most overall and 13th 100+-yard game in franchise history…had 105 receiving yards in second quarter…marked 4th time in franchise post-season history that team had two 100+ receivers in same game (151, Pierre Garcon)…was 6-66 receiving as reserve WR vs. New Orleans 2/7 in Super Bowl XLIV.

HONORS
2009: PFW/PFWA and The Sporting News NFL All-Rookie Team.

COLLEGE

Three-year letterman who started 27 of 37 career games…served on church mission in Buenos Aires, Argentina in 2005 and 2006…was 215-3,255, 30 TDs receiving, 49-26.1 KOR avg. and had 106 rushing yards and 11 PR yards for 4,649 all-purpose yards…had 17 100+-yard receiving games…set school career marks in receptions, yardage, TD receptions and 100+-yard games…30 TD receptions set Mountain West Conference record, while he ranks 6th in career receptions, 4th in reception yards and 4th in all-purpose yards…started 10 of 13 games as junior…was 106-1,538, 15 TDs receiving, 10-77 rushing and 18-27.5 KOR…was First-Team All-America choice by Associated Press and CBS Sports, while earning Second-Team honors from The Sporting News and Sports Illustrated…was First-Team All-MWC selection and Academic All-MWC…led nation in receiving yards and ranked 3rd in receptions and 4th in TD receptions…15 TD receptions tied school record and set conference record…seasonal reception total set school mark and ranks 3rd in conference history, while reception yardage total set school record and ranks 2nd in conference history…tied NCAA record with 11 consecutive 100+-yard games, while streak set conference and school record… had 7+ receptions in 11 of 13 games and twice had streaks of three consecutive games with multiple-TD catches…was 10-110, 2 TDs vs. UCLA, 8-122, 2 TDs vs. Wyoming and 8-132, 2 TDs at Utah State…was 9-156, 3 TDs at Colorado State, 9-127, 2 TDs vs. San Diego State and 7-130, 2 TDs at Air Force…started seven of 13 games as sophomore…was 56-946, 7 TDs receiving and 28-25.8 KOR…was Second-Team All-MWC selection and was Academic All-MWC…also was honorable mention all-conference as KOR…had six 100+-yard games…had 366 all-purpose yards vs. Tulsa, setting single-game school record…started 10 of 11 games as freshman in 2004…was 53-771, 8 TDs receiving, 6-19 rushing and 3-19.7 KOR…receiving yards and touchdown receptions set freshman school records…was Second-Team All-America pick by The Sporting News…was named Mountain West Conference Freshman-of-the-Year…majored in communications.

PERSONAL

Full name is Austin Kirk Collie…born in El Dorado Hills, Calif.…attended Oak Ridge High School…earned Prep Star and Super Prep All-American honors…was Sacramento Bee's Most Valuable Player and voted Northern California's Most Valuable Player…was First-Team all-section and all-state choice and was nominee for California Mr. Football Award…was 60-978, 18 TDs receiving as senior…also added six more touchdowns and had 1,654 all-purpose yards…was 56-857, 10 TDs receiving as junior on offense…had 53 tackles and two interceptions on defense…graduated with 4.0 GPA…father, Scott, played football at BYU from 1979-82 and in CFL with Hamilton Tigercats…brother, Zac, played receiver for BYU…Collie and his wife, Brooke, reside in El Dorado Hills, Calif.

View the full website biography of Austin Collie.