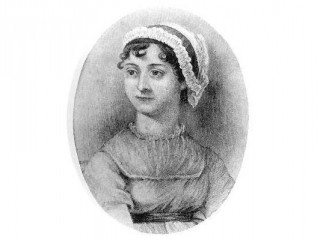 Austen Jane
Date of birth : 1775-12-16
Date of death : 1817-07-18
Birthplace : Steventon, Hampshire, England
Nationality : British
Category : Arts and Entertainment
Last modified : 2010-05-21
Jane Austen (16 December 1775 – 18 July 1817) was an English novelist whose works of romantic fiction set among the gentry have earned her a place as one of the most widely read and most beloved writers in English literature. Amongst scholars and critics, Austen's realism and biting social commentary have cemented her historical importance as a writer.


Although not extremely popular or wealthy during her short life, Jane Austen captured the romance in her works that embodied the literary Romance Movement of her time. Not only has she been credited with developing complex characterization, she created novels that mirrored women's position in society of the time – where marriage was seen as a woman's only salvation.
Remaining unwed and relying on her parents for most of her life, Jane had two brothers who became clergymen and two others who joined the British Naval Forces. Her sister Cassandra, named after their mother, was a helpful assistant to her sister Jane's novel ideas. The two would discuss the characters, their roles, their lives, and in turn make them seem as 'real' to them as they do to readers of her novels. Austen's only educational background came from a relative and a brief attendance at the Reading Ladies Boarding School.
Although Austen led a calm and comfortable life, her dislike for the Bath area was reflected in the characters of her novels in which the protagonist lives in Bath and cannot stand her situation. When her father died, Austen, her sister and mother all moved to Southampton and finally to Chawton, where they all lived in a small cottage. Throughout her different living situations, Austen continued to write her novels. And, even though they were published anonymously at that time, some stated her works, and especially her character sketches were brilliant, equivalent to that of any of Shakespeare's multifarious creations.
Most of Jane Austen's novels, the most popular being Sense and Sensibility, Pride and Prejudice, Mansfield Park, Emma all are love stories about the inner, complex emotions of women of the day. Her novels also lend themselves to themes of tragic fate from overzealous planning of one's own destiny. Her novels also touch upon a society forcing women to search for security as they received no inheritance according to early English law. And, even though Austen passed away at the early age 41, her novels remain an intricate part of any academic study program of English Literature. And, many of her novels have become successful movies.
The first film adaptation was the 1940
MGM production
of
Pride and Prejudice
starring
Laurence Olivier and Greer Garson
. BBC television dramatisations, which were first produced in the 1970s, attempted to adhere meticulously to Austen's plots, characterisations, and settings. Starting with Emma Thompson's film of Sense and Sensibility and the BBC's immensely popular
TV mini-series Pride and Prejudice
, a great wave of Austen adaptations began to appear around 1995.
Books and scripts that use the general storyline of Austen's novels but change or otherwise modernise the story also became popular at the end of the twentieth century. For example,
Clueless (1995)
, Amy Heckerling's updated version of
Emma
, which takes place in Beverly Hills, became a cultural phenomenon and spawned its own television series.
Jane Austen's work has stood the test of time because of her elegant, graceful prose that depict English middleclass life so beautifully. Her writing contains elements of humor and wit, while her female characters, like Emma, are often strong-willed and articulate. For these reasons, Austen's novels are not only excellent examples of 19th century English women's fiction, but also examples of historical fiction (with possible autobiographical elements), and early feminist writing before feminism was even named as a movement.
View the full website biography of Austen Jane.