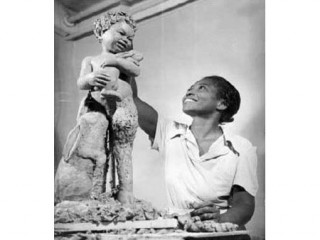 Augusta Savage
Date of birth : 1892-02-29
Date of death : 1962-03-26
Birthplace : Green Cove Springs, Florida
Nationality : American
Category : Famous Figures
Last modified : 2010-12-28
Augusta Savage (1892-1962) was a renowned sculptor and teacher who also fought for the civil rights of African Americans.
Despite a lifetime spent combatting the effects of racism and sexism, Augusta Savage's accomplishments were many. She was a talented sculptor, an admired teacher, and a fighter for the rights of African Americans. Her circumstances were never easy, though she was afforded financial help and artistic encouragement from several sources. In addition to her achievements in sculpture, she contributed to the history of art in America by helping to launch the careers of a number of other artists during the 1930s and 1940s.
The topsoil in the area where Augusta Christine Fells (later Savage) grew up in Florida was made of red clay, and the major industry there was brick making. It was in her own backyard that Savage learned to model with clay. Her family was very poor. She and her 13 brothers and sisters had no toys. But Savage found that she could amuse herself and others by making clay ducks, pigs, and other animals. She loved working the clay so much that she sometimes missed school to visit the town's clay pit. Savage's father was a minister, a deeply religious and very strict man. He did not approve of his daughter making images of "God's creatures" out of clay.
When Savage was about 15, her family moved to West Palm Beach, Florida. Their life improved greatly there. The principal of Savage's new school discovered her modeling talents and offered her a dollar a day to teach clay modeling classes. During this time Savage married John T. Moore and the couple had a daughter, born in 1908. Moore died a few years later. Savage continued to live with her parents. She was married again around 1915, to James Savage, a carpenter. They were divorced in 1921.
During this period Savage attended a state teacher's school (now Florida A & M University) for one year in Tallahassee, Florida. To earn money she convinced the superintendent of the local county fair, George Currie, to let her set up a booth to sell her animal sculptures. Fair officials at first objected to a black woman having her own booth, but they finally agreed. Savage's animals were very popular and she made about $150, more money than she'd ever had. Fair officials also awarded her a $25 prize for the most original exhibit.
Currie believed that Savage had a lot of talent. He encouraged her to go to New York and gave her a letter of introduction to a sculptor he knew in the city. Savage arrived in New York in 1921 with less than five dollars. But Currie's friend arranged for her to take art classes at a tuition-free school called the Cooper Union. She landed a job as an apartment caretaker to cover living expenses. Three months later, though, she lost her job and soon found herself penniless. Recognizing her talent, the Cooper Union Advisory Board voted to supply funds to meet Savage's living expenses. This was the first time the school sponsored a student.
In New York Savage became interested in African art and spent a lot of time at the public library reading and doing research. She befriended the librarian there. When the librarian found out about Savage's dire financial straits, she arranged for the library to hire Savage to sculpt a bust of the famous African American thinker and writer W. E. B. Du Bois. This was Savage's first commission; several others followed, including one of another black leader, Marcus Garvey. These works earned Savage considerable recognition among the important figures of the Harlem Renaissance. Harlem was the predominantly African American neighborhood of New York. During the 1920s and 1930s this community was experiencing a particularly active and exciting period of creativity in the arts.
In 1923 Savage's career received a setback when she encountered a fierce incident of racial prejudice. The French government was offering scholarships to 100 American women to study at a summer art school in Paris. Savage applied for the $500 scholarship and gathered pledges from friends and acquaintances to pay for her travel and other expenses. Her application was returned when the committee learned she was of African descent. Savage was disappointed and outraged. She decided to fight the rejection and gathered many prominent people behind her. Her cause garnered considerable publicity. In an article in the New York World, Savage explained that she was not raising a fuss just for herself. "Other and better colored students might wish to apply sometime… . I don't like to see them establish a precedent." Still, Savage felt personally stung. "My brother was good enough to be … [in a] regiment that saw service in France during the war, but it seems his sister is not good enough to be a guest of the country for which he fought… . How am I to compete with other American artists if I am not to be given the same opportunity?"
This experience inspired Savage to become active in the political and social issues concerning African Americans. Eventually, some factions of the art world began to consider her a "troublemaker"; a few historians have even surmised that she was purposely excluded from exhibits and galleries because of the flap over the scholarship. But through the efforts of W. E. B. Du Bois, Savage was awarded a scholarship in 1925 to study in Italy. She desperately longed to go, knowing that European study would refine her sculpting techniques. But the little money she was earning working in a laundry was needed to feed her family, who had left Florida to join her in New York. This time she was not able to raise money from those who had supported her in the past.
In the meantime, Savage continued to develop her style. She produced many small clay figures of people around the city. One became especially popular and is considered among her best works. It is the head of a boy, with his hat turned at a jaunty angle and a streetwise expression on his face. Savage called this piece Gamin. When it was featured on the cover of a magazine, it caught the eye of the head of the National Urban League. He asked the Julius Rosenwald Fund, a philanthropic organization established by the founder of the department store Sears Roebuck, to award Savage a scholarship. The grant afforded her enough money to cover living and travel expenses for two years. When her scholarship awards were announced, other groups raised money for her as well, including African American women's groups and teachers at her former school, Florida A & M. They understood the discrimination she had suffered at the hands of the French scholarship board and wished to support her.
Savage's dream to study in Europe finally came true. In 1930 and 1931 she studied sculpture in Paris and traveled throughout the Continent. Her works were shown in numerous exhibitions and won awards from two. Moreover, an African figure she designed was selected to adorn a medal for an important French exposition. Savage continued sculpting on her return to New York in 1931. The Great Depression was making life very hard then, especially for African Americans. Nonetheless, the early 1930s were a very busy time for Savage; they found her creating portraits of many prominent African Americans, including abolitionist Frederick Douglass, poet James Weldon Johnson, composer W. C. Handy, and others. It was also during this period that she founded the Savage Studio of Arts and Crafts in Harlem, where she taught many classes, several for children. This studio became the focus of her career in the 1930s. She encountered many talented young people in Harlem and was instrumental in starting their careers. Her students described Savage as a very inspirational teacher, while also acknowledging that she could be very stern and demanding. Jacob Lawrence, Gwendolyn Knight, and Norman Lewis are just three who benefited from Savage's help and encouragement.
As the 1930s continued, Savage spent less and less time on her own artworks and more on teaching and community activities. In 1937 she was appointed the first director of the Harlem Community Art Center, where she organized classes in art, education, and recreation. She also became an important figure in the government-sponsored programs of the Works Progress Administration, which were designed to help artists financially during the Depression. In 1939 Savage opened the Salon of Contemporary Negro Art, a gallery specializing in the art of African Americans. Despite her growing prominence in the community, it closed after a few years.
The last major commission Savage received came when she was one of four women, and the only African American, asked to create sculptures for the 1939 New York World's Fair. She took as inspiration a line from a song known as the "Negro National Anthem." Called Lift Every Voice and Sing, the huge sculpture bore the shape of a harp, each string a figure of a child with his or her mouth open in song. The piece became one of the most popular attractions at the fair. Nonetheless, the plaster cast displayed there was never rendered in stone or metal. It was destroyed after the event. This was the fate of many of Savage's works as her meager funds rarely enabled her to permanently cast them. Only a few of her many creations survive.
Around 1940 Savage moved to a farm in upstate New York; she cut all ties to friends and the art world. She produced few works, preferring to spend her hours laboring on the farm or teaching an occasional art class for local children. Perhaps the years of financial and artistic struggle, much of it the result of racism, exhausted her. When her health declined in the early 1960s, she returned to New York to live with her daughter. She died there in 1962.
At an exhibition of African American art in 1967, the largest ever held up to that time, Savage's spirit could be detected. Many of the artworks were by her former students. According to collage artist Romare Bearden, the work that "attracted the most attention, the most favorable comments, was Gamin… created by Augusta Savage." Though often thwarted in her own artistic desires, her refusal to bow to the racism she encountered and her commitment to the black community, as well as the beauty of her sculpture, have remained an inspiration to artists of all colors.
View the full website biography of Augusta Savage.