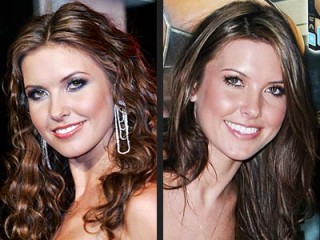 Audrina Patridge
Date of birth : 1985-05-09
Date of death : -
Birthplace : Los Angeles, California, U.S.
Nationality : American
Category : Arts and Entertainment
Last modified : 2010-05-04
Audrina Cathleen Patridge (born May 9, 1985) is an American television personality and actress, known as one of the original primary cast members on the MTV reality show The Hills. Patridge will be appearing as the lead in her own reality series The Audrina Show which premieres in 2010. Audrina is the host of The Talent Contest Network, YOBI.tv, as well. She has also appeared in Sorority Row and Into The Blue 2.

Reality TV

After moving to Los Angeles, she was hired for a job at Quixote Studios as a receptionist. In 2006, Laguna Beach stars Lauren Conrad and Heidi Montag moved into her building to shoot their MTV show The Hills. Audrina became friends with both girls and joined the cast of the series. In the 2nd-5th Hills seasons, Audrina had been working for Epic Records. On May 28, 2009, she confirmed during an interview on On Air with Ryan Seacrest that she was leaving The Hills to star in her own reality-based program documenting her life outside the Hills. Her final episode of the series aired on December 1, 2009, but surprisingly, she signed on for the sixth season of The Hills while her new show, The Audrina Show, produced by Mark Burnett, set to air on MTV in mid 2010, was put on hold due to The Hills.

TV and Film Appearances

Patridge launched her Hollywood career appearing on the reality show The Hills and then landed a minor role in Into the Blue 2: The Reef. The movie was released straight to DVD on April 21, 2009. Patridge has appeared in the TV series Mad TV and Do Not Disturb.

In August 2008, she was cast as Megan in Sorority Row; production was carried out from October 2008 to early 2009, and the film was released on September 11, 2009.

Patridge appeared in seven Carl's Jr. commercials during 2009. She also has a small minor role/cameo in the 2010 comedy/drama Young Americans. She has denied rumors that she will play the part based on her friend Lauren Conrad in the film LA Candy based on the book by Conrad. If she signs to the role, this will be her first lead role.

Family and personal life

Patridge grew up in Yorba Linda, California. In August 2008, she purchased a house in Los Angeles' Hollywood Dell neighborhood. On February 22, 2009, Patridge's home was robbed by two unmasked thieves.

In March 2008, nude pictures of Patridge were published online. "They were taken when I was just out of high school and beginning to model", Patridge has explained. "I was naïve, overly trusting of people, and inexperienced".

Patridge alongside Heidi Montag are mentioned in the 2010 UK number-one single "Pass Out" by Tinie Tempah.
View the full website biography of Audrina Patridge.