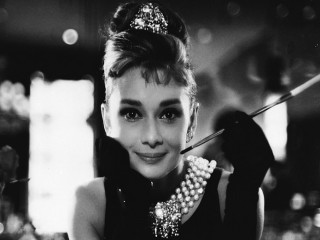 Audrey Hepburn
Date of birth : 1929-05-04
Date of death : 1993-01-20
Birthplace : Ixelles, Belgium
Nationality : Belgian
Category : Arts and Entertainment
Last modified : 2010-04-26
Born in Ixelles, Belgium as Audrey Kathleen Ruston, Hepburn spent her childhood chiefly in the Netherlands, including German-occupied Arnhem, Netherlands, during the Second World War. She studied ballet in Arnhem and then moved to London in 1948, where she continued to train in ballet and worked as a photographer's model. She appeared in a handful of European films before starring in the 1951 Broadway play Gigi. Hepburn played the lead female role in Roman Holiday (1953), winning an Academy Award, a Golden Globe and a BAFTA for her performance. She also won a Tony Award for her performance in Ondine (1954).


Although greatly affected during the occupation of Belgium during World War II, Audrey Hepburn would rise to fame, first in London as a ballet dancer and actress before debuting on the stages of New York City. It was in her first national performance in Gigi that she would win a Theatre World Award and have a lasting effect on audiences across the globe.
 When she was younger, Audrey went to private schools and studied English. After her father left the family, she would not see him again for years until the Red Cross located him in Dublin. As the Nazis occupied her homeland, she suffered and often starved. Her mother was forced to work in labor camps until allied forces liberated the Dutch.
Hepburn started her career in the nightclub scene where she would earn enough money to take care of her mother, whom she didn't want to work after the wartime trauma. She then began a small career as a fashion model, where she succeeded due to her beauty, tall figure, and thinness. She then worked her way up as a professional ballet dancer, but was rejected on several occasions, not because of her talent, which was said to be extraordinary, but because of her height; she was taller than most of the male ballet dancers of the time. However, the always-optimistic Audrey set her mind on becoming an actress.
After her quick rise to fame in London and her performance in Gigi, she quickly transcended the stage to star beside Gregory Peck in the film Roman Holiday. Critics adored the film and her acting ability, which earned her an Academy Award for Best Actress in 1953. And, after winning a Tony Award for best actress in Ondine, her star status across acting genres was solidified for the rest of her career.
Audrey Hepburn came onto the acting scene in the shadow of Marylyn Monroe, Elizabeth Taylor and Julie Andrews. But, in her 1961 film, Breakfast at Tiffany's, Hepburn's fame skyrocketed into what became an instant blockbuster. Her role in the 1964 movie My Fair Lady also aided her in becoming an American acting icon. Audrey Hepburn worked with UNICEF throughout her career since they had helped her and her family after the German Occupation. In the biography of Audrey Hepburn, entitled Enchanted: The Life of Audrey Hepburn, Soto reveals even more about her life before her acting career took off.
View the full website biography of Audrey Hepburn.