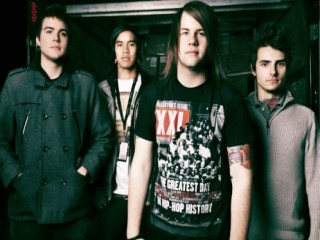 Attack Attack!
Date of birth : -
Date of death : -
Birthplace : Westerville, Ohio
Nationality : American
Category : Arts and Entertainment
Last modified : 2012-06-25
Attack Attack! is an American metalcore band from Westerville, Ohio, formed in 2005. Attack Attack!'s first release, an independent EP titled If Guns Are Outlawed, Can We Use Swords?, was released in 2008, which led to the signing of the band to Rise Records the same year. They then released their two full-length albums, Someday Came Suddenly and a self-titled album (Attack Attack!) both through Rise. A third album entitled This Means War was released on January 17, 2012, also through Rise. The band is currently unsigned.

Attack Attack! was founded during 2005 by members Austin Carlile, Ricky Lortz, Andrew Whiting, Nick White, and Andrew Wetzel. Several months later, Ricky Lortz announced his departure and was soon replaced by Johnny Franck as the new vocalist/rhythm guitarist at the time.

Later, Nick White also announced his departure from the group and John Holgado was added on bass and in 2008, Caleb Shomo joined the band on keyboard. In early 2008, they self-released their debut EP titled If Guns Are Outlawed, Can We Use Swords?. Later they signed to Rise Records in June 2008 and released their debut album, Someday Came Suddenly, on the label late that year. Upon the release of Someday Came Suddenly, it peaked at number 25 on the Billboard Independent Albums chart and number 193 on the Billboard 200, with sales of more than 3,600 in its first week despite its mediocre to overwhelmingly negative reviews.


Attack Attack! have been known to perform the metalcore and post-hardcore genres combined with electronica influences. This combination usually features distinct traits into Attack Attack!'s music which include (but are not limited to) techno-influenced breakdowns and keyboard solos.

Albums:

2008: Someday Came Suddenly
2010: Attack Attack!
2012: This Means War

View the full website biography of Attack Attack!.