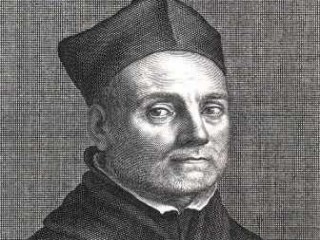 Athanasius Kircher
Date of birth : 1601-05-02
Date of death : 1680-11-28
Birthplace : Giesa, Thuringia, Germany
Nationality : German
Category : Science and Technology
Last modified : 2011-12-19
Athanasius Kircher was a 17th century German Jesuit scholar who published around 40 works, most notably in the fields of oriental studies, geology, and medicine. Kircher has been compared to fellow Jesuit Roger Boscovich and to Leonardo da Vinci for his enormous range of interests, and has been honoured with the title "master of a hundred arts".

Kircher was the most famous "decipherer" of hieroglyphs of his day, although most of his assumptions and "translations" in this field have since been disproved as nonsensical. However, he did make an early study of Egyptian hieroglyphs, correctly establishing the link between the ancient Egyptian language and the Coptic language, for which he has been considered the founder of Egyptology. He was also fascinated with Sinology, and wrote an encyclopedia of China, in which he noted the early presence of Nestorian Christians but also attempted to establish more tenuous links with Egypt and Christianity.

Kircher's work with geology included studies of volcanos and fossils. One of the first people to observe microbes through a microscope, he was thus ahead of his time in proposing that the plague was caused by an infectious microorganism and in suggesting effective measures to prevent the spread of the disease. Kircher also displayed a keen interest in technology and mechanical inventions, and inventions attributed to him include a magnetic clock, various automatons and the first megaphone. The invention of the magic lantern is often misattributed to Kircher, although he did conduct a study of the principles involved in his Ars Magna Lucis et Umbrae.

A scientific star in his day, towards the end of his life he was eclipsed by the rationalism of René Descartes and others. In the late 20th century, however, the aesthetic qualities of his work again began to be appreciated. One modern scholar, Alan Cutler, described Kircher as "a giant among seventeenth-century scholars", and "one of the last thinkers who could rightfully claim all knowledge as his domain". Another scholar, Edward W. Schmidt, referred to Kircher as "the last Renaissance man".

Kircher was a man of wide and varied learning, but singularly devoid of judgment and critical discernment. His voluminous writings in philology, natural history, physics and mathematics often accordingly have a good deal of the historical interest which attaches to pioneering work, however imperfectly performed; otherwise they now take rank as curiosities of literature merely. They include Ars Magnesia (1631); Magnes, sive de arte magnetica opus tripartitum (1641); and Magneticum naturae regnum (1667); Prodromus Coptus (1636); Lingua Aegyptiaca restituta (1643); Obeliscus Pamphilius (1650); and Oedipus Aegyptiacus, hoc est universalis doctrinae hieroglyphicae instauratio (1652-55) -- works which may claim the merit of having first called attention to Egyptian hieroglyphics; Ars magna lucis et umbrae in mundo (1645-46); Musurgia universalis, sive ars magna consoni et dissoni (1650); Polygraphia, seu artificium linguarum quo cum omnibus mundi populis poterit quis respondere (1663); Mundus subterraneus, quo subterrestris mundi opificium, universae denique naturae divitiae, abditorum effectuum causae demonstrantur (1665-78); China illustrata (1667); Ars magna sciendi (1669) ; and Latium (1669), a work which may still be consulted with advantage. The Specula Melitensis Encyclica (1638) gives an account of a kind of calculating machine of his invention. The valuable collection of antiquities which he bequeathed to the Collegio Romano has been described by Buonanni (Musaeum Kircherianum, 1709).
View the full website biography of Athanasius Kircher.