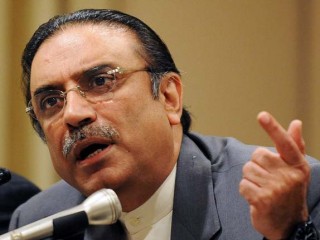 Asif Ali Zardari
Date of birth : 1955-06-26
Date of death : -
Birthplace : Karachi, Pakistan
Nationality : Pakistani
Category : Politics
Last modified : 2010-07-21
Asif Ali Zardari, born 26 July 1955 in Karachi, Dominion of Pakistan is the 11th and current President of Pakistan and the Co-Chairman of the Pakistan Peoples Party (PPP). Zardari is the widower of Benazir Bhutto, who twice served as Prime Minister of Pakistan. When his wife was assassinated in December 2007, he became the leader of the PPP. It has been claimed that Zardari is among the five richest men in Pakistan with an estimated net worth of US$1.8 billion (2005).


The widower of former Pakistan Prime Minister Benazir Bhutto, Asif Ali Zardari was elected president of Pakistan on September 6, 2008. A controversial figure who had spent over 11 years in prison but never been convicted of a crime, Zardari's elevation was viewed by some with suspicion. Nonetheless, the new president appeared eager to face this most recent challenge.

Prison to President

Zardari was born on July 26, 1955, in Karachi, Pakistan. His father was a politician and the family was fairly well off. He was educated at the Karachi Grammar School and Cadet College Petaro. As a young bachelor, the charismatic, polo-playing Zardari acquired a reputation as something of a playboy. Even so, he was also known for his personal courage.

On December 18, 1987, Zardari married Benazir Bhutto, a union arranged by the couple's families in the traditional Muslim manner. The daughter of a former prime minister of Pakistan, Bhutto was only a year away from following in her father's footsteps by becoming the first female prime minister of a Muslim country. The marriage produced three children and lasted until Bhutto's assassination on December 27, 2007.

Although Zardari's political career certainly took a backseat to that of his wife, he did serve his government in various capacities. Those included membership in the National Assembly twice (1990-1993 and 1993-1996), minister for the environment (1993-1996), and minister for investment (1995-1996). But his professional life was largely derailed by controversy and scandal as he faced charges ranging from corruption to murder. He was never convicted of a crime and steadfastly maintained that the allegations were politically motivated--nonetheless, he spent a total of over 11 years in jail from 1990 until 2004. After his release, Zardari spent time in the United States receiving treatment for ailments such as heart trouble and diabetes.

The assassination of Bhutto in 2007 led Zardari to an unexpected new political prominence. Once shunned by the Pakistan Peoples Party (PPP) as a perceived liability because of his legal troubles, he was elected the party's co-chairman in January of 2008, effectively taking the place of his wife. Then, on September 6, 2008, he was elected president of Pakistan. It was a remarkable turnaround for a one-time second fiddle, once widely scorned as "Mr. 10 Percent" (a reference to his alleged profiteering), and he faced myriad challenges in his new role--from the country's economic misery to a separatist insurgency to the war against Islamic extremists. Still, Zardari appeared to relish the difficulties ahead of him. Quoting his late wife after his swearing-in ceremony, as cited in the Economist, he said, "Democracy is the best revenge."
View the full website biography of Asif Ali Zardari.