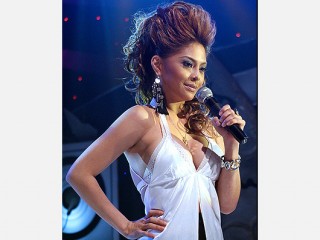 Asia Agcaoili
Date of birth : 1983-09-20
Date of death : -
Birthplace : Isabela, Philippines
Nationality : Philippino
Category : Arts and Entertainment
Last modified : 2011-01-28
Asia Agcaoíli is a Filipino actress, model, sexy columnist of FHM Philippines and TV and radio host.

She is part of the second wave of the group Viva Hotbabes. A graduate of the University of the Philippines, she is seen to epitomize the strong-minded, confident, liberated, modern Filipino woman.

She was first seen in a reality TV show in ABC's Singles where she agreed to acquire breast implants and had it broadcasted. She then joined in an episode of GMA Network reality game show Extra Challenge were she displayed her intelligence and confidence when she was faced with conservative moralists who depicted her sexy ways.

She was a disk jockey on a radio station, Magic 89.9, and an advice columnist for FHM Philippines Sex Confidential. Agcaoíli is known for being very open in talking about sex.

Asia was a regular on the ABS-CBN show, Bida si Mister, Bida si Misis. She has also appeared in Sex Guru, the first Philippine-made sex education film.

Asia has a monthly column in FHM Philippines entitled Sex Confidential, where she talks about love, sex and relationships. Asia currently hosts Pinoy Big Brother in ABS-CBN's UHF channel Studio 23

Agcaoíli had the role of a villain on Till Death Do Us Part on ABS-CBN.

After her breast was exposed in a March 9, 2003, edition of MTB, a variety show, Agcaoíli was suspended from the show for 20 days by the Movie and Television Review and Classification Board (MTRCB).

In a memorandum, the MTRCB said it found the program "objectionable" because of Agcaoili's "accidental left breast exposure."

Agcaoili spearheads the Pinoy Big Brother show for the viewers of Studio 23. Her show, called Pinoy Big Brother: Si Kuya, KaBarkada Mo, not only features snippets from the primetime telecast the night before, but also features opinion polls both from the man on the street and those sending SMS, spoof segments (such as predictions from "prominent" fortune tellers and insider news from the "resident" deep penetration agent, a cockroach), and live feed from inside the house.

She is also one of the hosts of Breakfast on Studio 23 every Thursday and was a part of teleseries Vietnam Rose on ABS-CBN, where she teamed up with her Bida si Mister, Bida si Misis and the Philippine's Diamond Star, Maricel Soriano.

Currently, she also hosts the Sunday afternoon TV show iPBA on ABC, a show that feature the ins and outs of the Philippine Basketball Association that included interviews with league personalities.


View the full website biography of Asia Agcaoili.