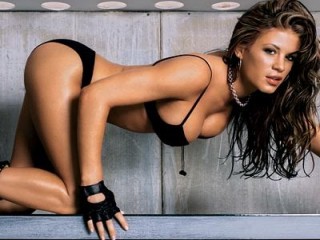 Ashley Massaro
Date of birth : 1979-05-26
Date of death : -
Birthplace : New York City, New York, US
Nationality : American
Category : Sports
Last modified : 2011-04-08

Ashley Massaro was born on May 26, 1979, in New York, NY. Prior to entering World Wrestling Entertainment, Ashley was a model. She was crowned Miss Hawaiian Tropic USA 2002 and Miss Hawaiian Tropic Canada 2005. Using the name Ryan MacKenzie, she appeared in Playboy.

Diva Search 2005:

On the August 15, 2005, edition of Monday Night RAW, Ashley won the second annual Diva Search contest. The prize for winning the contest was $250,000 and a one year contract with World Wrestling Entertainment. The next week, she thought that she was going to be congratulated for winning the contest by fellow Divas Torrie Wilson and Candice Michelle, but the two Divas attacked her instead. They joined forces with Victoria and would continually attack her.

Ashley was helped in her feud by Trish Stratus. Her friendship with Trish soon turned out to be a problem when Trish's friend-turned-stalker, Mickie James, became jealous of the friendship between the two women. In February 2006, Ashley suffered a crack in her left fibula which required surgery. While recovering from her injury, she was kidnapped by Mickie and held hostage in the ring until Trish saved her.

SmackDown Diva:

Ashley moved to SmackDown in June 2006. She became an announcer and almost immediately got in a feud with fellow announcer Kristal. Kristal was a losing contestant in the 2005 Diva Search contest. Ashley then became the manager of the WWE Tag Team Champions, Paul London and Brian Kendrick. As manager of the team, she became involved in their feuds because their opponents were usually managed by Divas like Michelle McCool and Melina.

As part of a new annual tradition, Ashley was picked to appear on the cover of the Playboy magazine that would hit newsstands during WrestleMania season. The WWE Women's Champion, Melina, became infuriated about all the press Ashley was receiving for being a "tramp" while the press should be clamoring for her since she is the women's champion. At WrestleMania 23, Ashley lost to Melina.

Survivor & Escort Controversy:

In 2007, Ashley was suspended from the WWE for accidentally spilling her coffee on Mr. McMahon. In reality, she needed the time off so she could appear on the CBS reality TV show Survivor: China. She was the second contestant eliminated from the show. In 2008, an article in Rolling Stone allegedly linked her to an escort service. Ashley has denied the allegations.
Release:

In the summer of 2008, Ashley stunned the wrestling world when she requested a release from her WWE contract on her MySpace blog citing the health of her daughter. The WWE complied with her request and released her.


View the full website biography of Ashley Massaro.