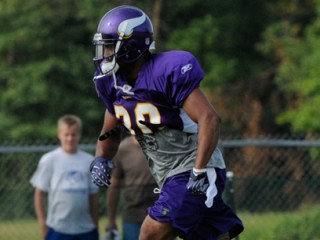 Asher Allen
Date of birth : 1988-01-22
Date of death : -
Birthplace : Tucker, Georgia
Nationality : American
Category : Sports
Last modified : 2011-01-14
Asher Allen is an American football cornerback for the Minnesota Vikings of the National Football League.

GAMES/STARTS (regular season, playoffs) 2009 (10/1, 2/0). Total- 10/1, 2/0.

• Had a sack and forced fumble in his 1st career game at the defending Super Bowl champion Steelers in 2009.
• Joined his 4 other 2009 Vikings rookie class members in starting a game last season.

OFF THE FIELD
Regularly works with teammates at community relations functions...Majored in health promotion...Cousin of Pro Football Hall of Fame WR Michael Irvin.

PRO :
Started 1st career game on Sunday Night Football at Arizona (12/6/09)...Made impact in his 1st career game, forcing a fumble on a sack of QB Ben Roethlisberger at Pittsburgh (10/25/09)...Part of impressive performance by rookie class in 2009 as all 5 players started a game during the 2009 season...The Vikings 3rd round selection in 2009, taken with the 86th overall pick...Declared for the NFL Draft following his junior season.

2009:
Played in the final 10 games of the regular season and both playoff contests...Inactive for the opening 6 games of the season before earning his way onto the field...Started 1st career game at Arizona (12/6), a prime-time game on NBC's Sunday Night Football...Made most of his 1st career action at Pittsburgh (10/25), catching QB Ben Roethlisberger and forcing a fumble on the sack...Posted 1st career INT vs. Seattle (11/22) when he snared a pass off Matt Hasselbeck...Had career-best 5 tackles in 3 games during the season- vs. Detroit (11/15), at Arizona (12/6) and vs. NY Giants (1/3/10).

COLLEGE:
Started 24-of-39 games played in 3-year career...Played with a fractured right hand for 5 games, nearly half his junior season and was still a semi-finalist for the Jim Thorpe Award and quarter-finalist for the Lott Trophy in 2008, which honors the nation's top collegiate defensive backs...Had 53 tackles and 7 pass breakups despite his hand injury in 2008...Started 11 games as a sophomore and had a career-best 64 tackles with 2 sacks, 4.5 tackles for loss and 3 INTs...Tied UGA record with 28 kickoff returns for a single-season record 690 yards...Named UGA's Defensive Newcomer of the Year as a freshman...Started all 13 games at CB as a junior...Jim Thorpe Award semi-finalist despite wearing a cast that hindered his ability to make INTs and return kickoffs...Started the team's final 11 games as a sophomore...Recorded 3 INTs and broke up 4 passes...Enrolled at Georgia in January, 2006, competing during spring drills...UGA Defensive Newcomer of the Year.

Earned Atlanta Journal-Constitution Super 11 and Super Southern 100 honors in football at Tucker HS in Atlanta...Member of the Fox Sports Net All-South 3rd-team, Super Prep All-American and Prep Star Top 200 squads...Rated the 9th-best CB in the country by Rivals.com...Earned Coaches Choice All-State honors as a junior PR/KR, with 7 punt returns and 2 kickoffs for TDs...As a CB, recorded 6 INTs as a junior...Played basketball and ran track.


View the full website biography of Asher Allen.