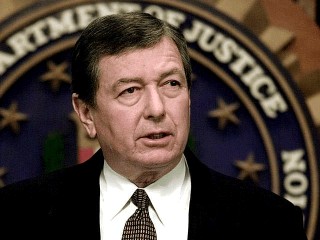 Ashcroft John
Date of birth : 1942-05-09
Date of death : -
Birthplace : Chicago, Illinois
Nationality : American
Category : Politics
Last modified : 2010-04-27
John David Ashcroft (born May 9, 1942) is a United States politician who was the 79th United States attorney general. He served during the first term of President George W. Bush from 2001 until 2005. Ashcroft was previously the 50th Governor of Missouri (1985–1993) and a US senator from Missouri (1995–2001).

John Ashcroft, a longtime Missouri political figure, was appointed U.S. Attorney General in 2001 by George W. Bush. Ashcroft graduated from Yale and earned a law degree at the University of Chicago. He was Missouri's attorney general from 1976-85, the state's governor from 1985-93, and a U.S. senator from 1995-2001. In 2000 Ashcroft ran for re-election against Democrat Mel Carnahan, then Missouri's governor. Carnahan was killed in a plane crash three weeks before the election, but was elected anyway when his wife Jean Carnahan agreed to take his place. Bush, elected president in 2000, nominated Ashcroft to be U.S. Attorney General. Ashcroft was approved by the U.S. Senate despite opposition from Democrats, who declared him to be too conservative. Ashcroft served until after Bush's reelection. He submitted his hand-written resignation in November of 2004, saying, "The objective of securing the safety of Americans from crime and terror has been achieved."

Extras : Ashcroft's father and grandfather were Assembly of God ministers, and his own firm religious faith is well known. While in the Senate, Ashcroft was part of a vocal group called the Singing Senators with Trent Lott (R-Miss.), James Jeffords (R-Vt., later I-Vt.), and Larry Craig (R-Idaho).

Ashcroft, a fervent lifelong member of the Assemblies of God church, helped bring the denomination more mainstream recognition in his book Lessons From a Father to His Son (1998). In the book Ashcroft writes of his anointing himself in the manner of Biblical kings, before both terms as Missouri governor, using cooking oil when no holy oil was available.

While attorney general of Missouri, Ashcroft and his wife co-wrote a textbook entitled College Law for Business.

Ashcroft composed a paean called "Let the Eagle Soar" which he sang at the Gordon-Conwell Theological Seminary in February 2002, which was satirically featured in Michael Moore's 2004 movie Fahrenheit 9/11 and has been frequently mocked by comedians such as David Letterman, Stephen Colbert and David Cross, to name a few. The song was also sung at Bush's 2005 inauguration by Guy Hovis, former cast member of The Lawrence Welk Show. Ashcroft has penned and sung a number of other songs and created compilation tapes, including In the Spirit of Life and Liberty and Gospel (Music) According to John.

With fellow senators Trent Lott, Larry Craig, and James Jeffords, he formed a barbershop quartet called The Singing Senators.

Sometime in the 1970s, Ashcroft recorded a gospel record entitled TRUTH: Volume One, Edition One with Missouri legislator Max Bacon, a Democrat.

Other books written by Ashcroft are On My Honor: The Beliefs that Shape My Life and Never Again: Securing America and Restoring Justice.
View the full website biography of Ashcroft John.