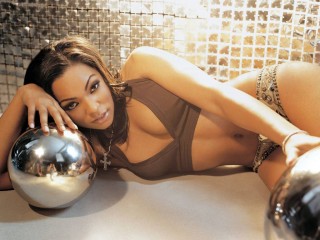 Ashanti
Date of birth : 1980-10-13
Date of death : -
Birthplace : Glen Cove, New York
Nationality : American
Category : Arts and Entertainment
Last modified : 2010-04-22
Ashanti Shequoyia Douglas is born Oct. 13, 1980, in Glen Cove, New York.

Early Life

Ashanti was born in New York state to Ken Kaide and Tina Douglas, a dance instructor. She was accepted into Hampton University & Princeton University, but turned down a track & field scholarship to pursue her singing career. Ashanti was first brought into the public eye as a featured background vocalist on a 2001 hip-hop remake of Madonna's "Justify My Love," which appeared on the soundtrack to the movie The Fast and the Furious, along with "When A Man Does Wrong."

Big Break

Ashanti's big break, however, didn't come until early 2002 when, almost simultaneously, rapper Ja Rule released "Always On Time" and Fat Joe released "What's Luv?" They were two of the biggest pop and urban hits of the year, and both featured Ashanti. At one point, her hit with Ja Rule sat at #1 on the U.S. Billboard Hot 100 singles chart while her Fat Joe collaboration was at #2. She was the first female to occupy the top two positions on the Billboard 100 as a featured female artist.

Debut Album

Shortly after the success of her collaborations, Ashanti released her self-titled debut album on Irv Gotti's Murder Inc. record label in 2002. The album debuted at #1 on the Billboard 200 album chart and is Ashanti's most successful album to date, selling over 504,000 copies in its first week - the most successful first week sales for a debut female R&B artist. The album sold well over two million copies a month after it's release.

Subsequent Albums

In 2003, Ashanti released her sophomore album, Chapter II which also debuted at #1 on the Billboard 200 with more than 326,000 copies sold in its first week of release. Chapter II was eventually certified Platinum. Ashanti released her third studio album, Concrete Rose, in December, 2004. Although neither the album nor its singles were as successful as her previous work, the album did manage to debut at No. 7 in the Billboard 200 with more than 254,000 copies sold its first week. Her fourth studio album, The Declaration, came out in June 2008.

Beyond the Music
Ashanti launched her own new fragrance line, Precious Jewel by Ashanti on Oct. 2, 2005. Also in 2005, Ashanti also signed an exclusive deal with Sears to release her own brand of jeans titled Delicious Curves. In 2004, she appeared in the movie Bride and Prejudice, singing "My Lips Are Waiting."
In January 2005, she made her feature film acting debut in the movie Coach Carter. She's slated to star in the movie John Tucker Must Die, which opened in August 2006.

View the full website biography of Ashanti .