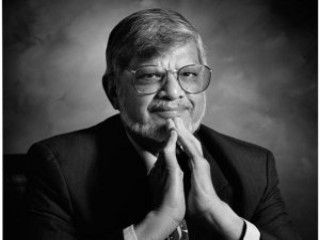 Arun Gandhi
Date of birth : 1934-04-14
Date of death : -
Birthplace : Durban, South Africa
Nationality : South-African
Category : Politics
Last modified : 2010-10-05
Arun Manilal Gandhi is the fifth grandson of through his second son Manilal. Following the footsteps of his grandfather, he is also a socio-political activist, although he eschews the ascetic lifestyle of his grandfather.

The grandson of Mahatma Gandhi, the world's most recognizable and influential symbol of peace, Arun Gandhi has continued his family's legacy during his lifetime, making his own humanitarian mark on the world.

Born in South Africa in 1934, Gandhi was the target of bigotry as a child for being Indian in a society where most people were either white or black. In his adolescence, Gandhi lived with his grandfather for a period of two years, a time which inspired him and showed him, firsthand, what it meant to be a champion of nonviolence and a promoter of peace and unity. Following his grandfather's assassination, and the death of his own father, Gandhi became a journalist in India and then, subsequently, moved to the United States to pursue research projects on the subject of global prejudices. During his first years in the U.S., Gandhi also founded the M.K. Gandhi Institute for Non-Violence. A prolific writer with hundreds of articles and several books to his name, including the novel, Gandhi: Legacy of Love, Gandhi has worked tirelessly to impart his wisdom, and the lessons he learned from his grandfather, to audiences around the world. Over the past decade, Gandhi has given countless speeches promoting peace and has organized, led, and encouraged non-violent marches, protests, and solutions to conflicts in the United States and Israel. The recipient of the Humanitarian Award from the Memphis City Council, the Amnesty International Outstanding Contributions Award and the Courage of Conscience Award from the Peace Abbey, Arun Gandhi is recognizable both for his family's contributions to global peace and his own efforts as an activist, educator, and spiritual leader.
View the full website biography of Arun Gandhi.