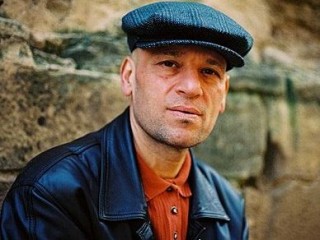 Arto Tuncboyaciyan
Date of birth : 1957-08-04
Date of death : -
Birthplace : Istanbul, Turkey
Nationality : Turkish
Category : Arts and Entertainment
Last modified : 2012-02-28
Arto Tunçboyacıyan is an Turkish-Armenian musician. A famous avant-garde folk artist (singer, multi-instrumentalist), he appeared on more than 200 records in Europe before arriving in the United States, where he went to work with numerous jazz legends including Chet Baker, Al Di Meola, and Joe Zawinul as well as a semi-regular stint with Paul Winter and the Earth Band.
Arto fronts his own group called the Armenian Navy Band. He also worked with Turkish singer Sezen Aksu and the Greek singer Eleftheria Arvanitaki. His brother Onno Tunç was also a musician. He is also a member of the band Night Ark.

With more than 20 international solo and collaborative albums to his credit, Arto Tuncboyaciyan's international fusion rhythms have secured his position among the more timely musicians of the twenty-first century. Best known as a percussionist, he has shown a varied and exotic repertoire, further enhanced by his inventive, chant-like vocals. Tuncboyaciyan's productions represent a diverse sampling of music circles worldwide, with avant-garde jazz fusion figuring prominently into the mix. He is regarded highly for his innate musicianship and is known to his colleagues as a man who can play anything---even a chair. After fronting the Night Ark quartet in the late 1980s and establishing the 12-piece Armenian Navy Band in 1999, he issued the first of his collaborations with Serj Tankian, called the Serart project, in 2004.

Tuncboyaciyan was born in Turkey in 1957, to an Armenian family of the Anatolian (Turkish) Diaspora. The son of a shoemaker and the youngest of three siblings, he grew up near Istanbul, where he turned at an early age to the mentorship of his older brother, the late Onno Ohannes. A respected composer and bass player, Onno was an influential presence on the Turkish national music scene of that era. As a role model, he helped to turn his precocious younger brother into a talented musician. By age eleven Tuncboyaciyan was sitting in with Onno's band, performing westernized adaptations of local Middle Eastern rhythms and melodies. As a youth Tuncboyaciyan performed on both trombone and percussion. He was heard on hundreds of recordings with his brother, and likewise appeared on stage. After touring Turkey and Europe with his brother's band, at age 13 Tuncboyaciyan joined the Metronome, a combo led by the Turkish national star Burhan Toguc.

In 1981, with more than a decade of musical apprenticeship to his credit, Tuncboyaciyan moved to New York City. Already an experienced studio musician, he supported himself by performing in backup sessions, in the tradition of generations of aspiring jazz musicians. He emerged within five years as a soloist with Keytone Records. His album debut, Virgin Land, was produced by Chris Hinze; a follow-up solo effort, Main Root, appeared that same year.

In 1987 Tuncboyaciyan released Moments. Also backed by Hinze, it was Tuncboyaciyan's first recording as the leader of Night Ark, a quartet with pianist Armen Donelian, oudist Ara Dinkjian, and Ed Schuller on bass. Although he was known as a percussionist, critics have attributed much of Tuncboyaciyan's appeal to his horn-like singing style---clear and high-pitched---that evokes the music of his native Turkey. Ann Powers wrote in the New York Times that Tuncboyaciyan sings "plaintively in syllables connected to no one tongue." The notion that he invents his own language is an observation often applied to Tuncboyaciyan, who contributed vocals on the "Stargazer" and "In Between" tracks of Donelian's 1990 release The Wayfarer. Collaborations between Donelian and Tuncboyaciyan were commonplace over the course of the next decade and into the third millennium. In 1994 Tuncboyaciyan appeared as a sideman in a quartet with Arthur Blythe at the Village Vanguard. Led by Blythe on alto saxophone and embellished by tuba and electric guitar, Tuncboyaciyan's mesmerizing rhythms and vocals contributed to "an unusual combination of instruments ... a comfortable, cohesive groove," according to Newsday's Gene Seymour. On another occasion, Tuncboyaciyan joined Joe Zawinul's Syndicate quintet for a session at the Umbria Jazz Festival in Perugia, Italy, in 1995.

When Onno Ohannes died in a plane crash in 1996, Tuncboyaciyan went on hiatus to Greece with Dinkjian, where they taped two tribute albums, Tears of Dignity and Onno. He followed with a solo tour of Scandinavia, and reunited in July of that year with Blythe---this time in a quintet---for a weekend of sets at Sweet Basil in Greenwich Village. Also in 1996 Tuncboyaciyan contributed to a Sony release by Datevik Hovanesian, Listen to My Heart.

December of 1998 marked the beginning of Tuncboyaciyan's ongoing association with Paul Winter and the Earth Band, when Tuncboyaciyan appeared for the first time with Winter at the 19th annual Winter Solstice Festival, held at the Cathedral of St. John the Divine Episcopal Church in New York City. It was the culmination of a busy year for Tuncboyaciyan, marked also by his involvement in an Italian project called Triboh, which was released on the Polosud label. Triboh featured pianist Rita Marcotulli, with Maria Pia De Vito sharing vocals with Tuncboyaciyan.

The release of Petals on Your Path with Night Ark through Universal in 1999 spawned an appearance by Tuncboyaciyan at London's Dean Street Pizza Express jazz club in late spring. Soon afterward, with a Winter Solstice to his credit, Tuncboyaciyan appeared at Winter's seventh annual Celtic-inspired Summer Solstice Festival, also at the Cathedral of St. John the Divine. That winter he made his second annual appearance at the Winter Solstice. The annual live solstice recording, Journey with the Sun, on Living Music, was nominated for a Grammy in 2000.

In 2001 Tuncboyaciyan released Every Day Is a New Life on Living Music. Joining him on this album were Winter on soprano and alto saxophone, Joannie Madden on Irish whistle, and cellist Eugene Friesen. For this release the multi-faceted Tuncboyaciyan performed on the lute-like six-string Sazabo. Hanneke Cassel added Scottish fiddle, with Franz Hackel and Marvin Stamm on trumpet, Peter Herbert on bass, and Vordan Grijojian joining Tuncboyaciyan on the double-reeded duduk. Mix and masters were produced by Dixon Van Winkle, who contributed tuba as well. "Ample musicality ... in full bloom," reported Michael Paoletta in a Billboard review. Paoletta praised Tuncboyaciyan, calling him "a man who is made of music." Tuncboyaciyan joined Winter again that year for the twenty-second iteration of the ongoing Winter Solstice, while also contributing to a separate and newly established first annual session of the solstice at the Second Congregational Church of Greenfield, Massachusetts.

In 1998 Tuncboyaciyan made a stopover at the jazz festival at Yerevan in the former Soviet Republic of Georgia. Though seemingly uneventful, this occasion would lead to the formation of Tuncboyaciyan's Armenian Navy Band. The outgrowth of an encounter between Tuncboyaciyan and Armenian jazz pianist Vahagn Hayrapetian, the Navy Band was born as Tuncboyaciyan fostered a professional association with ten other native Armenians, who would gel to form the band. Named for the indomitable Armenian national spirit and symbolizing the metaphorical military fleet of landlocked Armenia, the Armenian Navy Band became Tuncboyaciyan's flagship project in the early 2000s. In sessions with the Navy Band, Tuncboyaciyan performed not only on percussion and vocals, but could also be heard on an Eastern wind instrument called a bular. In addition to Hayrapetyan, Navy Band members included Anahit Artushyan on the harp-like kanun, and Armen Ayvazyan on kemanche, a banjo-like instrument that is bowed like a fiddle. Armen Husnounts provided tenor and soprano sax, with David Nalchajyan on alto sax, Ashot Harutiunyan on trombone, and Tigran Suchyan on trumpet.

Norair Kartashyan performed on the recorder-like blul and shared both zurna flute and double-reeded duduk duties with Vardan Grigoryan. Rounding out the dozen musicians were Arman Jalalyan on drums and bassist Vardan Arakelian. The Armenian Navy Band issued its debut album, Bzdik Zinvor (Small Soldier), on the Svoto Music label in 1999. A Nareg Antabian production, Small Soldier reflected the output of sessions recorded over the course of two trips to Armenia.

Tuncboyaciyan's unorthodox vocals proved a perfect fit with drummer Vinnie Colaiuta, for tracks on Mike Stern's 2001 album Voices. The band issued a second studio album in 2002, New Apricot, and appeared at the Israeli Festival in June. And Tuncboyaciyan was heard with Serj Tankian's System of a Down on Toxicity that same year. The Columbia album, a second effort by the group, sold five million units and was honored by Spin as album of the year.

Following a tour with the Navy Band in the spring of 2003, Tuncboyaciyan undertook yet another joint project with Tankian. Called Serart, the first output from this collaboration was a self-titled debut album, which also marked the launch of Tankian's start-up label, Serjical Strike. Distributed by Sony Music and praised internationally, the album was a critical success. "Harsh beauty ... trance-inducing," reported the Orange County Register. "Shouldn't work but does," Andy Gill gushed enthusiastically in the London Independent. "An interesting, unpredictable journey," noted Jim Abbott in the Orlando Sentinel. Also released in 2003, Sounds of Our Life---Part One: Natural Seed was comprised of a single track of nearly 50 minutes. The album represented a stark effort by the Navy Band to assert its foundation in Armenian folk music. An earlier European tour by the Navy Band in 2000 led to the development of a live recording for future release on Turkey's Imaj Müzik label.

In 2004 Jack Massarik noted in London's Evening Standard that Tuncboyaciyan's Queen Elizabeth Hall (London) appearance with Gary Husband was "tingling with creative possibilities." The performance featured what Massarik called a handpicked super group of American-based musicians in an interesting ensemble of voice, sax and guitar. The performers---consigned to a five-city tour organized by the Contemporary Music Network---included trumpeter Randy Brecker and trombonist Elliot Mason, with electrified accompaniment from Jerry Goodman on violin, Matthew Garrison on bass, and Jim Beard on synthesizer, performing music commissioned by BBC Radio 3.

In 2007 he formed Yash-ar with fellow Turkish-Armenian rock artist Yaşar Kurt. Yash-ar is made up of first part of his and Yaşar Kurt's first names.
View the full website biography of Arto Tuncboyaciyan.