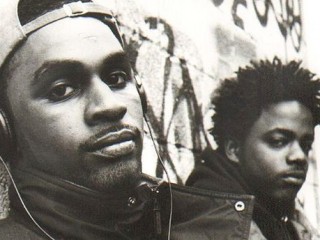 Artifacts
Date of birth : -
Date of death : -
Birthplace : Newark, NJ, U.S.
Nationality : American
Category : Arts and Entertainment
Last modified : 2012-04-06
Artifacts is a hip hop group consisting of El Da Sensei, Tame One and DJ Kaos. They hail from Newark, New Jersey and made underground music that paid homage to the four elements of hip hop. The Artifacts' most popular single "Wrong Side of Da Tracks" paid special homage to graffiti art, as they were graffiti artists themselves.

Based in Newark, NJ, the trio is noted for verbal stamina, memorable rhymes, andeschewing traditional gangsta rap. The Source's Durwin Chow described the group's music as, "antagonisticfreestyle barrages centered around infectiously simple yet assuaging choruses." In an interview with RigobertoMorales of The Source, El da Sensai described why the band was content being labeled "underground" in the realmof hip-hop. He said, "If it wasn't for groups like us, Beatnuts, Common, Organized, or the Roots ... There wouldn'tbe any underground, nothing secondary to run to ... where else would you go? It's also a place where you start, andstart over."

El da Sensai and Tame One earned a reputation as outstanding graffiti artists in the 1980s by "bombing," which isreplacing blighted walls with smooth graffiti murals. Starting in 1980, they "bombed" walls throughout Essex County,which encompasses Newark, Irvington, and East Orange, NJ. They called themselves the Boom Skwad, and later DaBomb Squad,and attracted an avid group of graffiti-loving fans. Both El da Sensai and Tame One were raised inNewark, where Tame One's cousin, Redman, also enjoyed acclaim as a rap artist. They attended Arts High in Newark,and often spent weekend days there honing their artistic skills, playing sports, enjoying field trips, and learning to emcee,deejay, and to break-dance.

Tame One told The Newark Star-Ledger's Steven T. Walker that he and his partners were perceived as artists bytheir neighbors since wall art is frequently the only the only type of art that inner-city children see. Youngsters inthe area would reproduce Tame One's graffiti tag after seeing it on a wall because they liked the way it looked.Tame One added, "I guess I could be seen as kind of an art teacher." Walker maintained that graffiti is as tied inwith hip-hop culture and music as breakdancing and twin turntables, and that the Artifacts are an outgrowth of theearly pioneers of rap. Walker said, "The group takes pride in its reputation as graffiti artists as well as rappers,almost damning current trends that make superstars out of emcees who seem content in imitating or blatantly coveringR&B songs from the past two decades." El da Sensai told Hip Hop Connection, "I think rhyming is like painting apiece....As you go along, you just write different styles of rhymes. When you paint a piece, you use all different stylesand you got a different style for every piece." The Artifacts are one of the few hip-hop/rap groups who pay tribute tothe mostly bygone era of graffiti art, along with rappers Masta Ace, Rakim, and KRS-One. Their debut album, Betweena Rock and a Hard Place, was released in 1994 and featured numerous references to graffiti, particularly in the singles"Wrong Side of Da Tracks" and "Come On Wit Da Git Down". DJ Kaos joined the Artifacts shortly before the releaseof the band's second album.

The Artifacts typify the thoughtful, party-style hip-hop which was prevalent in the early 1990s, evoking the typeofmusic found among groups like Brand Nubian, Pete Rock & C.L., Main Source, and Organized Confusion, Thrashermagazine's Chris Nieratko wrote, "Between A Rock and a Hard Place broke all boundaries by delivering honest,accessible lyrics." Although the Artifacts didn't break into mainstream success with a radio-friendly hit, their debutrelease was generally considered by critics to be substantial,and woefully overlooked. The album's first single, "TheUltimate," was featured on the gold-selling High School High soundtrack. The Source called Between A Rock and aHard Place, "the purest hip-hop album this year ... the Artifacts are a refreshing blast of the lifeblood of hip-hop." Between A Rock and a Hard Place fared well enough to allow the Artifacts to create their own sound and retain theirartistic freedom, and when label mate Lil' Kim reached gold status, the Artifacts were roundly encouraged to releasemore material.

Before releasing their sophomore album, That's Them, in 1997 the band toured the country and spent a lot of timein the studio. That's Them took a year to complete, and was infused with their trademark witty lyrics and with a moreintense rap sound. The title of the album stemmed from the fact that kids used to shout, "That's them!," when they sawthe duo on the street. Mr. Walt from Da Beatminerz contributed to "Gettin' Hot" on That's Them, and V.I.C. of theBeatnuts contributed to "The Interview" and "This is The Way". "Collaboration of Mics" was produced by and featuresLord Finesse, as well as Lord Jamar of the Brand Nubians. Lord Jamar helped the group record the original demo for"Wrong Side of Da Tracks" and is viewed by the group's members as a mentor and an older brother. Adam Keane Sternof Seconds magazine wrote, "That's Them isn't flashy and transcendent,but neither is Newark. Tame and El are justlooking out for health, wealth and self. Like they say on "The Ultimate": 'I'm not in it for the gimmicks or satisfyingcritics/I just want my own like the Hassidics'."

Adam Kush of Austin's Daily Texan wrote, "The duo has managed to keep a street perspective, while being farmore relaxed and positive than many ... This ability to straddle two often divergent styles of rap is impressive, andshould allow the Artifacts to continue to make classic, underground, albums,regardless of how few people takenotice." This assessment is correct, but the Artifacts have been noticed and appreciated by their east coast hip-hopartist peers, which renders them the "hip-hop musician's musicians," so it's likely that the group won't retain theirunderground status for long noted Kush. Urban Network Magazine summed up the Artifacts with, "Though bestappreciated by those who live and die for hip-hop, this is a powerful East Coast representation of where hip hop lives."

In August 2009 at the Rock Steady Crew Anniversary Weekend in Newark, New Jersey, Artifacts briefly reunited during a performance by El Da Sensei. According to Tame One the duo have not reconciled their differences but when he heard the horn riff which introduces "Wrong Side of Da Tracks", he felt like performing it. The impromptu reunion has not led to any official reunion.

On August 2, 2010 at The Rock Steady Crew 33rd Anniversary Celebration in Newark, New Jersey, both El Da Sensei and Tame One along with DJ KAOS performed officially as The Artifacts. They performed several songs from their respective catalogs as well as Artifacts material at this show. It is confirmed that they are indeed back together and in the process of collaborating on a new Artifacts album.
View the full website biography of Artifacts.