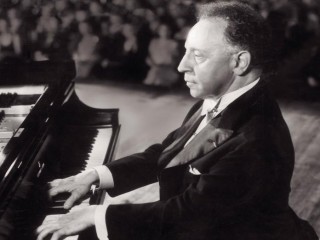 Arthur Rubinstein
Date of birth : 1887-01-28
Date of death : 1982-12-20
Birthplace : Lodz,Poland
Nationality : American
Category : Famous Figures
Last modified : 2012-01-17
Arthur Rubinstein was a Polish-American classical pianist who received international acclaim for his performances of the music of a variety of composers; many regard him as the greatest Chopin interpreter of the century. He is widely considered one of the greatest classical pianists of the twentieth century.

Tremendously popular from the 1930s through the 1970s, Arthur Rubinstein enjoyed a performing and recording career that lasted over 75 years. Yet were it not for RCA's having reissued his recordings in the 1980s, those born past the mid-'60s might never have heard of him. This can be largely attributed to the perception that Rubinstein's pianism was of the Romantic school of the first half of the 20th century, a style that infused music with drama and emotion and one that eventually fell out of favor. Nonetheless, Rubinstein was in a class by himself. He performed most of the repertory popular in mid-century: the music of Chopin--whose work was his specialty--Rachmaninoff, Schumann, and Brahms.

But he was also the first performer to champion Spanish music: his interpretations of Manuel de Falla, Isaac Albeniz, and Enrique Granados are of genuine historic importance. And though, indeed, Rubinstein did not demonstrate the intellectual asceticism of some of his successors, neither did he sentimentalize his playing or take liberties with the musical text, as did many of his contemporaries.
Music critic Harold C. Schonberg attested in the New York Times in 1964: "Vladimir Horowitz may have a more glittering technique, Rudolf Serkin may have a better way with German music, Rosalyn Tureck more of an affinity for Bach, Sviatoslav Richter for Prokofieff and Scriabin, and Claudio Arrau may have a bigger repertory. But no pianist has put everything together the way Rubinstein has. Others may be superior in specific things, but Rubinstein is the complete pianist."

Rubinstein was born in 1886 in Lodz, Poland, and at the age of eight began studying piano in Berlin. He made his debut in Berlin in 1898 and his official U.S. debut at Carnegie Hall in 1906. Critical notices, though, were discouraging, focusing on his underdeveloped sense of tone and expression. Rubinstein then took four years off from performing, spending the years 1906-10 honing his skills and enjoying life in Paris; the many love affairs he maintained during these years became notorious when he recalled them unabashedly in his 1980 autobiography My Many Years.

Rubinstein reemerged in 1910 with a concert in Berlin and spent the next six years touring Europe. During World War I, his facility with language kept him busy as an interpreter at Allied Headquarters in London. He continued to play throughout the Continent, most notably in Spain, where a four-concert agenda in 1916 was drawn out to 120 additional performances. His Cross of Alfonso XII from the Spanish government was one of his most valued possessions.

From then on, Rubinstein's career was devoted to performing and recording, both of which nurtured the zest for life that was long his callling card. And his great joy in living, in turn, extended to his playing; in a 1966 Time profile, he was quoted as saying: "I'm passionately involved in life; I love its change, its color, its movement. To be alive, to be able to speak, to see, to walk, to have houses, music, paintings--it's all a miracle. I have adopted the technique of living life from miracle to miracle. Music is not a hobby, not even a passion with me. Music is me. I feel what people get out of me is this outlook on life, which comes out in my music. My music is the last expression of all that."

View the full website biography of Arthur Rubinstein.