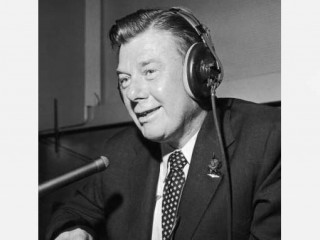 Arthur Godfrey
Date of birth : 1903-08-31
Date of death : 1983-03-16
Birthplace : New York City, New York, U.S.
Nationality : American
Category : Famous Figures
Last modified : 2010-09-08
Arthur Michael Godfrey, born August 31, 1903 in New York, New York, United States - died March 16, 1983 in New York, New York, United States was an American actor, radio and television personality of the 1940s and 1950s whose conversational style and easygoing charm on such programs as Arthur Godfrey Time and Arthur Godfrey's Talent Scouts had a humanizing influence on the evolution of radio and TV.


Sidelights
Arthur was the oldest of five children born to Arthur Hanbury Godfrey, an English-born sportswriter and racehorse touter, and Kathryn Morton Godfrey, a Scotch-Irish pianist and vocalist who performed in a local movie house. The family was desperately poor, moving to Hasbrouck Heights, New Jersey, in 1905, the first of many relocations necessitated by their attempts to evade bill collectors. Arthur remembered a particularly traumatic day when, coming home from school, he could not remember where his family lived. Arthur's mother attempted to be the breadwinner, selling homemade jams and jellies door to door. Arthur stole bottles of milk from neighborhood porches to feed the family and went to work at ten, driving a bakery wagon. He was dropped as captain of the high school debating team when the bakery job kept him out of school for three weeks.
Arthur's sisters remember being "the poorest family in town." Their brother's loaves of bread and their mother's optimism kept their spirits up, but poverty forced the family to move "twenty-six times" by 1918, the year Arthur abruptly quit school and drifted across the country. He became a typist in an army camp, a coal miner in Pennsylvania, a tire finisher in Akron, Ohio, and an architect's office boy. He feared he would become a bum.
The military changed his life. Godfrey graduated from the Naval Radio School in Great Lakes, Illinois, shortly after the end of World War I, and then became a radio operator on the USS Hatfield in the Turkish Straits. Thriving in the navy's regimented structure, he was introduced to airplanes, which became a lifelong passion. A Hawaiian bunkmate taught him how to play the ukulele. He narrowly escaped an unexpected wedding date with a Turkish girl he had dated unchaperoned, and later claimed that a fortune-teller in Constantinople had confirmed his mother's claim that he would one day be a famous entertainer.
Godfrey was discharged from the navy in 1924, the year his father died, and he then became an insurance salesman. He liked selling, but his family found his "insistence on order" wearying. They had learned "not to cross Arthur when he was in a serious mood," particularly when "he ordered everybody about." Upset with the family's precarious financial footing, Arthur abruptly broke his engagement with a local woman and went west with his younger brother Charlie. He worked in a Detroit auto assembly plant, sold cemetery plots, became a short-order cook, wrote advertising copy, drove a cab, and eventually joined a vaudeville troupe. He joined the Coast Guard in 1927 as a radioman. That year, while stationed in Connecticut, he married Catherine Collins. They had one child.
Godfrey's radio career began at a Baltimore speakeasy in 1929. He and several companions were listening to an amateur program on WFBR when they agreed that they were better than the on-air talent. The next week "Red Godfrey, the Warbling Banjoist" debuted on the station. He was good enough to be invited back. "The Warbling Banjoist and His Ukelele Club" became a twelve-minute, three-times-a-week show. Godfrey's birdseed sponsor paid him $5 a program. When his announcer did not show up one night, Godfrey did the selling himself, leading the station manager to observe that Arthur was a much better announcer than he was a musician. Godfrey was now a Coast Guardsman by day and a radio announcer at night.
Radio announcing became Godfrey's full-time work after his discharge in 1930. Later that year he and Catherine were divorced. Godfrey landed a job as staff announcer at NBC's Washington, D.C., affiliate WRC. His salary allowed Godfrey to pay for flying lessons. He was on his way to Congressional Airport on the morning of 26 September 1931 when his car collided with an oncoming truck. The accident crushed both of Godfrey's hips, shattered his knees, and broke six ribs, leaving him hospitalized for four months and forcing him to live with pain for the rest of his life.
From his hospital bed Godfrey listened to many radio programs and concluded that announcers "acted superior to their audience." They failed to realize that they were speaking not "to a mass audience" but to "individual people." And few interviewers, he observed, were very good listeners. When he returned to the air in early 1932, it was in the relaxed, conversational style that would become his trademark and revolutionize the industry. Godfrey became a favorite of listeners and even got an occasional boost in Walter Winchell's nationally syndicated column. By the late 1930s Godfrey was making several thousand dollars a week as host of a morning radio show. He bought a large farm in Leesburg, Virginia, and started his own flying school. On 24 February 1938 he married NBC receptionist Mary Bourke. They had two children and maintained an apartment in New York City in addition to their Virginia estate.
Godfrey was ambitious. He pushed CBS to give him a network show, but was turned down because executives thought of him as a local personality. That changed when Godfrey covered the funeral procession of President Franklin D. Roosevelt in April 1945. He sounded like an ordinary guy speaking from the heart when he somberly said, "Folks are havin' as tough a time as me watchin' this." Moments later when the new president came into view, Godfrey blurted out, "God bless you, Harry Truman." Two weeks after that broadcast Arthur Godfrey Time premiered on CBS morning radio. He was to be a fixture for twenty-seven years.
The radio show proved a revelation. Godfrey's reassuring delivery played well to postwar audiences and was finely honed. "I knew I didn't have any talent," Godfrey later said. "I had to be someone upon whom you could depend." Whether selling Lipton tea or strumming the ukulele, Godfrey became, according to future broadcaster Larry King, "our uncle, our friend, our father." Godfrey had "a strange genius," his colleague Andy Rooney observed. "People were fascinated with him." Godfrey believed his hold on audiences was more than the affected charm of a welcome friend. "You had to believe what I told you," Godfrey noted, "because you knew it was true."
Much to his amazement Godfrey became a recording star. His singing of "The Too Fat Polka" in 1947 may have been an exercise in poor taste, but the song's success temporarily pushed Bing Crosby and Frank Sinatra from the top of the Hit Parade. The recording sold 3.5 million copies and became a Godfrey staple. On 9 December 1948 full-page ads in the nation's newspapers asked readers to "Take a Look at Godfrey Tonight." It was the television debut of Arthur Godfrey's Talent Scouts, the program that helped make Godfrey perhaps the most popular man in America and arguably the most powerful person in broadcasting.
Godfrey reached the peak of his popularity in the early 1950s. He was producing and starring in nine and a half hours of live TV each week, including a ninety-minute weekday morning show, the Monday night talent scout performance, and a Wednesday night variety program, which were seen by an audience of 82 million. Godfrey's shows generated $22 million for CBS annually, 12 percent of the network's total revenue. At a time when the average weekly income was $75, Godfrey made $2 million annually before taxes, yet retained the reputation of America's everyman. His red hair and freckled face and easygoing gait made him the guy next door. Even his mother was getting guest shots with Groucho Marx, Art Linkletter, and Lawrence Welk.
When hip surgery in the spring of 1953 took Godfrey temporarily off the air, he was flooded with 40,000 get-well cards and letters each week. Congregations lit candles and prayed for his recovery. At considerable expense, CBS and ATT built a transmission tower on Godfrey's estate so he could broadcast from his farm. His return was a moment of national rejoicing, leading Broadcasting-Telecasting to quip, "the deification of Arthur Godfrey has been underway for some time. It is only a matter of time before the second syllable of Godfrey will be forgotten."
A guest appearance on a Godfrey show meant national exposure that often led to stardom. Rosemary Clooney, Tony Bennett, Lenny Bruce, Patsy Cline, Don Knotts, and the McGuire Sisters were among the stars discovered on or greatly helped by Godfrey's shows. It was, however, Godfrey's relations with singer Julius LaRosa that marked a turning point in Godfrey's career. By the fall of 1953 LaRosa, one of the "Little Godfreys" and a regular on Arthur's morning show, was getting more fan mail than Godfrey. He hired an agent and a manager, against Godfrey's orders, and missed a rehearsal to attend to personal business. With the approval of management, Godfrey fired LaRosa on the air, referring to LaRosa's 19 October 1953 appearance on Arthur Godfrey Time as the singer's swan song with the show. At a later news conference, Godfrey, never known for his modesty, told reporters that the singer had been fired because "Julius has lost his humility."
Headlines battered Godfrey's high-handedness. Polls showed that viewers who had thought of Godfrey as a surrogate father now felt he had thrown his son out of the house. A segment of that audience never forgave him. In January 1954 the Federal Aviation Administration recommended revoking Godfrey's pilot license following his highly publicized buzzing of an air tower in New Jersey. The discovery that Florida's Kenilworth Hotel, which Godfrey partly owned, was restricted to Gentiles, led to charges he was anti-Semitic. Godfrey ordered that the policy be changed, but that action won little press attention.
On 1 May 1959 Godfrey made news when his left lung was removed during cancer surgery. He returned to the air in September, but fan interest was wearing thin. By the mid-1960s Godfrey was limited to guest appearances on talk shows and commercials. His daily radio shows became increasingly preachy, focusing on Godfrey passions such as ecology, but few listened. His final tearful program on 30 April 1972 had fewer than 1 million listeners.
Godfrey drifted out of America's consciousness in the 1970s. There were few television appearances, and ad agencies thought him too old to be their spokesman. Godfrey hoped for a show on cable, but he was limited to a five-minute nostalgia act during PBS pledge week in which he sang "The Too Fat Polka." After thirty years, his marriage to Mary ended in divorce. His health declined, and he was frequently hospitalized. He died in March 1983 in Mount Sinai Hospital in New York City, of emphysema and pneumonia; he was cremated. His passing produced few front-page headlines and led friend Andy Rooney to remark that "Arthur Godfrey is the single most forgotten man in the history of television." David Brinkley observed that no one had been more significant in recognizing the medium's communication potential. Noted Larry King, "Godfrey was the hugest broadcasting personality we have ever had in this country." Even LaRosa admitted, "America loved the man." Rooney agreed, "I don't think there was ever anyone more important to the medium than he was".
View the full website biography of Arthur Godfrey.