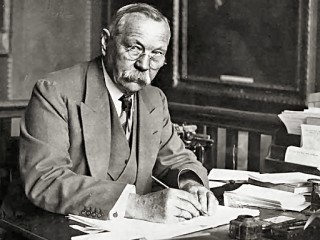 Arthur Conan Doyle
Date of birth : 1859-05-22
Date of death : 1930-07-06
Birthplace : Edinburgh, Scotland
Nationality : Scottish
Category : Famous Figures
Last modified : 2010-09-07
Arenowned English author, Sir Arthur Conan Doyle is best remembered as the creator of the famous detective Sherlock Holmes.


Doyle's youth, education, and early career
Arthur Conan Doyle
was born in Edinburgh, Scotland, on May 22, 1859, into an Irish Roman Catholic family of noted artistic achievement. His mother, Mary Doyle, was a major influence in his life. She taught him to be a gentleman in his youth and as his writing career progressed she would give him ideas for his stories. His father, Charles, was an architect in Edinburgh, as well as an amateur artist. Together they had eight children.
As a boy, Arthur was educated at a Catholic preparatory school. After attending Stonyhurst College, he entered Edinburgh University as a medical student in 1876 and received a doctor of medicine degree in 1885. In his spare time, however, he began to write stories, which were published anonymously (without a name) in various magazines from 1878 to 1880.
After two long sea voyages as a ship's doctor, Doyle practiced medicine at Southsea, England, from 1882 to 1890. In 1885 he married Louise Hawkins and in March 1891 moved his young family to London, where he began to specialize in ophthalmology (the area of medicine involving the eye). His practice remained small, however, and since one of his anonymous stories, "Habakuk Jephson's Statement," had enjoyed considerable success when it appeared in the Cornhill Magazine in 1884, he began to dedicate himself seriously to writing.
Sherlock Holmes is introduced

Doyle's first novel, A Study in Scarlet, introduced Sherlock Holmes to the reading public. This was followed by two historical novels, Micah Clarke in 1889 and The White Company in 1891. The success of these works led Doyle to abandon medicine and launch his career as a writer.

The second Sherlock Holmes novel, The Sign of the Four (1890), was followed by the Holmes short story, "A Scandal in Bohemia" (1891). The popularity of these tales made others like them a regular monthly feature of the Strand Magazine, and the Adventures of Sherlock Holmes series was begun. Doyle eventually tired of these stories, and in "The Final Problem," published in December 1893, plunged Holmes and his enemy, Moriarty, to their apparent deaths in the falls of Reichenbach. Nine years later, however, he published a third Sherlock Holmes novel, The Hound of the Baskervilles, but dated the adventure before Holmes's "death." Then, in October 1903, Holmes achieved his mysterious comeback from death in "The Empty House" and thereafter appeared occasionally until 1927. All told, Doyle wrote fifty-six Sherlock Holmes stories and four novels. The Valley of Fear (1914) was the last.

Other early works

Among other works published early in Doyle's career were Beyond the City (1892), a short novel of modern city life; The Great Shadow (1892), a historical novel of the Napoleonic period; The Refugees (1893), a historical novel about French Huguenots; and The Stark Munro Letters (1894), an autobiographical (having to do with one's life) novel. In 1896 he issued one of his best-known historical novels, Rodney Stone, which was followed by another historical novel, Uncle Bernac (1897); a collection of poems, Songs of Action (1898); and two less popular novels, The Tragedy of Korosko (1898) and A Duet (1899).

Nonfiction and later career

After the outbreak of the Boer War (1899–1902; a war between the British and the northern natives or Boers of South Africa for control of the area, which the British won), Doyle served as chief, or head, surgeon of a field hospital at Bloemfontein, South Africa, in 1900. His The Great Boer War (1900) was widely read and praised for its fairness to both sides. In 1902 he wrote a long booklet, The War in South Africa: Its Cause and Conduct, to defend the British action in South Africa against widespread criticism by peace-minded groups. In August 1902
Doyle was knighted for his service to England.

Doyle published Sir Nigel (1906), a popular historical novel of the Middle Ages. His wife died this same year of tuberculosis (an infectious disease that affects the lungs); and in 1907 Doyle married Jean Leckie. Doyle now took up a number of political and charitable causes. In 1909 he wrote Divorce Law Reform, supporting equal rights for women in British law, and The Crime of the Congo, attacking the mistreatment of that colony by Belgium. In 1911 he published a second collection of poems, Songs of the Road, and in 1912 began a series of science fiction stories with the novel The Lost World, featuring another of his famous characters, Professor Challenger.

After the outbreak of World War I (1914–18; a war between the German-led Central Powers and the Allies: France, England, Italy, the United States, and other nations), Doyle organized the Civilian National Reserve against the threat of German invasion. In 1916 he published A Visit to Three Fronts and in 1918 again toured the front lines. These tours, plus extensive communication with a number of officers, enabled him to write his famous account The British Campaigns in France and Flanders, published in six volumes (1916–1919).

Later life and spiritualism

Doyle had been interested in spiritualism (the belief in the ability for the living to communicate with the dead) since he rejected his Roman Catholic faith in 1880. In 1915 he experienced a new belief in "psychic religion," or spiritualism, so that after the war he devoted the rest of his life and career to spreading his new faith in a series of works: The New Revelation (1918), The Vital Message (1919), The Wanderings of a Spiritualist (1921), and History of Spiritualism (1926). After travelling for years to promote this cause, Sir Arthur Conan Doyle died on July 6, 1930, of a heart attack, at his home in Crowborough, Sussex.
View the full website biography of Arthur Conan Doyle .