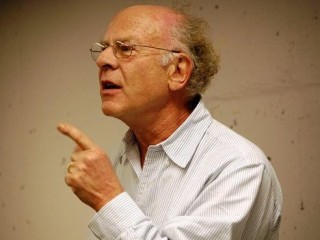 Art Garfunkel
Date of birth : 1941-11-05
Date of death : -
Birthplace : New York City,U.S.
Nationality : American
Category : Arts and Entertainment
Last modified : 2011-11-16
Arthur Ira "Art" Garfunkel is an American singer-songwriter, poet, and actor, best known as being a member of the folk duo Simon & Garfunkel. In 1970, at the height of their popularity, the duo split.

Whether performing folk-rock melodies with Paul Simon or delivering romantic ballads as a solo artist, Art Garfunkel has left a lasting impression with his finespun yet powerful voice. Described by Tony Schwartz in Newsweek as "an effortlessly lyrical voice that is as smooth and unfettered as any in pop music," Garfunkel's choirboy tenor lent a sparkling incandescence to the often dark and introspective compositions of partner Simon, when the duo recorded a string of hits as Simon & Garfunkel between 1964 and 1970.

Splitting to pursue separate interests in 1971, the two have forged successful solo careers, capitalizing on their individual strengths. Simon, the songwriter of the pair, has had continued success with his poetic, finely-crafted songs, experimenting with calypso, reggae, and gospel. Garfunkel has enjoyed success as a motion picture actor and as a singer of romantic standards. In an interview with Ron Givens for Stereo Review Garfunkel stated, "attempt to do songs that have moved me as beautifully and interestingly as I can."

Growing up in the middle-class neighborhood of Forest Hills, New York, Garfunkel met classmate Simon in the sixth grade while preparing for their school's graduation play, "Alice in Wonderland." Garfunkel was the Cheshire Cat; Simon the White Rabbit. After rehearsals the two walked home together, discussing their mutual interests--sports and music. Fans of such fifties rock and roll performers as Elvis Presley, Bill Haley and the Comets, and Frankie Lymon and the Teenagers, the pair listened to the radio for hours, dabbled in composition, and practiced singing together, accompanied by Simon's acoustic guitar. Performing at school functions and parties, the pair cut a demonstration record that caught the attention of a Big Records executive, who offered them a contract and renamed them Tom & Jerry.

Singing simple teenage rock and roll tunes, the duo had their first hit single, "Hey! Schoolgirl," when they were just fifteen. Two years later, however, Big Records folded, and the duo went their respective ways, attending separate colleges after high school graduation. Garfunkel attended Columbia University, studying architecture and mathematics. There he crossed paths with Simon once more, who was studying at nearby Queens College. While neither seriously considered a professional musical career they began to perform together again, this time singing Simon's poetic folk pieces instead of their jointly-created rock and roll. The two attracted an enthusiastic local following and were offered a contract by Columbia Records.

Simon & Garfunkel's first album, Wednesday Morning, 3 a.m., appeared in 1964. Released during the throes of Beatlemania, the album was largely ignored, although one of its songs, "The Sounds of Silence," was moderately popular. Late the following year, unbeknownst to the pair according to some accounts, Columbia overdubbed drums and bass guitar and re-released "The Sounds of Silence" as a single. This new version sold more than one million copies and became the title track for the pair's next LP, which went gold. Subsequent Simon & Garfunkel albums also proved top sellers, introducing such folk-rock classics as "I Am a Rock," "Homeward Bound," and "Scarborough Fair."

While Garfunkel arranged the occasional piece, Simon did the lion's share of the songwriting, and was paid commensurately from their recording and performing revenues; Garfunkel once explained that he didn't write songs "because Paul was so good ... [and] it seemed foolish to go for equal time." Still, Garfunkel was often credited for much of the duo's success: it was his clear tenor voice that frequently soared above the pair's seamless harmonic blend; it was Garfunkel's easy manner and boyish looks (his bushy blond hair was described as "a huge dandelion gone to seed" by one writer) that provided an appealing counterpoint to the dark, serious man that was Simon.

In 1968 Simon & Garfunkel provided original music for the hit motion picture The Graduate; "Mrs. Robinson," the film's theme song, earned a Grammy Award as record of the year. Nineteen seventy brought more Grammies for the duo, their album Bridge Over Troubled Waters becoming one of the top-selling LPs of all time, at nine million copies. The album's title song, featuring an inspirational Garfunkel solo, flooded the nation's airwaves. Yet ironically, while the two performers were at the height of their popularity--celebrating brotherhood in their hit song--their personal differences became so great that they abandoned their partnership.

Key to the split was Garfunkel's burgeoning acting career; the singer told Stephen Holden in a 1982 interview in Rolling Stone that "I think when I went off to make Catch-22, Paul was left feeling out of it and uncomfortably dependent. Looking back, I know, too, that I felt envious of Paul's writing and playing." While the pair did attempt to work together from time to time, it was not until 1982 that they laid old conflicts to rest, reuniting for an open-air concert in New York's Central Park, a television special, a double album, and an international tour--thrilling longtime fans.

Garfunkel made his acting debut as Captain Nately in Mike Nichols's 1970 film adaptation of the bestselling Joseph Heller novel Catch 22. The actor's efforts were well received by critics; Gary Arnold wrote in the Washington Post, for instance, "[Garfunkel] embodies a kind of youthful sweetness and idealism that the material desperately needs in the face of so many manic and inhuman characters." Garfunkel gave notable performances in Nichols's "Carnal Knowledge" and Nicholas Roeg's "Bad Timing" as well; nonetheless, in his interview with Holden, Garfunkel admitted that his acting career had fallen short of his expectations.

As a solo vocalist the performer has enjoyed greater success: his first album, Angel Clare, was a top seller and his second LP, Breakaway, went platinum. Reviewing the first release, Loraine Alterman wrote in the New York Times, "Not only does Garfunkel emerge as the excellent singer we all knew him to be but he also reveals himself as a romantic not afraid to luxuriate in lush sounds." Singing the soft-edged works of popular composers like Van Morrison, Randy Newman, and--especially--Jimmy Webb, Garfunkel has also recorded a number of ballad favorites: his rendition of "I Only Have Eyes for You" climbed the charts in 1975.

In his interview with Schwartz, Garfunkel revealed that his simple, sentimental stylings are far more thoughtful and complicated than they first appear: "I work a lot on the crafting ... emptiness vs. busyness, peaks followed by valleys, tension and then resolve," he related. "I respond more to notes than to lyrics.... What I get caught up in is texture and sonority--the sound per se." Discussing his romantic inclinations, Garfunkel continued: "What that really means is that my leaning is more legato than percussive. I happen to like smooth, connected notes more than choppy, staccato ones. I find some songs too gritty, too sophisticated. My style is to sing bloody, from the heart."

In 2003, Simon and Garfunkel reunited again for a successful world tour that extended into 2004. In 2005, his song "Sometimes When I'm Dreaming" from The Art Garfunkel Album (1984) (written by Mike Batt) was re-recorded by ex-ABBA singer Agnetha Fältskog on her album My Colouring Book.In 2006, Garfunkel signed with Rhino Records (revived Atco Records), and his first Rhino/Atco album Some Enchanted Evening was released in America on January 30, 2007.

In 2009, Simon and his band re-opened New York's legendary Beacon Theatre, which had been closed for seven months for a renovation. As an encore, Simon brought out "my old friend," Art Garfunkel. They sang 3 songs: "Sound of Silence", "The Boxer", and "Old Friends".In 2010, Simon & Garfunkel announced a 13-date spring tour, to kick off in April with a performance at the New Orleans Jazz & Heritage Festival. Most performances were scheduled for Canada, with four shows in the upper Midwest of the US. In june 2010, Simon & Garfunkel canceled the tour, earlier rescheduled for July 2010, now postponed indefinitely as Garfunkel continues to recover from a vocal cord paresis.

Simon & Garfunkel LPs:
-Wednesday Morning, 3 a.m. Columbia, 1964.
-The Sounds of Silence Columbia, 1966.
-Parsley, Sage, Rosemary & Thyme Columbia, 1966.
-Bookends Columbia, 1968.
-The Graduate (soundtrack), Columbia, 1968.
-Bridge Over Troubled Waters Columbia, 1970.
-Simon and Garfunkel's Greatest Hits Columbia, 1972.
-Concert in Central Park Warner Bros., 1981.

Solo LPs:
-Angel Clare Columbia, 1973.
-Breakaway Columbia, 1975.
-Watermark Columbia, 1977.
-Fate for Breakfast (Doubt for Dessert) Columbia, 1979.
-Scissors Cut Columbia, 1981.
-Lefty Columbia, 1988.
-Garfunkel (greatest hits), Columbia, 1989.

Other:
-(With Amy Grant) The Animals' Christmas Columbia, 1986.
View the full website biography of Art Garfunkel.