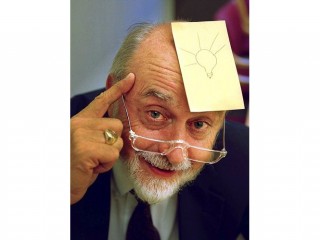 Art Fry
Date of birth : 1931-08-19
Date of death : -
Birthplace : Owatonna, Minnesota
Nationality : American
Category : Science and Technology
Last modified : 2022-08-19
Art Fry was a chemist at 3M, who in 1974 used an only-slightly sticky adhesive invented by Spencer Silver to secure bookmarks in his church hymnals. When the bookmarks were removed, they left a sticky residue on the hymnals' pages, so Fry tinkered with the chemical formula to make the adhesive even less sticky. Of course, Fry and Silver had invented "Post-It" notes, but it took several years for their supervisors at 3M to see the value in a glue that did not stick well.

Post-It notes were introduced in 1980, in 1985 sales topped $100M, and by 1998 annual sales of Post-It notes and other products based on Silver's adhesive generated a billion dollars in sales annually. Fry and Silver, being employees, never received any royalties, but in 1986 Fry was honored with the company's top technical title, corporate researcher. "My biggest reward," he said, "is to see so many people use and appreciate my product."

As of 2006, Post-it products are sold in more than 100 countries.

In 2010, Art Fry was inducted into the National Inventors Hall of Fame.

View the full website biography of Art Fry.