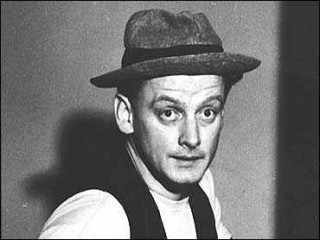 Art Carney
Date of birth : 1918-11-04
Date of death : 2003-11-09
Birthplace : Mount Vernon, New York, U.S.
Nationality : American
Category : Arts and Entertainment
Last modified : 2011-09-28
Arthur William Matthew "Art" Carney was an American actor in film, stage, television and radio. He is best known for playing Ed Norton, opposite Jackie Gleason's Ralph Kramden in the situation comedy The Honeymooners.
Carney was born in Mount Vernon, New York, into a large Irish-American family. His father, Edward Michael Carney, was a newspaperman and his mother, Helen Farrell, was a former professional violinist. As the youngest of six boys, Carney developed his talents at an early age. He performed acts for his family, one of which was cleverly named "Art for Art's Sake." In elementary school and high school he won talent contests with his ability to impersonate famous people of the day.

Carney graduated from A. B. Davis High School in 1936. An audition with the Horace Heidt Orchestra landed him a role singing and doing impersonations with their traveling show. When the band landed a radio show, Carney announced for it and in 1941 he had a small role in the band's movie, Pot O' Gold. Not long afterward, he quit the band, supposedly because he was so drunk he could not announce for their show and he did not want to be fired.
Carney attempted to perform a solo act on vaudeville, but he learned the hard way that he was not a stand-up comedian. While unsuccessful at vaudeville, Carney continued to find small fulfilling roles in radio. In 1942, he began working on the CBS show Report on the Nation. His repertoire of impersonations included president Franklin Delano Roosevelt, British prime minister Winston Churchill, and commanding general Dwight D. Eisenhower.
In 1944, his stint on Report on the Nation was interrupted when he was sent to France after joining the Army. His tour of duty abruptly ended when shrapnel from an enemy attack shattered part of his leg. He spent nine months in the hospital and suffered from a permanent limp he spent the rest of his acting career trying to mask.
In the late 1940s and early 1950s, Carney appeared on television in small roles on shows like Henry Morgan's Great Talent Hunt. His trademark character, Ed Norton, was first seen on Jackie Gleason's show Cavalcade of Stars. When Gleason moved to CBS, Carney went with him and tried out a handful of characters, but Ed Norton, the kooky sewer worker, always seemed to capture the most attention, so much so that sewer worker associations across the country offered him honorary memberships.

Carney performed in other television shows and specials including the 1957 television movie The Fabulous Irishman, a 1960 production of Our Town, and a one-man drama called Call Me Back. Other dramatic series that he performed in included Studio One, Kraft Television Theater, and Omnibus. Carney also appeared on Broadway. In 1965, he played the original Felix Unger-the compulsive neat freak in the Neil Simon play The Odd Couple. Other Broadway credits include roles in 1957's The Rope Dancers and 1961's Take Her, She's Mine, as well as 1968's Lovers.
His most memorable big-screen role was in Harry and Tonto. At first unwilling to take a role playing someone nearly 20 years older than he was at the time, Carney relented and went on to win an Oscar for his performance. In the film he played an elderly man who travels across the country with his cat after being evicted from his apartment in New York City. Although this was his only Oscar, Carney received critical acclaim and awards throughout his career.

He appeared on The Honeymooners from 1951 to 1957. During that time he was awarded three Emmy Awards for Best Supporting Actor. In 1960 he won an Emmy for humor programming for his special The Art Carney Show. He won another Emmy in 1968 for Individual Achievement. In 1977, he was named Best Actor by the National Society of Film Critics for his role in the film The Late Show. In that film, he played a retired private eye opposite actress and comedienne Lily Tomlin. In 1984, he won another Emmy for his performance in the television movie Terrible Joe Moran.

In 1965, while starring in The Odd Couple, Carney and his wife of 25 years, Jean Myers, divorced. He had been a heavy drinker for years. During the run of The Odd Couple Carney had a breakdown and checked himself into a sanatorium to help him stop drinking. He married Barbara Isaac in 1966, but they divorced in 1976. Carney and Myers reconciled in the late 1970s and married a second time. They had three children together, Eileen, Bryan, and Paul.

Carney died on November 9, 2003; he was 85. Carney is survived by his wife, Jean, three children, six grandchildren, and one grandson. His broad range of acting abilities may have been overshadowed by the character of Ed Norton, but that fact never seemed to hinder Carney. A month before he died, the Academy of Television Arts and Sciences inducted him into their Hall of Fame.
View the full website biography of Art Carney.