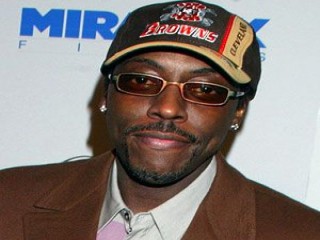 Arsenio Hall
Date of birth : 1955-02-12
Date of death : -
Birthplace : Cleveland, Ohio, U.S.
Nationality : American
Category : Arts and Entertainment
Last modified : 2011-06-22
Arsenio Hall is an American actor, comedian, and former talk show host. He is best known for his talk show The Arsenio Hall Show, which ran between 1989 and 1994, and his roles in the films Coming to America and Harlem Nights.

Hall is also known for his appearance as Alan Thicke's sidekick on the talk show Thicke of the Night.

Hall is best known for his groundbreaking talk show The Arsenio Hall Show which ran from 1989-94. As the first black late-night talk show host, one of Hall's distinctions is that he provided what was the first, and for a time, only, showcase for hardcore rap and hip-hop artists, and for controversial guests like Louis Farrakhan, the Nation of Islam leader.

He attended Ohio University in Athens, Ohio, majoring in communications, though he transferred, and graduated from, Kent State University in Kent, Ohio. Though he started out in advertising, in 1979 he moved to Chicago, switched to stand-up comedy, and was "discovered" at a comedy club by singer Nancy Wilson. He got jobs opening for musicians such as Aretha Franklin, Tom Jones, Patti Labelle, Wayne Newton, and Tina Turner.

Throughout the 80s Hall appeared on various comedy and musical shows, including Solid Gold, Motown Revue, and The New Love American Style, and hosted a short-lived show called The Half-Hour Comedy Hour. He made his feature film debut in Amazon Women on the Moon in 1987. Hall also appeared in two films with friend Eddie Murphy: the box-office hit Coming to America, (1988) and Harlem Nights (1989).

Back in 1987, however, Hall had tapped into what would be his most successful professional endeavor. He took over hosting duties from Joan Rivers on The Late Show. His easy-going, playful, and somewhat risque banter, was a hit with audiences. Based on that success, he was approached to host his own syndicated late-night talk show. Two years later, The Arsenio Hall Show was born. Hall's deal included hosting and executive producing duties on the show, produced by Paramount and his own production company, Arsenio Hall Productions. Starting a half-hour earlier than Johnny Carson's late-night staple The Tonight Show in many regions, and booking younger, new TV and musical artists than his established rival, he drew a young, hip audience, whose often raucous reaction to Hall's monologue, and guests became famous for its "Woof! Woof!" (with pumping fist) chant.

Strangely, it was the end of Carson's reign that created a similar fate for Hall. When Carson retired in 1992, and Jay Leno was chosen as his successor over David Letterman (whose show followed Carson's), Letterman left NBC for CBS, and started his own Late Show, against Leno's. Leno started drawing young viewers away, and Letterman, who had a long-standing young audience, and his new show's success, also cut into Hall's audience, with affiliate stations choosing to air Letterman over Hall. The Arsenio Hall Show aired its final episode May 27, 1994.

Hall received two NAACP Image awards in 1991, a Key of Life Award for his work as "a crusader in the fight of human rights," and another for his show. In 1993 he executive-produced the feature film Bopha!, a story about a family during apartheid, starring Danny Glover, Alfre Woodward, Malcolm McDowell, and directed by Morgan Freeman.

After three years away from the public eye, Hall returned to television in 1997 with his short-lived sitcom Arsenio co-starring Vivica A. Fox. In 1998-99, he made regular appearances on the CBS series Martial Law.

View the full website biography of Arsenio Hall.