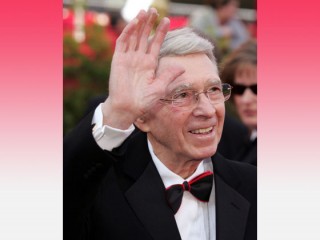 Army Archerd
Date of birth : 1922-01-13
Date of death : 2009-09-08
Birthplace : Bronx, New York, U.S.
Nationality : American
Category : Famous Figures
Last modified : 2011-01-13
Armand Andre "Army" Archerd was a columnist for Variety for over fifty years before retiring his Just for Variety column in September 2005. In November 2005, Archerd began blogging for Variety and was working on a memoir when he died.

His "Just for Variety" column appeared on page two of Daily Variety and swiftly became popular in Hollywood. Archerd broke countless exclusive stories, reporting from film sets, announcing pending deals, giving news of star-related hospitalizations, marriages, and births. In 1984, he was given a star on Hollywood's Walk of Fame, in front of Mann's Chinese Theater, where he had emceed dozens of movie premieres.

One of his most significant scoops was in his July 23, 1985, column, when he printed that Rock Hudson, despite denials from the actor's publicists and managers, was undergoing treatment for AIDS.

Archerd was Jewish and a strong proponent of the Simon Wiesenthal Center and Holocaust awareness. He was married to Selma Archerd, a former actress Selma Archerd from November 15, 1969 until his death. They had one child and lived in Westwood, California.

Archerd died at Ronald Reagan UCLA Medical Center from of a rare form of mesothelioma, "thought to be the result of his exposure to asbestos in the Navy during WWII" .


View the full website biography of Army Archerd.