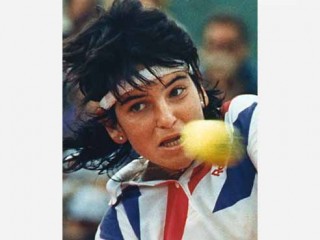 Arantxa Sanchez-Vicario
Date of birth : 1971-12-18
Date of death : -
Birthplace : Barcelona, Spain
Nationality : Spanish
Category : Sports
Last modified : 2010-06-21
Arantxa Sanchez-Vicario (also known as: Arantxa Sanches Vicario) born December 18, 1971 in Barcelona, Spain is a Spanish tennis player.

Arantxa Sanchez-Vicario won 29 tennis singles championships, including four Grand Slam events, in her 17-year professional women's tennis career. "She has become a fixture in French Open lore," according to Kristin Green Morse of Sports Illustrated. She also won the U.S. Open Championship once, captured four Olympic medals for Spain, and led her country to Federation Cup titles.

Best on Clay Court

Sanchez-Vicario, a Barcelona native, turned pro in 1985, at age 13. Her older brothers, Emilio and Javier, competed on the men's pro tour. In 1987 she reached the quarterfinals in her Grand Slam debut at the French Open in Paris. Two years later, she took Roland Garros stadium by storm, upsetting top-ranked Steffi Graf in a memorable three-hour, three-set final, ending Graf's run of five consecutive Grand Slam titles. "It's been 15 years already," Sanchez-Vicario said in 2004, according to Morse, "And I still remember almost every point of the match. It gets my heart pumping in my body."

Graf had her at match point in the third and final set, but missed a routine overhead and lost her serve at love. Sanchez-Vicario, who had earlier stared down two set points, rallied for 16 of the last 19 points and a 7-6, 3-6, 7-5 triumph. "I had nothing to lose. I was just a young girl running," she told Morse, adding that she still gets excited watching replays of the match on television.

Sanchez-Vicario immediately became a hero in Spain. She added Vicario, her mother's maiden name, to her own name after the French victory, and hyphenated it in 1998. "My mother wants to get her name in the papers, too," she told Morse. Sanchez-Vicario also won the French Open--she was at her best on a clay-court surface--in 1994 and 1998. She won the U.S. Open title in New York in 1994, and was also an eight-time Grand Slam event runner-up.

Nicknamed "Barcelona Bumblebee"

"Sanchez-Vicario became popular for her aggressively defensive game. Her net play made her a strong doubles player," wrote the Associated Press, as noted on the Detroit News website. Bud Collins, longtime Boston Globe tennis columnist and television commentator, nicknamed her the "Barcelona Bumblebee." Overall, Sanchez-Vicario won six Grand Slam titles in women's doubles and four in mixed doubles; she earned a world No. 1 ranking in doubles in 1992 and singles in 1995.

Playing in the Olympics for Spain, Sanchez-Vicario was a singles bronze medalist in 1992, in her native Barcelona, and four years later in Atlanta she took the silver as runner-up to Lindsay Davenport of the United States. Playing with Conchita Martinez in mixed doubles, she won silver and bronze in 1992 and 1996, respectively. She holds the record for most matches in Federation Cup international play (100) and most victories (72).

Returned for 2004 Olympics

On November 12, 2002, a tearful Sanchez-Vicario announced her retirement from the game. "I believe the moment has arrived for me to dedicate my time to my personal life," she told the Associated Press. But the lure of the 2004 Olympics brought Sanchez-Vicario, then 32, out of retirement. She competed in the 2004 Summer Games in Athens, Greece, with Medina Garrigues; the pair lost in the first round to eventual bronze medalists Paola Suarez and Patricia Tarabini of Argentina.

Sanchez-Vicario's outside interests include language study, and she is fluent in Spanish, English, French, German, and Italian. She works with charities and enjoys beaches, soccer, horseback riding, and skiing. "When she puts her mind to something, she generally accomplishes it," Morse wrote. "Just ask the unbeatable Steffi Graf."


AWARDS

WTA Tour, Most Improved Player, 1988, 1989; El Mundo Deportivo, Spain's Best Athlete, 1991, 1994, 1998; Government of Spain, Principe De Asturiasi, for lifetime achievement in tennis, 1998; Tennis magazine, Comeback Player of the Year, 1998; Family Circle Cup, Player Who Makes a Difference, 2000.

CAREER

Won French Open singles competition , 1989 and 1994; won silver medal (playing Conchita Martinez) in doubles and bronze medal in singles, 1992 Olympic Games, Barcelona, Spain; won Australian Open doubles competition (with Jana Novotna), 1992 and 1995; mixed doubles (with Todd Woodbridge), 1993; won U.S. Open singles championship, 1994; doubles competition, 1993 and 1994; took Wimbledon top honors in doubles (with Jana Novotna), 1995; ranked number one worldwide in singles and doubles, 1995.
View the full website biography of Arantxa Sanchez-Vicario.