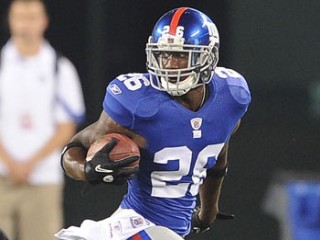 Antrel Rolle
Date of birth : 1982-12-16
Date of death : -
Birthplace : Homestead, Florida
Nationality : American
Category : Sports
Last modified : 2010-10-01
* Originally a 1st round (8th pick overall) draft choice by the Arizona Cardinals in 2005…Released by the Cardinals on March 4, 2010…Signed by the Giants on March 5, 2010


GIANTS NOTES
* Originally drafted as a cornerback, Rolle switched to safety prior to the 2008 season.
* Scored the first postseason defensive touchdown in Cardinals franchise history when he scooped up a botched handoff in the NFC Wild Card Game vs. Atlanta (1/3/09) and returned it 27 yards for a score.
* Rolle has 4 career touchdowns on interception returns.
* Played in the Pro Bowl following the 2009 season.
CAREER HIGHLIGHTS
* Has played in 68 regular season games with 59 starts. Career totals include 335 tackles (294 solo), 12 interceptions (including 4 returned for touchdowns; three in 2007), 34 passes defensed, three forced fumbles and 1.5 sacks…Has started all 6 postseason games in which he's played, including Super Bowl XLIII…In postseason play, has 20 tackles (11 solo), 1 interception returned 47 yards, 2 passes defensed, and a fumble recovery returned 27 yards for a touchdown.
* In 2009, Rolle started all 15 regular season games and 2 postseason games in which he played…Inactive for regular season finale vs. Green Bay (1/3) with thigh injury, ending his streak of consecutive games played at 63…Credited with 72 tackles (61 solo)…Intercepted 4 passes, the 2nd-highest total of his career. One of those was on an Eli Manning pass with 1:08 remaining in the 4th quarter on Oct. 25, sealing the Cardinals' 24-17 victory over the Giants. Rolle had 8 tackles (6 solo) and also saw time on offense, lining up in the shotgun formation and attempting a pass that fell incomplete (Cardinals were called for holding, nullifying play)…Also intercepted Indianapolis' Peyton Manning (9/27), a pick he returned 27 yards…Had picks at Seattle (10/18) and at home vs. Seattle (11/15)…Registered 1st career sack and in first game as a punt returner brought back 5 kicks for 55 yards with a long of 27 vs. San Francisco (9/13)…Returned a blocked field goal 83 yards for a touchdown and had a half-sack at Jacksonville (9/20)…Had 7 solo tackles vs. Indianapolis and 8 tackles (7 solo) vs. Houston (10/11)…Tallied 9 solo tackles and his pick vs. Seattle…Led team with 13 tackles (9 solo) in NFC Wild Card Game victory over Green Bay (1/10)…Was also used as quarterback in the Wildcat formation and had 1 rushing attempt for 9 yards vs. Minnesota (12/6)…Led Cards with 16 postseason tackles (11 solo), despite leaving Divisional Playoff Game at New Orleans (1/16) in the 1st quarter with a head injury.
* In 2008, moved to free safety in the offseason...Started all 16 regular season games and all 4 postseason games as the Cardinals advanced to Super Bowl XLIII…Finished second on the team with a career-high 119 tackles (78 solo), and an interception, which he returned for his 4th career touchdown…Had 6 tackles in 1st career start at free safety at San Francisco (9/7)…Played 1 snap at wide receiver and had a catch nullified due to a penalty at Washington (9/21)…Picked off a Marc Bulger pass and returned it 40 yards for a touchdown at St. Louis (11/2)…In his 50th career game he registered his 1st reception for a gain of 9 yards as well as 7 tackles vs. St. Louis (12/7)…Led team with career-high 14 tackles vs. Minnesota (12/14)…Started 1st career playoff game and returned a botched handoff, forced by Darnell Dockett, 27 yards for a touchdown in the NFC Wild Card Game vs. Atlanta (1/3); the 1st postseason defensive touchdown in Cardinals history and his 1st career fumble recovery…Intercepted Jake Delhomme and returned ball 47 yards in NFC Divisional Playoff Game at Carolina (1/10)...Led Arizona secondary with 5 tackles and played a handful of snaps on offense in NFC Championship Game vs. Philadelphia (1/18)…Had 3 tackles (1 solo) in Super Bowl XLIII vs. Pittsburgh.
* In 2007, played in all 16 games with 8 starts and recorded 72 tackles (48 solo) and a career-high 5 interceptions, returning an NFL-best 3 for touchdowns - including 2 in 1 game…His three interception returns for scores tied the Cardinals franchise record (Robert Massey, 1992) and tied for the 2nd most in a season in NFL history, becoming the 22nd player to do so…Had a record-setting day at Cincinnati (11/18), where he intercepted Carson Palmer 3 times for the first multi-interception game of his career. He returned 2 for touchdowns of 55 and 54 yards…Became the 5th player in NFL history with two interception return touchdowns of 50+ yards in the same game and the 3 picks tied for the highest single-game total in the NFL in 2007…A 3rd touchdown was called back on a penalty…Also had 6 tackles and was named NFC Defensive Player of the Week…Led team with 11 tackles vs. Cleveland (12/2)…Intercepted 2 Marc Bulger passes, returning one 47 yards for a touchdown, vs. St. Louis (12/30), a performance that earned him his 2nd NFC Defensive Player of the Week award in 2007.
* In 2006, started all 16 games at cornerback and finished 4th on the team with 87 tackles (81 solo), an interception and 10 passes defensed…Led the team with 8 tackles and 2 passes vs. San Francisco (9/10)…Tallied 5 tackles and his 1st career forced fumble vs. Seattle (12/10)…Contributed 2 tackles, 1 pass defensed, 1 forced fumble and an interception of Alex Smith pass at San Francisco (12/24).
* As a rookie in 2005, played in 5 games with 4 starts at cornerback and had 28 tackles (27 solo) and an interception…Made his NFL debut at the Giants (9/11) and recorded 1 tackle…Had 11 tackles at Seattle (9/25)…Missed the game vs. San Francisco (10/2) due to a left knee injury suffered at Seattle…Underwent surgery to repair damage in the knee on 10/3…Returned to action vs. Washington (12/11) and recorded his 1st career interception off Mark Brunell…Started and had 9 solo tackles at Houston (12/18)…Missed the season's final 2 games due to swelling in his knee.
COLLEGE
* In 4 seasons at Miami, was credited with 183 tackles and 5 interceptions…In 2003, returned 13 punts for 202 yards and a touchdown…Selected as Miami's ACC Male Scholar Athlete of the Year…First team All-Atlantic Coast Conference selection…Chosen to the All-ACC Academic team and was a finalist for the Jim Thorpe Award (nation's best defensive back) and a semifinalist for the Bednarik Award (best defensive player)…As a senior, started 11 games at right CB, recording 58 tackles with 1.5 sacks and a fumble recovery…Started every game as a junior, when he had 51 tackles, including a 10-yard sack…As a freshman, played in 8 games and had 8 tackles with an interception and a pass deflection.
OFF-THE-FIELD ACTIVITY
* Created the "Antrel Rolle Make a Pledge for Change Foundation" to support youth football near his hometown in South Dade County Florida and has set up scholarships and given $30,000 to the athletic department at his alma mater, South Dade High in Florida. He's also given scholarships to Homestead High and helped sponsor a Florida City youth baseball team, and recently purchased Southridge High School new football jerseys.
* Hosted Giants fans and season ticket holders during the team's Draft Day Party at New Meadowlands Stadium.
PERSONAL
* Full name is
Antrel Rocelious Rolle
…Received his bachelor's degree in sports administration in May of 2005…Attended South Dade (Homestead, Fla.) High School, where he was a Parade All-America choice and rated the 2nd-best prospect in Florida and Dade County by the Miami Herald…Graduated with a 3.8 grade point average in high school…Born Dec. 16, 1982.
View the full website biography of Antrel Rolle.