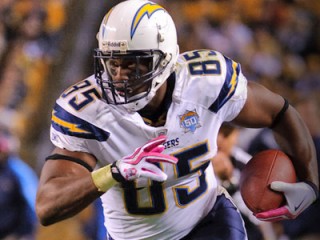 Antonio Garay
Date of birth : 1979-11-30
Date of death : -
Birthplace : Rahway, New Jersey
Nationality : American
Category : Sports
Last modified : 2010-09-17
Antonio Garay born November 30, 1979, in Rahway, New Jersey is an American football defensive tackle for the San Diego Chargers of the National Football League. He was drafted by the Cleveland Browns in the sixth round of the 2003 NFL Draft. He played college football at Boston College. Garay has also been a member of the Chicago Bears and New York Jets.


Garay's career
To the casual observer, Antonio Garay's special teams tackle on the opening kickoff of the third quarter in the 2009 season finale against Washington was just another tackle, but to know his story, it was much bigger than that.
A little more than two years earlier, Garay (Guh-RAY), then playing for the Chicago Bears, was hit by the Redskins' Chris Samuels with a chop block in a prime-time Thursday night game. The illegal hit should have drawn a flag, which it didn't, but the block broke Garay's right leg and shattered his ankle.
Fully rehabilitating his leg took nearly two years and Garay did not return to the NFL until the New York Jets signed him to their practice squad in Oct. 2009. Just seven weeks later, after losing another defensive lineman to an injury, the Chargers signed Garay to their active roster, completing his return to the league.
One of the reasons the Chargers opted to sign Garay was his familiarity with defensive coordinator Ron Rivera and defensive line coach Don Johnson. Garay played for both men in Chicago.
Garay's path to the NFL is an intriguing one. A native of Rahway, New Jersey, he is a second-generation freestyle wrestler. His family sports the most wrestling medalists in N.J. Garay's uncle, Louie Garay, won the New Jersey state championship in 1955. Another uncle, Carlos Garay, finished second in '57. Antonio's dad, Tony, finished third in 1966. His brother, Dan, also owns a state title. But Antonio may have been the best of them all. A state champion as well in his weight class (275 lbs.), Garay was undefeated as a high school senior. Wrestling and football, where he was a high school All-America, led Garay to Boston College. He excelled in both sports until BC dropped wrestling prior to his senior year. Garay had finished fourth in the NCAA Championships as a sophomore and is the only wrestling  All-America in Boston College history. In 2009, the school inducted Garay into its Athletics Hall of Fame. Garay concluded his collegiate athletic career on the gridiron, and despite suffering severe injuries in both his junior and senior seasons, the Cleveland Browns drafted him in the sixth round in 2003.
Garay comes from a very diverse family. His mother, Marsha, is Jewish and his father is Catholic and a combination of Puerto Rican, Costa Rican and Jamaican. Both of Garay's parents were two-sport athletes at Hofstra University, where they met. His mom was a softball pitcher and captain of the tennis team and his dad wrestled and played football. One of the most highly-touted defensive linemen in the country in 1971, Garay's father spent time in the NFL with the Los Angeles Rams, Oakland Raiders, New England Patriots and New York Jets. Garay's mother has instilled Jewish heritage in Antonio and his siblings, and as such, one of his ambitions is to visit Israel and wrestle in the Maccabi Games, an international Jewish athletic event similar to the Olympics that is held in Israel every four years under the auspices of the Maccabi Federation. He is also contemplating representing the United States in wrestling at the 2012 Summer Olympics in London.
Off the gridiron and the wrestling mat, Garay is in the process of starting the "Set the Tone" foundation. Its mission is to work with kids in the community to prepare them for college and to help them understand all of their options for continued education.
Garay earned bachelor's degrees in both English and marketing, and a master's degree in secondary education with a focus on English from Boston College.
TRANSACTION HISTORY: Sixth-round pick (195) by CLE, April 27, 2003...signed with Browns, Aug. 2...waived Dec. 13, 2004...signed with CHI, Aug. 15, 2005...waived Aug. 30... signed to Bears' practice squad, Sept. 5...re-signed with CHI, Jan. 16, 2006...released, Sept. 1, 2007...signed to Bears' PS, Sept. 3 and active roster, Sept. 11...released Feb. 28, 2008... signed to NYJ PS, Oct. 20, 2009... signed with Chargers Dec. 9...re-signed two-year contract, March 5, 2010.
2009: Began season on NYJ practice squad...crushing STT in Jan. 3 season-finale vs. WAS...four TTs in Wild Card Playoffs vs. Jets.
2008: Missed season while recovering from broken leg.
2007: Broken leg and shattered ankle Dec. 6 vs. WAS as result of illegal chop block by tackle Chris Samuels...placed on "Reserve-Injured" Dec. 10.
COLLEGE: Co-captain as senior...finished career with 162 TT, 12 sacks and 24 TFLs...suffered season-ending ACL sprain on first play of first game of junior season and season-ending spine injury vs. Notre Dame as senior...redshirted in 1998... played at Boston College from 1998-02...marketing major.
PERSONAL: Born in New York City...Prep Star All-America and all-state at Rahway (N.J.) HS.
View the full website biography of Antonio Garay.