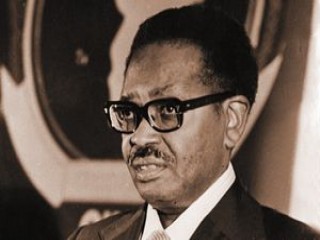 Antonio Agostinho Neto
Date of birth : 1922-09-22
Date of death : 1979-09-10
Birthplace : Catete, Angola
Nationality : Angolan
Category : Politics
Last modified : 2010-12-17
António Agostinho Neto (1922-1979) was a leading African intellectual and nationalist in the three decades following the close of World War II. A doctor and poet, he was also the president of the Popular Movement for the Liberation of Angola, directing the armed struggle within Angola against the Portuguese colonial rule, and the first president of the People's Republic of Angola.
Antonio Agostinho Neto was born near the town of Catete, a short distance inland from Luanda, the Angolan capital, on September 17, 1922. As a boy his family lived in Luanda where his father was the pastor of a large Methodist church and his mother was a kindergarten teacher. He was one of the few Africans who received a secondary school education at the famous Silva Correia High School. Neto was quiet, reserved, competent, and a good student. He bought his school books and supplies by working part-time as a secretary for the Methodist bishop. Unable to study medicine as he wanted, Neto went to work for the government health services in Luanda from 1944 to 1947. He participated in the formation of cultural associations which were an expression of African nationalism at a time when political organizations were forbidden by the Portuguese authorities.
In 1947 Agostinho Neto received a scholarship from the Methodist church for medical studies, first at the University of Lisbon and then at Coimbra. Together with other African students, he took an active part in opposing the Salazar dictatorship in Portugal. He was arrested and imprisoned on three occasions for organizing petitions, joining in demonstrations, and writing poetry. (His poems mirrored the harsh conditions of African life under Portuguese colonialism and the longing of his people for freedom and justice.) Neto was now well-known as a leading African intellectual and nationalist, and some of the most famous international writers, artists, and liberal politicians petitioned for and secured his release. In 1958 he completed his medical studies, which had been interrupted by his imprisonment, and the next year returned to Angola with his Portuguese wife, Maria Eugenia.
Agostinho Neto was one of the few Angolans who had the education that would have allowed him to live a life of privilege and security. Instead, on his return to Luanda he started a medical practice where he welcomed all patients, however poor and whatever their background. At the same time he continued writing. One line of a poem expressed his belief in the inevitability of the victory of African nationalism with the words "No one can stop the rain."
He had hardly begun his work as a doctor when he was again arrested, in his consulting room. This action sparked off a demonstration in his home village. Thirty people were killed and many injured as Portuguese soldiers fired on the crowd. The Portuguese exiled Neto to the Cape Verde Islands and later sent him to Portugal, where he was first imprisoned and then kept under house arrest. In 1962 he and his wife and two small children escaped to Morocco and from there travelled to Léopoldville (now Kinshasa, Zaire).
Neto was now the most famous of the Angolan nationalist leaders, and in the same year he was elected as the president of the liberation movement, MPLA (Popular Movement for the Liberation of Angola). For the next 12 years Neto directed the armed struggle of MPLA within Angola against Portuguese colonial rule. He travelled to Europe, the Soviet Union, and other African countries to rally support for his organization. During the 1960s several volumes of his poetry were published. Some were translated and published in other languages, including English. In 1974 a coup in Portugal toppled the Salazar dictatorship. Neto, as the head of MPLA, opened the negotiations with Portugal and with other Angolan liberation movements which led to the independence of Angola.
On November 11, 1975, Neto was sworn in as the first president of the People's Republic of Angola. The problems of building a modern nation state on the ruins of an old colonial empire were immense. For example, illiteracy was about 85 percent; many trained Portuguese had left the country; and rival liberation movements supported by foreign powers refused to recognize the MPLA government and continued the war. Neto's compelling sense of duty to his people and country motivated him as it had done in his years as a student, as a doctor, and as a leader in exile. His own inclination was more to intellectual pursuits and a private life, but he continued to give Angola the strong leadership that it needed. He acted as a moderating influence within his government while remaining fully committed to building a socialist state. Agostinho Neto has deservedly been called "the father of modern Angola." His work was cut short by his death from cancer on September 10, 1979.
Some of Agostinho Neto's poems have been translated into English and published under the title Sacred Hope (1974). On general background, see Lawrence W. Henderson Angola: Five Centuries of Conflict (1979). Recommended on the role of Neto and MPLA in the liberation struggle is John Marcum, The Angolan Revolution, two volumes (1969 and 1978), and on events since independence see Michael Wolfers and Jane Bergerol, Angola in the Front Line (1983).
View the full website biography of Antonio Agostinho Neto.