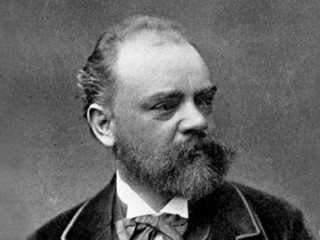 Antonin Dvorak
Date of birth : 1841-09-08
Date of death : 1904-05-01
Birthplace : Prague, Czech Republic
Nationality : Czech
Category : Arts and Entertainment
Last modified : 2010-12-15
Antonin Dvořak, one of the greatest Czech composers, is most noted for his attractive and apparently effortless melodic gifts and the unfailing brilliance of his orchestration.
Antonin Dvořák was a nationalistic musician, basing his style on melodic and rhythmic patterns found in the folk music of his own country. At the same time he was not excessively concerned with program music, and he worked most successfully in instrumental forms utilizing traditional classical structures, such as symphonies and chamber works. Even those compositions which contain programmatic titles tend toward a general atmosphere rather than a musical structure that follows a preconceived literary outline.
Born on Sept. 8, 1841, in a small town near Prague into a moderately poor worker's family, Dvořák showed considerable interest in music as a child. When he was 16 he moved to Prague to continue his education, studying at the Prague Organ School from 1857 to 1859. He received not only a thorough musical training that introduced him to the works of the great masters of the past, but also one that exposed him to the more "advanced" composers like Robert Schumann and Richard Wagner.
In 1861 Dvořák joined the orchestra of the National Theater in Prague as a violist, where he remained for 10 years, performing for a while under the leadership of Bedřich Smetana. During this time Dvořák wrote numerous compositions, but not until 1873, with a performance of his grand patriotic work Hymnus for chorus and orchestra, did he achieve some renown. His compositions attracted the attention of Johannes Brahms, who prevailed upon his publisher to print some of Dvořák's works. The two composers became close friends.
Always composing an apparently effortless output of music, including the popular Slavonic Dances (1878), Dvořák soon became a professor of composition at the Prague Conservatory. In 1884 he made the first of a series of trips to London to conduct his own music. There he earned a commission to compose a choral work, The Spectre's Bride. He received an honorary doctorate degree from Cambridge University in 1891, the same year he composed his popular Carnival overture.
After successful tours of Russia and Germany, Dvořák accepted an invitation in 1892 to became the director of the National Conservatory of Music in New York City. While in the United States he wrote what is probably his most famous work, the Symphony in E Minor, From the New World (1893). There has always been some confusion as to the extent to which Dvořák either imitated or directly borrowed melodic material from American folk music. All the music is original, however, and despite the fact that the theme of the second movement has been made into the song "Goin' Home," it is not an African American spiritual but a melodic invention by Dvořák. Perhaps the greatest problem presented by the New World Symphony is that it tends to blind audiences to the merits of some of his other symphonies. One in G major (1889) and another in D minor (1885) are certainly its equal in musical quality. In 1893 he also wrote his American String Quartet, the best-known of his 13 quartets, and a charming sonatina for violin and piano, a masterpiece in miniature.
In 1895 Dvořák returned to the Prague Conservatory, completing his cello concerto, probably the most outstanding concerto ever written for that instrument, and a perennial concert favorite. From this point on he concentrated on symphonic poems and operas. Rusalka, the ninth of his 10 operas, completed in 1900, was his last major work. Very popular in Czechoslovakia although rarely performed outside the country, Rusalka is a stunning lyric fantasy, an evocative retelling of the familiar story of the water nymph who fell in love with an all-too-human prince. In 1901 Dvořák became the director of the Prague Conservatory. He died on May 1, 1904.
View the full website biography of Antonin Dvorak.