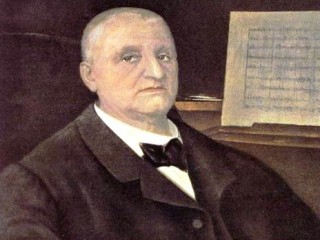 Anton Bruckner
Date of birth : 1824-09-04
Date of death : 1896-10-11
Birthplace : Ansfelden, Upper Austria
Nationality : Austrian
Category : Famous Figures
Last modified : 2011-08-11
The Austrian composer Joseph Anton Bruckner (1824-1896) is best known for his nine monumental symphonies and his religious compositions.
Anton Bruckner was born on Sept. 4, 1824, at Ansfelden in Upper Austria. He was the first of 11 children of the village schoolmaster. At an early age Anton had his first music lessons from his father and began to help him with his teaching duties. When he was 11, he began to study with his cousin, and his earliest compositions date from this time. Two years later, at the death of his father, Anton was transferred to the monastery of St. Florian, where he remained as a chorister until 1840. St. Florian was always to be a spiritual refuge for him; at his own request, he was buried under the great organ there.
After preparatory courses at Linz, Bruckner was certified as an assistant teacher for elementary schools. He taught in a small village near Steyr, where he continued his organ studies. In 1845 he became a teacher and assistant organist at St. Florian and was finally appointed first organist in 1855. During the years at St. Florian, Bruckner composed many liturgical works. Typical of the larger-scale compositions are the Requiem (1849) and the Missa solemnis (1854), both first performed at St. Florian.
In 1856 Bruckner became principal organist at Linz Cathedral. He studied with the Viennese theorist and organist Simon Sechter, traveling to Vienna every year for 6 weeks of concentrated study. During his 5 years of strict contrapuntal studies, he did not compose. Bruckner completed his course with Sechter in 1861 and began to study orchestration and form with the conductor Otto Kitzler. Through him, Bruckner came to know Wagner's music. Stimulated by this new experience, he began to write instrumental works: an overture, two unnumbered symphonies, and a string quartet.
Bruckner's first mature work was the Mass in D Minor (1864); it was followed by the Mass in E Minor and the First Symphony (1866). Partly because of overwork, the composer suffered a severe nervous breakdown in 1867. A sojourn at Bad Kreuzen brought him relief, and grateful for his recovery, he began his third, and last, great Mass, in F Minor, which he completed the following year.
Bruckner became professor of thorough bass, counterpoint, and organ at the Vienna Conservatory in 1868, a position he retained till 1891. He held other important posts in Vienna: organist of the Imperial Court Chapel (1868-1892) and lecturer in harmony and counterpoint at the University of Vienna (1875-1894). He also found time to write his huge symphonies, which are pervaded by a deep religious feeling. At first, they were not successful. His partisanship of Wagner brought him the enmity of Eduard Hanslick and other influential critics in Vienna, who preferred the music of Brahms. However, Bruckner's work gradually won recognition, especially outside Austria.
Bruckner's last eight symphonies were composed in Vienna beginning in 1871. He frequently revised his work; for example, there are three versions of the Second, Third, and Eighth Symphonies and four of the Fourth (Romantic) Symphony. Since other revisions were also made, with or without his authorization, by his disciples, it has been extremely hard to establish the accurate text of his symphonies. The International Bruckner Society has published critical editions.
Bruckner's health failed during his last years. In 1895 the emperor Franz Josef offered him free quarters in the Belvedere Palace. There, after a morning spent working on the Ninth Symphony (the finale is incomplete), Bruckner died on Oct. 11, 1896.
View the full website biography of Anton Bruckner.