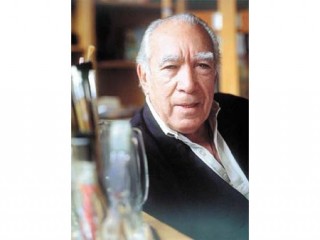 Anthony Quinn
Date of birth : 1915-04-21
Date of death : 2001-06-03
Birthplace : Chihuahua, Mexico
Nationality : Mexican
Category : Famous Figures
Last modified : 2010-12-10
Anthony Quinn aspired to be an architect and later a merchant seaman before a detour through Hollywood brought him movie stardom. He appeared in over 100 motion pictures and won two Academy Awards.
Star of stage and screen, Anthony Quinn, made his first movie in 1936. By 1999, he had 148 movies to his credit. For years he played small parts in Hollywood, locked into stereotyped roles as convicts and gangsters. In 1947, a brief appearance on Broadway led to a major stage role with a minor touring company. By 1952, he had secured the role that would win for him an Academy Award, as Eufemio Zapata in the film Viva Zapata! With an Oscar to his credit Quinn caught the attention of the international film industry. By the mid-1950s he was a favorite of Italian filmmakers, from Dino De Laurentis to Federico Fellini. In 1964, he won more fans as the aging Alexis Zorba in the movie version of the hit musical, Zorba the Greek. Quinn proved himself further as a talented painter and sculptor. A showing of his artwork brought in two million dollars in 1982.
Anthony Quinn was born Antonio Rudolph Oaxaca Quinn, the son of freedom fighters in the Mexican revolution. Quinn's father, Francesco Quinn, was the son of an Irish railroad worker, raised in Mexico after the death of his own father. Her family abandoned Quinn's mother, Manuela Oaxaca, almost at birth. She and Francesco Quinn met in Chihuahua, Mexico and married soon afterward, on board a train filled with rebel troops bound for Durango. Quinn was conceived virtually in the field of battle. When the sergeant learned of Oaxaca's pregnancy, he shipped her by train back to Chihuahua where she gave birth to Quinn on April 21, 1915. Quinn's father returned from the war and rejoined his family in El Paso, Texas when Quinn was approximately two years old. His paternal grandmother, Dona Sabina, lived with the family in a small tin-roofed hut. She and her grandson developed a close bond. Within a year of his father's homecoming, Quinn's younger sister, Stella, was born.
Quinn's parents worked together building the railroads in Texas, until his father was injured and could no longer continue the work. He moved his family to San Jose, California, to work in the fields as migrant farm hands. For several years the Quinns lived as nomads, traveling throughout California in search of farm work. The family eventually settled in the southern part of the state to work in the citrus fields.
Quinn's father moved his family to East Los Angeles, where he found work at the Lincoln Park Zoo and later as a laborer at the new movie studios. On January 10, 1926, when Quinn was 10 years old, a car accident took his father's life. He went to work as a water boy on a construction crew on the Los Angeles River, and accepted other odd jobs in an effort to help support his family. When his widowed mother became romantically involved with a man named Frank Bowles, Quinn became irate and moved out of her home. He brought his sister and grandmother along with him, and left high school to support them.
Quinn was a talented artist and, prior to quitting high school, had entered an architectural drawing contest. He won the first prize, which included an appraisal of his work by the noted architect, Frank Lloyd Wright. Quinn's poor diction annoyed Wright who recommended tongue surgery to facilitate his speech. Ironically, Quinn's speech deteriorated further after the operation. He sought the assistance of a former actress, Katherine Hamil, to help him learn to speak clearly, in the hopes of earning an apprenticeship with Wright. Hamil's students, for the most part, aspired to acting. They performed plays, and Quinn participated in those productions on several occasions. He joined an acting troupe called the Gateway Players, and was offered a role in a Mae West stage production. He made his professional debut in a play called Clean Beds, and later accepted a minor part as a prison inmate in a film called Parole!
Quinn stood six-feet-two and weighed 182 pounds— an impressive stance for a would-be actor. Yet his career was slow to unfold. He became discouraged and drifted across the American Southwest for a time. In 1936, he joined a fishing junket bound for the Orient out of Ensenada in Baja, California, but detoured back to Hollywood shortly before departure, in response to an advertised casting call for a Hollywood film. The movie was called The Plainsman and starred Gary Cooper under the direction of Cecil B. De Mille. To achieve realism, De Mille sought a Native American actor to play the part of a Cheyenne warrior. Quinn represented himself as a full-blooded Cheyenne and feigned an inability to speak English in an effort to secure the role. His initial performance displeased De Mille who would have replaced the aspiring actor had it not been for Cooper's remark, "He seems like a nice kid, give him a break," according to Quinn's memoir. De Mille allowed Quinn to play the part, which led to a long-term contract with Paramount Studios.
Quinn appeared in Swing High, Swing Low with Carole Lombard, followed by director Frank Tuttle's Waikiki Wedding. Soon after came a role in The Buccaneer with Frederic March, followed by a string of grade "B" motion pictures, including King of Alcatraz, King of Chinatown, Island of Lost Men, and Dangerous to Know. By 1940, Quinn was a veteran of 20 Hollywood films. From 1940 until 1949 he added 29 movies to his credit. Although he was glad for the work, he felt stereotyped because of his swarthy complexion. Repeatedly he was assigned to play gangsters and thugs, and on occasion he portrayed a Native American warrior or chief. He worked largely with J. Carrol Nash, Lloyd Nolan, Robert Preston, and Anna May Wong. A breakthrough occurred when Quinn received an offer to play a matador in the 20th Century-Fox production Blood and Sand with Rita Hayworth and Tyrone Power. In Quinn's next film, They Died with Their Boots on, Quinn played the role of Crazy Horse against Errol Flynn's General George Armstrong Custer.
Quinn's road to stardom took many detours. He secured a role as the male lead in Black Gold in 1947 but abandoned Hollywood soon afterward when advised by Darryl Zanuck that he was under investigation along with other Hollywood stars, by the U.S. House Un-American Activities Committee as a suspected Communist sympathizer. Quinn soon departed for New York City and established himself as a stage actor on Broadway. His first play, The Gentleman from Athens by Emmet Lavery, failed after six performances but led to a promising offer. Elia Kazan offered Quinn the role of Stanley Kowalski in Tennessee Williams's Streetcar Named Desire for two years on tour. After the road show, Quinn co-starred with Marlon Brando in Kazan's 1952 film about the Mexican Revolution, Viva Zapata! Quinn played the part of Eufemio Zapata, brother of Emiliano Zapata. Critics applauded the movie. On March 19, 1953, Quinn received the Best Supporting Actor award from the Academy of Motion Picture Arts and Sciences.
Soon Quinn was in Rome, where he worked with several renowned Italian film directors. He worked with Dino De Laurentis and Carlo Ponti in the Kirk Douglas film, Ulysses. He appeared in Giuseppe Amato's Donne Proibite (Angels of Darkness) with Linda Darnell, and then starred as Attila the Hun with Sophia Loren, in the De-Laurentis/Ponti production, Attila. . Quinn was in high demand. During the filming of Attila he worked simultaneously on Federico Fellini's La Strada, a 1956 release that secured Quinn's stature as an international star.
Quinn returned to the United States and starred in the 20th Century Fox release of The Magnificent Matador, again with Maureen O'Hara. He spent much of 1955 in filming the life of Paul Gauguin in Metro-Goldwyn-Mayer's Lust for Life, by director Vincente Minelli. The Gauguin role won him a second Academy Award in 1957. Quinn re-appeared on Broadway in 1956 in Becket as King Henry II against Sir Lawrence Olivier's Thomas Becket. Quinn starred next as Quasimodo in the Hunchback of Notre Dame in 1957 with Gina Lollabrigida as Esmeralda. Again on Broadway in 1962, he appeared with Margaret Leighton in Tchin-Tchin. That same year he co-starred with Peter O'Toole, Omar Sharif, and Alec Guinness in Lawrence of Arabia. The twoand-one-half hour epic won seven academy awards and was re-released in 1989. In 1968, as Kiril Lakota in The Shoes of the Fisherman, Quinn adeptly created the role of the first Russian Pope of the Catholic Church.
Quinn played the starring role of Alexis Zorba in the hit musical Zorba the Greek in 1964. The character became Quinn's signature role. He reprised the role of Zorba on tour in 1983. Also in 1983 he appeared as a priest who mentors a young boy, in the Spanish language film, Valentina. His 1991 film credits included Only the Lonely, directed by Chris Columbus, and Spike Lee's Jungle Fever. Quinn appeared in Last Action Hero with Arnold Schwarzenegger in 1993, and in A Walk in the Clouds, a 1995 remake of Four Steps in the Clouds, of 1942. He appeared in a recurring television role as the Greek god, Zeus, on Hercules: the Legendary Journeys in 1995, and as Santiago in a British made-for-television film of the Old Man and the Sea. with Tom Cruz. Quinn starred as Neil Dellacroce in a 1996 HBO film about John Gotti. In all, Quinn's filmography listed 148 different roles between 1936 and 1999, plus a director's credit for the 1958 film Buccaneer, and two producer's credits, for The Visit in 1964 and Across 110th Street in 1972.
From his earliest years as an actor, Quinn bemoaned the fact that he played in many productions but was rarely cast in the role of the romantic leading man. In 1993 he commented to Julie Greenwalt of People, "I never get the girl." His remark was facetious at best in consideration of his personal lifestyle. He married three times and fathered 13 children. After undergoing major heart surgery in 1990 he fathered a 12th child. A proud and willing father, Quinn's large family was a source of pride to him, and he was flattered when three of his sons embarked on their own respective acting careers.
His first marriage, in October 1937, was to Katherine De Mille, the adopted daughter of Cecil B. De Mille. The wedding, a lavish affair orchestrated by the De Mille family, took place at All Saints Episcopal Church in Hollywood, California. Sadly the couple's first-born son, Christopher, drowned on March 15, 1941 at the age of three. Together the couple had four more children: Christina, born in 1941; Catalina in 1942; Duncan in 1945; and Valentina in 1952. Quinn and De Mille were married for 27 years; they divorced in 1965.
In the early 1960s, during the filming of the movie Barabbas on location in Rome, Quinn was romantically involved with Iolanda Addolori, who worked on the set. They married in 1966 and had three sons: Francesco, Daniele, and Lorenzo. The couple owned a residence in Manhattan and a villa near Rome. They divorced in 1997.
Quinn's romantic involvement with Kathy Benvin led him into a third marriage in 1997. The couple had two children and lived in Paris.
In addition to his acting career, Quinn is a talented painter and sculptor—well known for his cubist and post-impressionist oils. He held an art show in Honolulu in December 1982 where he displayed paintings as well as sculptures made from wood and marble. Individual pieces of his work sold for as much as $30-40,000, and the entire show sold out, for a total of two million dollars.
Quinn, Anthony (with Daniel Paisner), One Man Tango, Harper-Collins Publishers, 1995.
View the full website biography of Anthony Quinn.