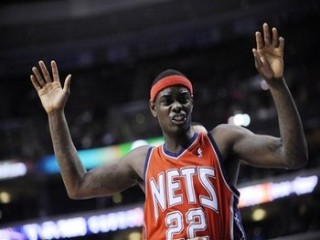 Anthony Morrow
Date of birth : 1985-09-27
Date of death : -
Birthplace : Charlotte, N.C.
Nationality : American
Category : Sports
Last modified : 2011-04-27

Anthony Morrow, nicknamed A-Mo, is an American professional basketball player for the New Jersey Nets of the National Basketball Association (NBA). The 6 ft 5 in (1.96 m), 210 lb (95 kg; 15 st) shooting guard went undrafted out of the Georgia Institute of Technology in the 2008 NBA Draft, but was later signed by the Golden State Warriors and is now considered one of the best pure shooters in the NBA.

Signed as a free agent with Golden State on July 25, 2008… Traded to New Jersey from Golden State on July 13, 2010 in exchange for a conditional second round draft pick.

Career history:
Golden State Warriors (2008-2010)
New Jersey Nets (2010- )

CAREER:

2009-2010:
Appeared in 69 games (35 starts), averaging career-high figures in scoring (13.0), rebounds (3.8), assists (1.5) and minutes played (29.2)… Averaged 14.3 points, 4.4 rebounds, 2.0 assists and 1.17 steals in 35 starting assignments… Logged 30-plus minutes on 31 occasions, averaging 19.4 points, 4.8 rebounds, 2.2 assists and 1.19 steals… Ranked 5th in the NBA in 3-point field goal percentage (.456)… Became one of only four players in NBA history to convert at least 80 3-pointers and shoot at least 45% from 3-point territory in back-to-back seasons, joining Steve Nash, Steve Kerr and Hubert Davis… Tied an all-time Golden State franchise record by converting six 3-pointers without a miss (6-of-6) 3/8 at New Orleans… Converted four or more 3-pointers on 16 occasions, including five times during an eight-game stretch 2/8 – 2/25… Shot .537 from 3-point territory in November (36-of-67)… Scored a season-high 35 points vs. New York on 4/2 (16-23 FGs), one of two 30-plus point games... Scored 20 or more points on 19 occasions, including a career-best four consecutive games 2/8 – 2/17 (33, 26, 23, 25)… Had a career-high six steals vs. Detroit on 2/27… Registered three double-doubles (points/rebounds), including back-to-back games 2/8 and 2/10 (33/11 and 26/10)… Logged all 48 minutes on four occasions, including back-to-back games on 11/20 and 11/24… Missed 10 games due to a sprained right knee (1/18 – 2/3). Missed two games due to a death in the family (12/5, 12/7).

2008-2009:
Appeared in 67 games (17 starts), averaging 10.1 points, 3.0 rebounds and 1.2 assists in 22.6 minutes... Started in 17 games and averaged 16.6 points and 4.6 rebounds in 34.9 minutes... Led the NBA in three-point field goal percentage at 46.7% (86-184 3FG)... Became first Warrior to ever lead the league in three-point percentage and the first rookie in NBA history to finish the league first in this category... His .467 three-point field goal percentage was the highest mark ever by an NBA rookie with at least 150 attempts... When playing at least 20 minutes (37 games), averaged 14.8 points and 3.8 rebounds... Made first career start at L.A. Clippers (11/15) and scored 37 points and grabbed 11 rebounds... The 37 points set an all-time NBA high for points scored by an undrafted player in his rookie campaign... It is also the most points ever scored by a player in his first ever NBA start dating back to 1970 (when the NBA began tracking starts)... Reached double-figures 28 times... 20-plus points six times... 30-plus twice... 10-plus rebounds twice... Connected on two-or-more three-pointers in 23 games... Recorded two double-doubles... Both were 30 point and 10 rebound games... Missed one game due to personal reasons, was on the Inactive List four times and recorded 10 DNP-CD.

COLLEGE:
Played four seasons at Georgia Tech, averaging 11.4 points, 3.0 rebounds and 24.7 minutes in 123 games (70 starts)... Career free throw percentage of .867 established a new school record... His 258 career three-point field goals tied for third all-time at Tech with Travis Best (16th in ACC history)... 2007-08 (Senior): Finished as Tech's scoring leader (14.3 ppg, 15th in ACC), while hitting an ACC-best 44.8% of his threes (ranked 14th nationally)… 2005-06 (Sophomore): Honorable mention All-Atlantic Coast Conference and was Tech's top scorer at 16.0 points a game (13th in ACC).


PERSONAL:

Full name is Anthony Jarrad Morrow... Son of Larry Mayhew and Angela Morrow... Has one daughter, A'Niyah (born January 7, 2009)... Was active in Warriors community outreach projects during his two seasons with Golden State, taking part in numerous meet & greets with various community groups following Warriors games... Attended sessions of Warriors Basketball Camp, and took part in a Business & Basketball Clinic... Took part in the team's Thanksgiving Food Distribution event and attended several corporate partner outings... Majored in Science, Technology and Culture at Georgia Tech... Named "Mr. Basketball" in North Carolina as a senior... Three-time all-state performer who led his Charlotte Latin High School team to state championships each of his last two years among North Carolina 3A Independent Schools... Lettered four years for coach Jerry Faulkner and served as team captain two years... Averaged 22.4 points, 9.8 rebounds and 3.1 assists as a senior as Latin went 27-4, and won MVP honors in the state tournament.

View the full website biography of Anthony Morrow.