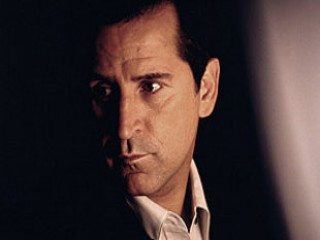 Anthony LaPaglia
Date of birth : 1959-01-31
Date of death : -
Birthplace : Adelaide, Australia
Nationality : Australian
Category : Arts and Entertainment
Last modified : 2011-09-16
Anthony M. LaPaglia is an Australian actor. He is known for his role as FBI agent Jack Malone on the American TV series Without a Trace, for which he won a Golden Globe Award for Best Actor Television Series Drama and was nominated for a Primetime Emmy Award for Outstanding Lead Actor in a Drama Series and for his portrayal of Simon Moon on the TV show Frasier. He may also be known for his role as Barry "The Blade" Muldanno in The Client.

Born in Adelaide, Australia, in 1959, LaPaglia grew up in a family of first generation Italian immigrants. However, his grandparents on his mother's side were Dutch, and he lived in a neighborhood of immigrants from Germany, Croatia, Greece, and other places; this exposure to different people and their accents would later prove to be an asset in his acting career.

Before LaPaglia immigrated to the United States in 1984, he worked as an elementary school teacher in Adelaide. When he was 20 years old, he saw his first play, William Congreve's The Way of the World, and decided that he wanted to be an actor. However, in addition to this dream, vague at the time, he mainly wanted to live in New York City, so he moved there. LaPaglia told Rob Kendt in Back Stage West, "I felt like I was missing out on something, and I really wanted to live in New York City." Even if he had not dreamed of becoming an actor, he would have moved to the city anyway, "with or without acting. Acting wasn't the lure."
In New York, LaPaglia studied with Kim Stanley and, like many actors, worked at a variety of jobs to make ends meet while pursuing his acting career. He worked as a shoe salesman, furniture restorer, and sprinkler system installer. He also worked as a production assistant for a commercial company; for one commercial, he had to cut up bananas. "Man, I was the best banana cutter," he told Dan Snierson in Entertainment Weekly, "Coulda made a career out of it." He told Rebecca Ascher Walsh in Entertainment Weekly that his agent told him, "Lose the [Australian] accent and change your name." LaPaglia learned to use an American accent by watching and imitating Al Pacino in Dog Day Afternoon, but he refused to change his name, despite his agent's predictions that the Italian name would limit him to playing tough guys.
LaPaglia admitted to Ascher Walsh that his agent was right, but he still managed to break into acting anyway. His first stage appearance was in Bouncers, an Off Broadway comedy in which he played eight of the 30 roles in the play. He first achieved critical attention in 1990, when he played a mobster in Betsy's Wedding. After several years of playing similar small parts in films, in 1994 LaPaglia played a hit man in Killer, a stylish black comedy. Killer was a low budget ($1.5 million) film that appeared only at film festivals and art houses, but it showcased a stellar performance by LaPaglia. "This is the best part I've been given, and I can't get people to see it," he told Glenn Lovell in a Knight Ridder/Tribune News Service article.
In that same year, LaPaglia played mafia thug Barry "the Blade" Muldano in the film The Client, which was based on the John Grisham thriller by the same name. He appeared in the film at the request of his agents, who insisted that it would help his career if he had a role in a major motion picture. LaPaglia explained to Knight Ridder's Lovell, "The people who have the power to give you a job don't care how good your work it. They look at something and go, 'How much money did it make?'" He noted that an actor could be excellent, but if he has only appeared in films that did not make money, studios will instead hire a terrible actor whose films were profitable.
Ironically, and to his dismay, The Client proved to be LaPaglia's big break. At an interview at the 1994 Toronto International Film Festival, LaPaglia told Lovell, "It's depressing. I do this goofy little movie called The Client. Which is pulp. I turn in a one–dimensional performance. Which is what they wanted. I get paid a lot of money. It makes $85 million. And all these doors swing open."
LaPaglia became a favorite of audiences in 1996, for his role on the television show Murder One. In 1998, he won a Tony award for his performance in Arthur Miller's play A View from the Bridge. LaPaglia had always been interested in Arthur Miller's plays, and told Simi Horwitz in Back Stage, "His writing is very specific and lean. There's nothing to add. At the same time, there's a big difference between what's on the page and the staged version. I believe that's more true of Miller than many other writers."
LaPaglia still retains a trace of his original Australian accent, but his speaking style is usually a blend of Brooklyn and Australia. Often cast as a mobster, in 2001 LaPaglia began turning down roles that typecast him as an Italian American thug, characters "whose names end in a vowel or who carry a gun," he remarked to Snierson in Entertainment Weekly. He told Back Stage West 's Kendt that he believes it is an actor's responsibility to avoid being slotted into a narrow range of roles, even if that means turning down work at times. Although he will turn down work if it seems to be typecasting, he does not consider the size of the part to be important. If a part is small, but interesting, LaPaglia will take it.
His willingness to take a variety of small parts has led some observers to consider his career trajectory a bit disappointing. LaPaglia told Back Stage West 's Kendt, "People have flat out said to me, 'I thought you were going to be such a big movie star.'" But, he remarked, he feels quite successful and happy with the course of his career and with the variety of opportunities he has had. "I wanted to be a working actor, and that's exactly what I got," he told Kendt. He also told Daniel Fienberg, in a Knight Ridder/Tribune News Service article, that he finds his fans' (and his detractors') honesty refreshing. "I've had people say to me, 'I really love your show, I love your work' and I've had other people say, 'I hate your stuff. I hate what you do.' But they're not saying it to be hostile, just in a really honest way." He added, "[In New York City], they stab you in the front, they don't stab you in the back."
Although most of LaPaglia's career has involved American television, film, and stage, he occasionally travels back to Australia to work. He told Back Stage West 's Kendt, "There's a freshness to the filmmaking scene [in Australia] that seems to have disappeared" in the United States. "It's a raw energy that I really love a maverick, everyone's in it together kind of feeling, which I prefer."
In the 2001 film Lantana, LaPaglia played police officer Leon Zat, an introspective, self questioning man who is troubled by guilt about his extramarital affair. Back Stage West's Kendt wrote that as portrayed by LaPaglia, "Leon has a nuanced impassivity that borders on inscrutable, until despair at last cracks the surface. It's a beautifully modulated performance, in other words one that takes us off guard, even from an actor of LaPaglia's gifts." LaPaglia told Kendt that as he has matured as a person and as an actor, he has learned to do "less acting and more being," portraying characters with increasing subtlety. "The camera just picks up everything if it's in the right spot," he said. LaPaglia described what it was like to work on the film in a Knight Ridder/Tribune News Service article by Moira Macdonald: "[Director Ray Lawrence] kept saying, 'Just tell the truth in every scene.' It's a very simple statement, very hard to do. Always stripping away because the writing was so good.… You spend more time stripping stuff away, as opposed to building it."
For his role as Leon in Lantana, LaPaglia won a Best Actor Award from the Australian Film Institute; the film won Best Film from the same organization.
LaPaglia told Entertainment Weekly 's Ascher Walsh, "The irony has totally not been lost on me that I ran away from Australia to build a career, but the movie that's doing the most for my career is from Australia."
Although LaPaglia considered retiring after his performance in Lantana, he went back to work after his accountant informed him that he needed the money. In 2002, LaPaglia went back to television in the series, Without a Trace. In the show, which became a quiet hit, he played Jack Malone, the head of an FBI team of Missing Persons investigators. For each episode, the team reconstructed the final hours before an individual's disappearance. The cases were often similar to those in news headlines, and each show featured a real missing person fact sheet at the end of the episode. "The day somebody gets found because of one of those, I'll be a really happy guy," LaPaglia told Fienberg in the Knight Ridder/Tribune News Service article.

Also in 2002, LaPaglia won a Best Guest Star Emmy Award for a role on the comedy television series Frasier. Entertainment Weekly 's Bruce Fretts asked LaPaglia if he was surprised to win the award for a comedy. "I was just surprised to win one in general," LaPaglia replied. However, he explained that throughout his career, he has never made the distinction between comedy and drama. "I've always prided myself on the idea that I could do both," he said.

The year 2002 was a busy one for LaPaglia, who completed work on five feature films, several episodes of the television show Frasier, a film version of A View from the Bridge, and a stage production of Arthur Miller's play After the Fall. He told Knight Ridder's Macdonald that he did not distinguish between all the genres. "I'm more interested in the material," he remarked. "If it's a great play, that's what I want to do; if it's a great character on TV, that's what I want to do. The whole point of me becoming an actor was variety."
In 2004, LaPaglia won a Golden Globe Award for Best Actor in a drama series, for his work in Without a Trace. In Television Week, executive producer Hank Steinberg noted that in police procedural dramas, "It is difficult to get into a character's personal life," but LaPaglia successfully "shows us what makes his character tick all while he solves the mystery."

LaPaglia's career is still on the rise. When he began acting, he was in an age category that does not have many leading parts; he was not young enough to fit the "leading man" category, and was not old enough for character parts. He told Back Stage West 's Kendt that he always knew his career would take off after he hit the age of 40: "The last couple of years have been by far the best." He also noted that although he never set out to be a leading man in films and actually considered the idea rather "uninteresting," according to Entertainment Weekly 's Ascher Walsh, he would take such a role if it were offered to him. "If the material warrants it, I'll do it. And if the check is big enough, I'm there," he said with a laugh.
View the full website biography of Anthony LaPaglia.