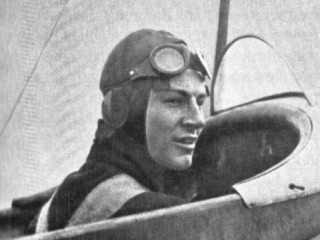 Anthony Fokker
Date of birth : 1890-04-06
Date of death : 1939-12-23
Birthplace : Kediri, Java, Dutch East Indies (now Indonesia)
Nationality : Ducth
Category : Arhitecture and Engineering
Last modified : 2011-06-20
Anton Herman Gerard "Anthony" Fokker was a Dutch aviation pioneer and an aircraft manufacturer. He is most famous for the fighter aircraft he produced in Germany during the First World War such as the Eindeckermonoplanes, the Fokker Triplane the and the Fokker D.VII, but after the collapse of Germany Fokker moved his business to Holland and his company were responsible for a variety of successful aircraft including the Fokker Tri-motor, a successful passenger aircraft of the inter-war years.


Known as "The Flying Dutchman", Anthony Herman Gerard Fokker was an aviation pioneer whose innovative World War I aircraft designs for Germany included the three-winged "Dreidecker" associated with The Red Baron. Fokker was born in what is now Indonesia, the son of a Dutch coffee grower. The family returned to Holland when he was young, and by the time he was a teenager Fokker had grown into a clever builder and inventor. While studying automobiles in Germany, he became turned his attention to flying machines. He designed and built his first plane in 1910 and taught himself how to fly. With money from his father, Fokker went into the aircraft manufacturing business in 1911, and his first plane, called "Die Spinne," won him recognition throughout Germany. The planes he built for Germany during World War I made him world famous, and his machine gun synchronization system -- which allowed guns to shoot between the spinning blades of propeller -- was a turning point in the history of air combat. After the war Fokker concentrated on developing passenger planes, and in the early days of commercial flights his tri-motor design dominated the industry. He began working in the United States in the 1920s and founded the Atlantic Aircraft Company (later General Aviation Corporation).

By the early 1930s, Fokker's fortunes had changed and he returned to the Netherlands and made it his base of operations. The success of his U.S. competitors had a lot to do with his decision to leave America, but it's also said that the public got spooked by Fokker planes after famous football coach Knute Rockne was killed in a Fokker F-10 crash in 1931. Although his factory in the Netherlands continued to manufacture passenger planes, Fokker's career waned in the '30s. In 1939 he died as a result of an infection after minor surgery in a New York hospital.

"Die Spinne" is also called the Spin or the Spider (so named because of the support wires crisscrossing the plane)... Manfred Von Richthofen, known as "The Red Baron," was instrumental in the development of one of Fokker's greatest designs, the D.VII, but died before the plane was put into service.


View the full website biography of Anthony Fokker.