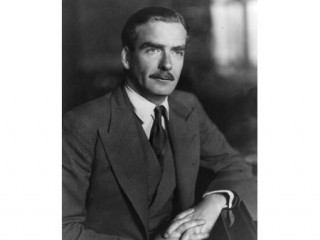 Anthony Eden
Date of birth : 1897-06-12
Date of death : 1977-01-14
Birthplace : Windlestone Hall, Auckland, Durham
Nationality : British
Category : Politics
Last modified : 2010-12-10
Statesman and nobleman Anthony Eden briefly succeeded Winston Churchill as prime minister of Britain during its disastrous invasion of Suez in 1956.
From a wealthy and privileged background, Robert Anthony Eden was born on June 12, 1897, at Windlestone Hall near Bishop Auckland, Durham. He was the third son of Sir William Eden, with one sister, Marjorie, older than all the brothers, of which there was a total of four. Young Eden was educated at Sandroyd Prep School in Surrey and then at Eton, where he distinguished himself in sports but little else. He interrupted his schooling to fight in the King's Royal Rifle Corps during World War I (during which his eldest and youngest brothers were killed). In the course of the war he became the youngest adjutant by 1916, won a military cross in 1917, and by the end of the war he had become a brigade major. In 1919 he attended Christ Church College, Oxford, gaining first-class honors in Oriental languages in 1922.
Despite a lack of political education, he ran for the Spenymoor division of Durham in 1922 and was trounced by 6,000 votes by his Labor opponent. The next year he ran for and won the seat he was to hold during the rest of his parliamentary career, Warwick and Leamington, on the Conservative ticket. Evidence of the peculiarities of British politics, in addition to a Liberal competitor, his Labor opponent was the Socialist Countess of Warwick, who was also his sister's mother-in-law. In 1923 he also married Beatrice Helen Beckett, the daughter of Sir Gervase Beckett; after having two sons together (the elder died in World War II), this union was dissolved in 1950.
Eden's political ascent was steady, as he moved through a series of government posts mainly dealing with foreign affairs. In 1926 he was made parliamentary private secretary to Sir Austen Chamberlain, the Foreign Secretary. In 1931 he became Under-Secretary of Foreign Affairs, and in 1934 he became Lord Privy Seal to the League of Nations, during the tenure of which he directly dealt with the Axis leaders to avoid war. In 1935, he became Foreign Secretary, first under the administration of Stanley Baldwin, then Neville Chamberlain in 1937. In 1938 he staunchly opposed Chamberlain's "appeasement" policy toward dictators like Hitler and Mussolini, and he resigned from the Cabinet. His book Foreign Affairs (1939) reflects his views in this period, and his views reflected those of a great portion of the populace. When Winston Churchill replaced Chamberlain, he immediately recalled Eden to the Cabinet, seeing him as a trustworthy ally because they shared the same view of the Nazi threat. Besides giving him the posts of secretary for dominion affairs (1939-1940), secretary for war (1940), foreign secretary (1940-1945), and leadership of the House of Commons (1942-1945), Churchill primed him to take over the leadership of the Conservative party. This succession was further cemented when Eden married Clarissa Spencer Churchill in 1952.
Deputy leader of the opposition from 1945 to 1951, Eden became deputy prime minister and foreign secretary when a Tory government was returned in 1951. When in April 1955 Winston Churchill retired as prime minister, Eden was his natural replacement. In 1956 the Suez crisis broke. Egyptian president Gamal Abdel Nasser nationalized the Suez Canal, which had been jointly owned by the British and French governments and individual shareholders. It was not an unusual nationalistic expropriation, but Eden likened the situation to that of 1938 and overreacted. Largely on his own initiative, he followed an Israeli attack with an Anglo-French military force. But after a Soviet protest, domestic disapproval, and no support from the U.S., he withdrew them. This action led, however, to severe strains in Anglo-Arab relations, as well as between the U.S. and England, France, and Australia. Eden resigned in January 1957 on the grounds of ill health, yet he maintained his actions were justified. Queen Elizabeth II made him the Earl of Avon in 1961, though he eschewed anyone referring to him by his title.
For the next 17 years, Eden traveled the world and worked on a total of four volumes of his Memoirs, the last of which, Another World, became a success, both critically and financially. He died on January 14, 1977, with his wife and son Nicholas by his bedside.
There are a number of biographies on Eden available, such as Alan Campbell-Johnson's Anthony Eden: A Biography (1955) and Robert Rhodes James's identically titled Anthony Eden: A Biography (1986). Yet perhaps the most fascinating sources for Eden's career are his own Memoirs, which provide splendid insight into his character: Facing the Dictators (1962); The Reckoning (1965); Full Circle (1960), which includes his account of Suez; and Another World: 1897-1917 (1976), his most popular and critically-acclaimed.
View the full website biography of Anthony Eden.