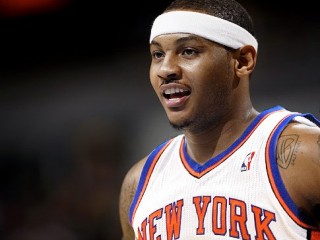 Anthony Carter
Date of birth : 1975-06-16
Date of death : -
Birthplace : Atlanta, Georgia, U.S.
Nationality : American
Category : Sports
Last modified : 2022-02-21
Anthony Carter is an American professional basketball player who currently plays for the New York Knicks.

Career history:

1999–2003 Miami Heat
2003–2004 San Antonio Spurs
2004–2006 Minnesota Timberwolves
2006–2011 Denver Nuggets
2011–present New York Knicks

CAREER:

2008-09 (Denver): Saw action in 78 games, starting five times … Averaged 5.3 ppg, 4.7 apg, 2.6 rpg and 1.23 spg in 22.9 mpg … Scored in double figures 12 times, including one game of 20 points … Had six double-digit assist efforts – all but one of which came in a reserve role … Led the Nuggets in assists in 21 games and in scoring once … One of the most efficient players in the NBA, he ranked ninth in both assists per 48 minutes (9.8) and steals per 48 minutes (2.58) … Tied for 25th in steals per game and tied for 30th in assists per game … Had the highest assist average for any player in the NBA averaging fewer than 27.0 mpg … Registered a season-high 13 assists vs. Golden State on 3/28 … Corralled a career-high nine rebounds at Minnesota on 11/29 … Tallied 11 assists and a season-high five steals at Golden State on 11/5 … Scored a season-high 20 points (8-9 FG) vs. L.A. Lakers on 11/1 … Missed four games due to a left hip strain … 2007-08 (Denver): Appeared in 70 games, averaging career-highs in nearly every statistical category: points (7.8), assists (5.5), rebounds (2.9), steals (1.54), blocks (0.40), minutes (28.0), FG percentage (.458), 3FG percentage (.349) and FT percentage (.753) … Logged a career-high 1,960 minutes … Ranked 18th in the NBA in assists, 14th in steals and 12th in assist-to-turnover ratio (3.13-to-1) … Started the last 67 games … Recorded four double-doubles … Dished out 14 assists without scoring a single point at L.A. Lakers on 1/21, becoming the first NBA player to tally at least 14 assists while going scoreless in nearly 15 years … Made the game-winning 15-foot jumper with 0.8 seconds remaining in double-overtime vs. Houston on 12/20 … Missed the first 12 games of the season due to a 3rd metacarpal fracture in his right hand … 2006-07 (Italy then Denver): Signed with the Nuggets for the remainder of the season on 4/13 … Averaged 3.0 ppg, 5.5 apg and 1.5 rpg in two games … Was inactive for two games (4/13-4/14) … Averaged 4.0 ppg and 1.8 apg in four games with the Nuggets during the preseason before being waived on 10/20 … Played for Legea Scafati Basket in the Italian League.

COLLEGE:

Averaged 18.4 ppg, 7.0 apg and 4.5 rpg in two seasons at the University of Hawaii after playing his first two seasons at Saddleback Community College in California ... 1997-98: Averaged 18.2 ppg, 7.3 apg and 5.2 rpg ... Named Honorable Mention All-America by the Associated Press ... 1996-97: Averaged 18.7 ppg, 6.6 apg and 3.7 rpg ... Named to the WAC All-Newcomer and All-Defensive teams.

PERSONAL:

Has two sons, Joshua and Devin … Married the former Cassie Burns, 8/12/05 in Hawaii … Donated $100,000 to the University of Hawaii in February of 2002 to create the Anthony Carter Men's Basketball Scholarship Fund … National spokesperson for the "I Have a Dream" organization, which serves disadvantaged youths … Has donated $26,000 to "IHAD" the last two seasons after meeting certain statistical benchmarks for points, assists and steals … Was honored with the Nuggets' 2008 Chopper Travaglini Award for outstanding community service … In the future, sees himself coaching youth basketball.
View the full website biography of Anthony Carter.