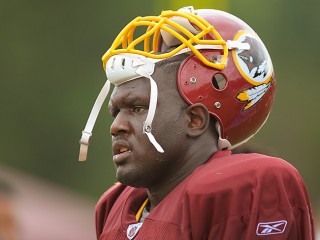 Anthony Bryant
Date of birth : 1981-11-06
Date of death : -
Birthplace : Greensboro, Alabama
Nationality : American
Category : Sports
Last modified : 2010-10-21
Anthony Bryant is expected to provide depth and experience along the Redskins' defensive line. He has appeared in nine NFL games, with three starts, in his career. He has totaled 11 tackles (five solo). He has had NFL stints with the Tampa Bay Buccaneers, Detroit Lions, New York Giants, Atlanta Falcons, Baltimore Ravens and Miami Dolphins.

Highlights
PRO:
* Has played in nine career games with three starts.
* Recorded 11 career tackles.
* Was out of football during the 2008 season.

2009 (N.Y. Giants)
* Spent the 2009 offseason and preseason with the New York Giants before being waived (9/5) and being signed to the practice squad (9/7).
* A member of the Giants practice squad for the first six weeks of the season before being placed on the practice squad/injured reserve list (10/19).

2008
* Out of football

2007 (Baltimore/Miami)
* Signed by the Baltimore Ravens as a free agent (7/28) and spent training camp with the Ravens before being waived (9/2) prior to the start of the regular season.
* Signed to the Ravens practice squad (9/3).
* Signed by the Miami Dolphins as a free agent (10/18).
* Appeared in one game for the Miami Dolphins; declared inactive for nine.

2006 (Tampa Bay/Detroit)
* Spent the offseason with the Tampa Bay before being waived by Tampa Bay and signed to the Buccaneers' practice squad (9/4).
* Signed by the Detroit Lions off the Buccaneers practice squad (11/30).
* Played in four games with three starts at defensive tackle for the Lions.
* Totaled eight tackles.

2005 (Tampa Bay)
* Played in four games and recorded two tackles.
* Made NFL debut at Minnesota (9/11).
* Declared inactive for the playoff games vs. Washington (1/7).

College
* Played in 48 games with 15 starts at Alabama
* Finished college career with 115 tackles (40 solo), 1.5 sacks, one fumble recovery, one forced fumble, and two passes defensed.

Personal
* Attended Sunshine (Newburn, Ala.) High School where he recorded 178 tackles and 11 sacks.
* Also forced eight fumbles, four fumble recoveries, and two interceptions.
* Caught 15 passes for 441 yards and eight touchdowns as a tight end.
* Averaged 19.0 points and 12 rebounds a game while playing basketball.
* Born Anthony Bryant in Greensboro, Ala.

View the full website biography of Anthony Bryant.