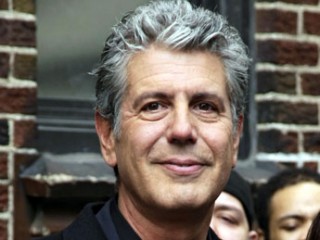 Anthony Bourdain
Date of birth : 1956-06-25
Date of death : -
Birthplace : New York City, U.S.
Nationality : American
Category : Famous Figures
Last modified : 2011-08-23
Anthony Michael "Tony" Bourdain is an American chef, author and television personality. He is well known for his 2000 book Kitchen Confidential: Adventures in the Culinary Underbelly, and is the host of Travel Channel's culinary and cultural adventure program Anthony Bourdain: No Reservations.

Anthony Bourdain, executive chef of Brasserie Les Halles in New York City, is the anti-celebrity chef. He's crass, offensive, and doesn't wear starched, white jackets or fancy hats. He is, however, a great cook, a great writer, and has an infectious passion for food of every kind. His passion and adventurous spirit are what have created millions of gourmet fans around the world. Chef Bourdain may have turned more people onto good food than any five-star, fancy-hat chef out there.

Anthony Bourdain was born in New York in 1956. After high school, he spent two unproductive years at Vassar College before attending the Culinary Institute of America in Hyde Park, New York. Following graduation from the C.I.A., Bourdain was the chef at New York City's Supper Club, One Fifth Avenue, and Sullivan's before coming to Les Halles.

Bourdain has written several books including the crime thrillers Bone in the Throat (1995), Gone Bamboo (1997), the Bobby Gold Stories (2002), and the nonfiction work Typhoid Mary: An Urban Historical (2001).

Chef Bourdain came to many people's attention with his exposé of New York restaurants, "Don't Eat Before Reading This", published in the New Yorker (1999). He expanded this behind-the-scenes look at the not so glamorous world of restaurants and his own personal history with the hugely successful bestseller, Kitchen Confidential (2000).

The success of Kitchen Confidential led to a Food Network television series, A Cook's Tour. Chef Bourdain travels around more than a dozen countries in a search for the perfect meal. Some of his most memorable episodes include dining with gangsters in Russia, swallowing the still-beating heart of a cobra, and revisiting the tiny fishing village of La Teste, France where he experienced his first raw oyster as a boy.

Anthony Bourdain remains the executive chef of Les Halles, which has expanded to five restaurants, including locations in Washington, D.C. and Miami. Chef Bourdain is also capitalizing on the success of A Cook's Tour with a new traveling culinary program, Anthony Bourdain: No Reservations, on the Travel Channel (2005).

Awards:

Bourdain was named Food Writer of the Year in 2001. by Bon Appétit magazine for Kitchen Confidential.
A Cook's Tour was named Food Book of the Year in 2002 by the British Guild of Food Writers.
The Beirut episode of Anthony Bourdain: No Reservations, which documented the experiences of Bourdain and his crew during the 2006 Israel-Lebanon conflict, was nominated for an Emmy Award for Outstanding Informational Programming in 2007.
Bourdain's blog for the reality competition show Top Chef was nominated for a Webby Award for best Blog – Culture / Personal in 2008.
In 2008, Bourdain was inducted into the James Beard Foundation's Who's Who of Food and Beverage in America.
In 2009, Anthony Bourdain: No Reservations won a Creative Arts Emmy Award for Outstanding Cinematography for Nonfiction Programming.
In 2010, Anthony Bourdain was nominated for a Creative Arts Emmy for non-fiction writing.

View the full website biography of Anthony Bourdain.