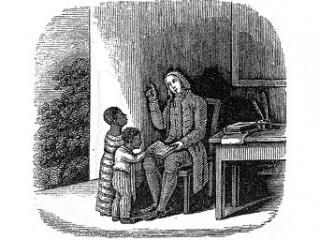 Anthony Benezet
Date of birth : 1713-01-13
Date of death : 1784-05-03
Birthplace : Saint-Quentin, France
Nationality : American
Category : Arhitecture and Engineering
Last modified : 2010-12-10
An American philanthropist and Quaker educator, Anthony Benezet wrote and distributed antislavery tracts, promoted education for women and African Americans, urged better relations with the Native Americans, and composed a brief history of his sect.
Of a well-to-do Huguenot family, Anthony Benezet was born in Saint-Quentin, France, on Jan. 31, 1713. When he was 2, his family moved to Rotterdam to escape religious persecutions following revocation of the Edict of Nantes; shortly afterward they went to London. Anthony received a liberal education, was apprenticed to a mercantile house, and at the age of 14 joined the Quaker faith.
The family came to Philadelphia in 1731, and 18-year-old Anthony entered the merchant business with his three brothers. In May 1736 he married Joyce Marriott. Following a brief experience in manufacturing in Wilmington, Del., he decided to enter teaching. He attended Germantown Academy and then instructed in the Friends' English Public School in Philadelphia (1742-1754).
Distressed by the inferior education offered to women, Benezet established a girls' school in 1755. Through wide reading, travelers' reports, and the influence of Quaker minister John Woolman, he became concerned about slavery. Benezet corresponded with English emancipationists and began to write pieces for newspapers and almanacs, as well as free pamphlets, on the subject. His knowledge of French enabled him to communicate with the 450 Acadian exiles who came to Philadelphia in 1756; he solicited funds and obtained shelter for them and appealed to the Assembly in their behalf.
Benezet's health was poor, and in 1766 he retired to the quiet of his wife's hometown of Burlington, N.J., but he could not remain inactive. He wrote A Caution …to Great Britain and Her Colonies on the Calamitous State of the Enslaved Negroes (1766). This was his most important work; approved by the Philadelphia Yearly Meeting of Friends, it was widely distributed in Britain. He returned to teaching in Philadelphia in 1768. His Some Historical Account of Guinea… (1771) helped stir up English protests against the slave trade.
Benezet founded a school for African American children in 1770; after the Revolution it met for a time in his home. He taught until nearly the end of his life, and when his wife died in 1784, he endowed his school with what property he possessed. Overseers of the Friends' Public Schools were named trustees for the institution.
Yet African Americans were not his only interest. He published an essay, "The Mighty Destroyer Displaced" (1774), against excessive consumption of alcohol, which influenced Dr. Benjamin Rush to write a powerful temperance treatise. Benezet's Short Account of the People Called Quakers… (1780) was one of the earliest American histories of that denomination. Convinced the Native Americans had been mistreated, he worked to ameliorate their lot; in his last year he published Some Observations on the … Indian Natives of This Continent. Benezet died in Philadelphia on May 3, 1784.
George S. Brookes, Friend Anthony Benezet (1937), is a detailed account of the humanitarian's life. Much earlier but still worthwhile is Roberts Vaux, Memoirs of the Life of Anthony Benezet (1817). Francois Jean de Chastellux, Travels in North-America in the Years 1780, 1781, and 1782 (2 vols., 1786; trans. 1787; rev. trans. 1963), has some interesting observations.
View the full website biography of Anthony Benezet.