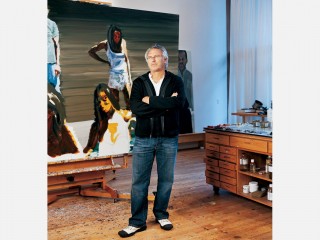 Anselm Kiefer
Date of birth : 1945-03-08
Date of death : -
Birthplace : Donaueschingen, Germany
Nationality : German
Category : Arts and Entertainment
Last modified : 2010-12-08
The controversial work of the German artist Anselm Kiefer was a complex examination of many themes, from alchemy to his country's Nazi past, often explored through such unconventional materials as lead and straw.
Anselm Kiefer was born in Donaueschingen, southern Germany, on March 8, 1945, during the final days of the collapse of the Third Reich. Growing up in a divided postwar Germany, he would eventually confront through his art the German burden of the Nazi legacy. As a young man in the mid 1960s he first studied French and law before pursuing the study of art at academies in Freiburg and Karlsruhe in the late 1960s.
An early conceptual art exercise entitled Occupations (1969) remains one of his most controversial works. It consisted of a series of photographs of Kiefer dressed up in military garb while performing a Sieg Heil salute in such countries as France and Italy. He acted out this pompous military act of occupation from the Roman Colosseum to the seashore. Was this a disturbing nostalgia for past Nazi glory or was it a satire of dreams of empire? "I do not identify with Nero or Hitler," Kiefer once stated, "but I have to reenact what they did just a little bit in order to understand the madness. That is why I make these attempts to become a fascist."
In the early 1970s Kiefer studied occasionally with the artist Joseph Beuys in Dusseldorf. Kiefer's art would not follow the public performances and personal myth-making of Beuys' art. Nonetheless, Beuys was one of Kiefer's strongest influences, as can be seen in his desire to create art that was in a dialogue with history and the role of the artist in transforming materials.
In 1971 Kiefer married and moved to the small village of Hornbach in the Oden Forest of West Germany. He began to lead a reclusive life in an old schoolhouse that became his home and studio. Except for personal photographs that he used in his art, he did not want to be photographed and granted few interviews (he preferred to be paraphrased rather than quoted). In 1976 he wrote a cryptic autobiography that consists of a brief list of names, words, and phrases of personal significance.
Kiefer's art of the 1970s began to grapple with complex investigations of myth, religion, and history. At first the settings for his paintings were the dense forests of his region and the heavy timber structure of his attic studio in the schoolhouse, as seen in Father, Son, Holy Ghost (1973) where three burning chairs represent the Christian Trinity. His art began to present the mythic and historical figures of German culture, especially those who had been celebrated during the Third Reich. He explored such Wagnerian themes as Brunhilde-Grane (1978) and created pantheons of German cultural heroes, as in the assembled woodcut portraits of Ways of Worldly Wisdom—Arminius's Battle (1978-1980). Kiefer's paintings often have their titles written boldly across them (and sometimes specific names as well), allowing the works to be read both as images and conceptually as linguistic fragments. He did not create an easy art; many of his works require a rather extensive understanding of literature and history.
A recurrent theme that began to emerge in 1974 was the land, often specific German landscapes that are broad, cultivated plains. However, these were not pantheistic tributes to a bountiful nature, but were dark, tortured fields suggestive of scorched earth after some apocalyptic battle. The romantic love of German land evoked by the 19th-century painter Casper David Friedrich now reached an angst-ridden dead end in the tar-like blacks and ash-like grays of Kiefer's paintings.
Kiefer also examined that taboo subject in postwar Germany, the Third Reich. By the early 1980s many of his paintings were based upon images of the sterile and overscaled Neo-Classical architecture of Hitler's megalomaniacal dreams.
One of Kiefer's most powerful series of paintings was based upon Paul Celan's 1945 poem "Death Fuge," which was written in a Nazi concentration camp. The poem contrasted the Aryan blonde hair of Margarete and the dark "ashen hair" of the Jewess Shulamite. In Your Golden Hair, Margarete (1981) a limp arc of bundled yellow straw is attached to a painting of one of Kiefer's devastated fields, as the Nazi blonde ideal was made grotesque. For Shulamite (1983) he painted a cavernous room based upon a Nazi memorial hall. The room appeared to be blackened with soot as a candelabrum burns in the back. This hellish, over-like environment was evocative of the Holocaust that consumed Shulamite. Fire, both as a destructive and redemptive force, was a common theme in Kiefer's art.
Kiefer was deeply interested in alchemy—the medieval folly of attempting to change such base materials as lead into precious gold. For Kiefer, the artist was an alchemist, converting raw materials such as paint and canvas into objects of great profundity. The aspirations and limits of art were symbolized by the motif of the winged palette that seems to be woefully earth bound, such as in the 1985 sculpture Palette with Wings where the wings were made of such metals as lead. In 1989 he exhibited sculptures of grounded lead bombers evocative of this same Icarus-like theme.
By the mid-1980s Kiefer was moving away from specifically German subject matter to more universal themes, often dealing with a "New World" where Kiefer freely manipulated the culture of the past into painted environments of the artist's making. After a trip to Israel in 1984, he began to draw extensively from such ancient sources as the Old Testament. In his painting of the Holy City Jerusalem (1986), an alchemist field containing lead and gold leaf was presented with the "ironical" addition of attached iron skis. For such complicated paintings as Osiris and Isis (1985-1987) he juxtaposed ancient Roman ruins and Egyptian mythology with the transforming power of nuclear energy.
Throughout his career Kiefer was a maker of books, one-of-a-kind works like medieval manuscripts. His most monumental expression of this interest is The High Priestess/ Zweistromland [Land of Two Rivers] (1985-1989). This sculpture consists of two bookcases (labeled after the rivers Tigris and Euphrates) containing about two hundred lead books, all on a superhuman scale. Some of the books were blank; others contained such things as obscure photographs of clouds or dried peas. It was a many layered work dealing with the artifacts of knowledge.
Kiefer's art began in the milieu of the late 1960s; the conceptual side of his work has often been present, as has the use of unconventional materials associated with process art (in Kiefer's case, lead, straw, sand, etc.). His mature works were expressively painted, often on an enormous scale, which led to comparisons by critics with Jackson Pollock, the great American Abstract Expressionist. Kiefer's rise to public prominence in the early 1980s coincided with the emergence of Neo-Expressionism, the Post-Modern return to painting and historical subject matter, as well as the growing international interest in contemporary German art. A major retrospective of Kiefer's art toured the United States in 1987-1989.
Kiefer's art was often more appreciated outside of Germany. When his work was featured by West Germany at the 1980 Venice Biennale it caused a great deal of controversy at home for his resurrection of the ghosts of German nationalism, particularly Hitler's Third Reich. However, a neo-Nazi interpretation of Kiefer's art was dismissed by many as a superficial reading of his work. He even received an individual exhibition at the Israel Museum, Jerusalem, in 1984.
Anselm Kiefer was considered by some to be the most significant artist of his day. While his art emerged during a time when Germans began to discuss their country's difficult past, it evolved into a more universal examination of the complexities of art, culture, and human existence. He published A Book by Anselm Kiefer in 1988.
The most thorough discussion of Kiefer to be found in English was the exhibition catalogue Anselm Kiefer by Mark Rosenthal (1987). Specific works are featured in A Book by Anselm Kiefer, introduction by Theodore E. Stebbins, Jr., and Susan Cragg Ricci (1988) and in Armin Zweite, Anselm Kiefer: The High Priestess (1989). An informative discussion can be found in Paul Taylor, "Painter of the Apocalypse" in The New York Times Magazine (October 16, 1988). A good example of a critical critique was Andreas Huyssen, "Anselm Kiefer: The Terror of History, the Temptation of Myth" in October (spring, 1989). Kiefer's art was placed into the broader context of contemporary German art in Jack Cowart, editor, Expressions: New Art from Germany (1983); Christos M. Joachimides, Norman Rosenthal, and Wieland Schmied, editors, German Art in the 20th Century: Painting and Sculpture 1905-1985 (1985); and Thomas Krens, Michael Govan, and Joseph Thompson, editors, Refigured Painting: The German Image 1960-88 (1989). For a summary of Kiefer's art see Howard Smagula, Currents: Contemporary Directions in the Visual Arts (second edition, 1989).
For additional information, see School Arts (March 1993); Art in America (September 1993); and The Independent (May 5, 1995).
View the full website biography of Anselm Kiefer.