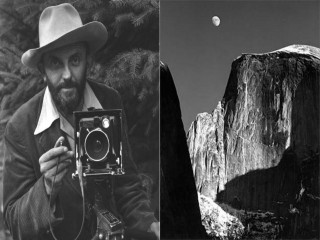 Ansel Adams
Date of birth : 1902-02-20
Date of death : 1984-04-22
Birthplace : San Francisco, California, U.S.
Nationality : American
Category : Arts and Entertainment
Last modified : 2010-04-28
Ansel Easton Adams (February 20, 1902 – April 22, 1984) was an American photographer and environmentalist, best known for his black-and-white photographs of the American West, especially in Yosemite National Park. One of his most famous photographs was Moon and Half Dome, Yosemite National Park, California.

As one of the world's most prominent technical photographers who set the standard for true, visualized photography, Ansel Adams started the elite f/64 club and was a member of the Sierra Club. It was during his explorations of the Sierra that Ansel began taking photos of the natural world around him. Wanting to be a concert pianist, Adams gave up that career for photography – which gave him an artistic outlet and allowed him to earn enough money from his commercial works to live.
Although he was born into a wealthy family in California, Ansel's father lost most of his fortune in 1907. His father's attempts to regain the family's status and his mother's constant worry over the matter prompted young Adams to explore his surroundings. He learned at an early age that the physical beauty and wonders of nature could occupy his time and bring a satisfaction that could not be bought.
Having trouble in school around the age of 12, Adams quit to be home schooled by his parents and aunts and uncles. Although he had trouble with an institutionalized program of study, Adams began practicing the piano. It was with his piano that he found solace and a way to express himself. After years of study, he became good enough perform, but he knew this would be more of a past time than an actual career.
It was when Ansel Adams visited the Sierra Nevada with his Kodak No. 1 Box Brownie camera that he began taking photos. Even his early pictures of Yosemite and the surrounding mounts inspired him. He became a member of the Sierra Club and each year he would take photos of the group's month-long hike every summer. He even stayed in the park's memorial lodge for several months as an overseer. It was his photograph of the Monolith that captured one patron of the art's attention – Mr. Albert Bender. Mr. Bender would start funding Adam's trips to take photographs. He also worked with Adams to publish his first book of photographs, entitled Parmelian Prints of the High Sierras. Bender's encouragement and financial help allowed Ansel to pursue his dreams as a full-time professional photographer.
Ansel Adams made several trips to New York during the 1930s and 1940s in order to meet with other famous artists and photographers of the day. Even though he was a Californian, he fit in well, and offered technical advice to some of the top photographers. Adam's, a self-taught, self-learned photographic genius, inspired these already famous artists. They saw in him a true artist and articulate master of the technical side of photography. He also shared with them his views on visualization, where a photographer can mentally picture how he wants a photo to turn out according to the light available and other variables.
As an environmentalist, he was a major player in the formation of other national parks in the western United States. He fought against the development of national parks for the sake of tourism. He didn't want national parks to turn into resorts, but wanted them to stay natural. He fought for the redwood trees, for Alaska, and for clean air and water. He fought against overdevelopment, highways, billboards, and worked hard to balance human need with nature. Though he never wrote an autobiography, his work is explored in a biographical discussion of his images in a book entitled Adam's Classic Images.
View the full website biography of Ansel Adams .