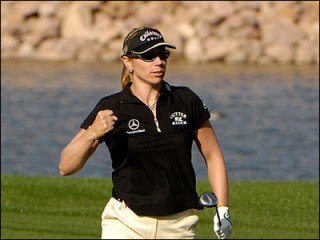 Annika Sorenstam
Date of birth : 1970-10-09
Date of death : -
Birthplace : Stockholm, Sweden
Nationality : Swedish
Category : Sports
Last modified : 2010-07-27
Sweden's golf heritage can be neatly divided into two periods: Everything that happened before Annika Sorenstam arrived on the scene, and everything that's happened since. She has singlehandedly shattered the stereotype of the overly mechanical, underly emotional, can't-do-it-in-the-clutch Swedish golfer. And as her debut on the PGA tour demonstrated, Annika is also proving that her sport's future just might be a manniska-a-kvinna (as they say in Sweden) battle of the sexes for golf supremacy. She is within striking range of third place on the all-time LPGA victory list, and shows no signs of slowing down.

GROWING UP

Annika Sorenstam was born on October 9, 1970, in Stockholm, the capitol of Sweden. Her parents, Tom and Gunilla, welcomed another daughter, Charlotta, two and a half years later. Thanks to their mom and dad, both girls loved sports, and like Tom and Gunilla, they were natural athletes. Everyone in the Sorenstam family skied and played tennis, volleyball, and badminton.

Annika didn't discover golf until her twelfth birthday. That was partly because of Sweden's weather patterns. The country experiences winter-like conditions some six months a year, making the window of opportunity for a sport like golf narrow.

Nevertheless, Stockholm proved a wonderful place for an athletic girl to grow up. Located on Sweden's eastern coast near the Baltic Sea, the city is home to a surprisingly dense population of sports enthusiasts. For much of her young life, Annika dreamed of becoming a professional tennis player. Her hero was countryman Bjorn Borg. She studied his game and wanted to follow in his footsteps.

That goal drove Annika wherever the family went. After she turned 10, her father, who worked for IBM, was transferred to England. The Sorenstams moved to London and remained there for three years. During that time, Annika continued on her path toward a pro tennis career.

She and Charlotta also got much closer while they lived in Great Britain. Since both sisters were talented tennis players, a case of sibling rivalry had been simmering for some time. (Annika rose to 12th among Sweden's juniors at her peak, while Charlotta climbed to the number 10 ranking.) When they were separated from their friends in Sweden, however, the two learned to rely heavily on each other. Of course, when they returned to Stockholm, they resumed their competitive ways.

As Annika climbed the amateur rankings, she encountered opponents who were able to exploit the one flaw in her game: an ordinary backhand. Unable to hit consistent winners with this stroke, her frustration grew and her love of tennis began to diminish. One afternoon, when Annika was 16, she chucked her racquet into a closet and told her father she was done with the sport. She was burnt out.

Tom Sorenstam was saddened by this development, but pleased with his daughter's fallback position: golf. The Sorenstam home in Sweden was very close to the Bro-Balsta Golf Club. Tom and Gunilla were both golf nuts, and at their urging Annika had taken up the sport, as had Charlotta. After her 14th birthday, Annika began lessons with Henri Reis, one of Stockholm's top instructors. (He is still one of her primary coaches.) The sport soon became her passion. When snow covered her home course, she was known to play with an orange ball. She often fantasized about winning the U.S. Open, which she considered the most prestigious title in women's golf.

Annika was drawn to golf for several reasons. The head games that opponents used on the tennis court didn't apply on the golf course. There it was just her and her swing. That fed directly into her natural tendency toward scientific analysis, a trait she had inherited from her father. Annika's mind worked like a computer. When she applied this type of thinking to golf, she found a perfect outlet. Reis noticed this and sought to build her game around it. Day after day, Annika focused on drills that produced near perfect tempo in every facet of her game.

Annika never patterned her golf game after any one player, as she had in tennis. That's not to say she was without role models. In addition to the advice and support from her parents, Annika benefitted from the experiences of Pia Nilsson, Sweden's "first lady" of golf. An emerging star in the 1970s, Nilsson played for four years at Arizona State University before joining the LPGA tour. Though her pro career fizzled after five years, she returned to her homeland as a conquering hero. In 1988, Nilsson was named director of the women's program for the Swedish Golf Federation. To no one's surprise, the women's game flourished under her watch.

This was the year Sweden's Liselotte Neumann won the U.S. Open. Annika remembers watching her on television and realizing for the first time that she too might one day accomplish great things on golf's world stage. From that point on, her progress accelerated dramatically.

Despite sometimes slipping into the habit of picking her head up when she struck the ball, Annika became one of Nilsson's prize pupils. Since none of Sweden's six universities had golf teams, the former pro arranged overseas scholarships for her country's top female stars. In 1990 she helped broker an offer for Annika from the University of Arizona. The 19-year-old arrived in Tucson that fall.

Annika felt right at home at Arizona. Thanks to her three years in England, she was fluent in English. The school's proud golf history and the state's perpetual sunshine gave her career newfound direction. She was also surrounded by some of best coaches in the U.S., not to mention topflight talent, including a player on the men's squad with a funny loop in his swing named Jim Furyk.

Annika took the college golf world by storm in her first year at Arizona. She led the Wildcats to the 1991 NCAA championship, was named an All-American, and earned honors as the College Player of the Year. An All-American again in 1992, she enjoyed another big year as a sophomore, raising her total number of collegiate titles to seven, and also took the '92 World Amateur Team Championship in Vancouver. That summer, Annika realized a childhood dream when she qualified for the U.S. Open. Though the course at Oakmont Country Club in Pennsylvania ate her alive—she finished 24 strokes behind the champion, Patty Sheehan—she became convinced that she was ready to start her pro career.

ON THE RISE

Going into 1993, Annika decided to cut her teeth on the European Tour. There the competition wouldn't be as tough, giving her a better opportunity to adjust to life as a pro. In 10 starts, she finished second four times (Ford Golf Classic, Holiday Inn Leiden Open, European Open and BMW Italian Open), placed third on the Order of Merit, the ranking system used in Europe, and was voted the tour's Rookie of the Year.

Annika didn't completely ignore the LPGA in 1993. During a three-week stint in March and April, she played in a trio of tournaments and produced modest results. In her first event, the Ping/Welch's Championship, she tied for 38th. The following weekend, at the Standard Register Ping, she came in at 11-under par, good for sole possession of fourth place. In the Las Vegas LPGA at Canyon Gate, she registered another top-10 finish.

Annika made her debut as a full-time member of the LPGA Tour in February of 1994. It proved a forgettable experience, as she missed the cut at the HealthSouth Palm Beach Classic after shooting 75-77. From there her play was up and down—good months in March and May, bad ones in April and June. Annika's best showings came in overseas events, including a win at the Holden Australian Open.

Annika began to flash signs of her immense talent at several LPGA events in July. But it wasn't until the Women's British Open in August that fans and the media really took notice. Handling the less-than-perfect conditions at England's Woburn Golf and Country Club like a veteran, Annika fired a four-round total of 283, a score which earned her a second-place tie with Dottie Mochrie and her biggest payday ($41,693) to date. Her friend and countrywoman Liselotte Neumann captured the title.

Annika ended the year on a high note with six strong showings in the U.S., including a tie for sixth in the Safeco Classic. This finishing kick boosted her earnings to $127,526 and made her an easy choice at the LPGA Rookie of the Year. She was also picked by Mickey Walker for the European team for the 1994 Solheim Cup matches at The Greenbrier Golf Club in West Virginia. In her opening match, she and Catrin Nilsmark defeated Beth Daniel and Meg Mallon. Form there, however, Annika and her teammates got bulldozed. Indeed, the U.S. regained possession of the cup in dominant fashion, and she lost her last two matches.

Annika looked more at ease on tour in the U.S. when the LPGA season began in February of 1995. She finished in the Top10 in four of her first five events, including a tie for second at the Ping/Welch's Championship. After struggling in a pair of tournaments in late April and early May, she settled into another comfortable groove. In June she returned to Europe and won twice, first in Austria, then in Germany. Heading into the U.S. Open, Annika seemed to be rounding into form at just the right time.

Nestled in the shadow of Pikes Peak, the 6,398-yard East course at Broadmoor Golf Club in Colorado set up nicely for her game. Like all Open layouts, it featured tight fairways, murderous rough, and difficult greens. Annika opened the tournament on fire, carding a 67 on Thursday. But when she gave three strokes back to par over the next two days, she dropped five behind Meg Mallon. On Sunday, with the largest gallery in Women's Open history looking on, Annika maneuvered around Broadmoor with gritty efficiency. Mallon, meanwhile, was falling apart, including a disastrous triple-bogey on the par-3 fourth. When Annika walked off the 18th green with a 68, she enjoyed a clubhouse margin of one stroke with Mallon still on the course. Though the veteran had a chance to force a playoff with a 20-foot birdie putt on the final hole, she was too rattled to sink it. Annika became the 13th player to capture the Open as her first U.S. victory and the tournament's sixth foreign-born champion. At 24, she was also the fifth youngest Open winner.

The victory overwhelmed Annika. Not one to show emotion in public, she fought back tears when talking to reporters in the press room. As a kid, she had always wondered what this moment would feel like. Now she wasn't sure how to handle it. Almost overnight, Annika became a celebrity. Exhausted, she could not muster the energy to crawl out of bed for nearly a week. Over the next three weeks, she sorted through countless media requests and fielded one offer after another from companies hoping to capitalize on her sudden fame.

Annika didn't enter another tournament until the Women's British Open in August. Under the pressure to match her victory at Broadmoor, she played steadily and finished tied for second, for the second straight year. When she returned to the U.S., she got on another roll. In September, at the GHP Heartland Classic, Annika blew away the field for a 10-stroke win. A week later at the World Championship of Women's Golf, she beat Laura Davies with a birdie in a playoff on the first extra hole. That victory helped push her total winnings for the year to a tour-leading $666,533. She also topped the money lists for the European and Australian tours, a triple never before accomplished.

The accolades poured in. Annika became the first European to win both the LPGA's Rolex Player of the Year and Vare Trophy for lowest scoring average. She was also the first woman to be named World Player of the Year by Golf World, and was recognized as Sweden's Athlete of the Year. Annika had reenergized women's golf, making her the sports' most popular star since Nancy Lopez.

Annika took off the first month of the 1996 season, remaining at her home in San Diego to recharge her batteries. She also wanted more time to spend with her fiance, David Esch, an executive at Callaway Golf. The two had started dating in 1995, and got engaged before the year ended. (They were married in January of 1997.)

Picking and choosing her events, Annika again built momentum going into the U.S. Open at the Pine Needles Lodge & Golf Club in North Carolina. After three strong rounds, she enjoyed a three-stroke lead as she stepped to the first tee on Sunday. Over the next four hours or so, Annika treated everyone in attendance to a virtuoso performance. She hit all but two fairways enroute to a scintillating 66, which included an eagle and four birdies. Though Pine Needles' slippery greens gave the rest of the field trouble, she needed only 27 putts to complete her round. Her 8-under, 272 total set a new Open record, and her margin of victory (eight strokes) was the biggest since 1980. Her winner's check of $212,500 sent her career earnings over the $1 million mark.

Annika's astonishing performance at Pine Needles made for a compelling day of channel-flipping, as golf junkies switched back and forth between her great round and Tom Watson's dramatic comeback at the Memorial. It was another big day for women's golf.

With the spotlight growing hotter and brighter, Annika displayed uncanny composure the rest of the year, ending the season with a flourish again. In October, she won the Core States Betsy King Classic at 18-under par, then defended her title in the Samsung World Championship of Women's Golf. For the second year in a row, she claimed the LPGA money title.

Only one moment left Annika scratching her head in 1996—America's stirring comeback on the final day of the Solheim Cup. She was partly to blame. On Sunday, in one of the competition's more compelling matches, she faced Wendy Ward, an old college rival who had played at Arizona State. After a tooth-and-nail battle for 18 holes, Annika breathed a sigh of relief when Ward missed a 6-foot putt for the win on the last green. Still, the half point wasn't what the Europeans needed, and the Americans ultimately celebrated a dramatic victory.

On January 4, 1997, Annika and David Esch got married. A week later she won the Chrysler Tournament of Champions. In February Annika posted her second victory of the year, at the LPGA Hawaiian Open. At the Longs Drug Challenge in April she outlasted Pamela Kometani with a par on the second extra hole of their playoff.

With three wins in seven starts, Annika was dominating the women's tour. Part of her sterling play could be traced to her new 46-inch Callaway driver, which had her averaging eight yards more off the tee. But mostly it was her steely nerves and remarkable consistency. The only player who seemed able to compete with her was Australia's Karrie Webb, who in 1996 had become the first woman to surpass $1 million in one season. The media seized on the relationship between the two, hoping to spark a rivalry between them. Neither would bite.

In early June, Annika weathered the rain and wind at the Forest Hills Country Club in St. Louis to take the LPGA Michelob Light. Her performance on Sunday was vintage Sorenstam. With Hiromi Kobayashi in hot pursuit, she played almost flawlessly. When Kobayashi rolled in a 30-foot birdie putt on the sixth hole, Annika responded with a clutch 6-footer of her own. From there her lead was never again threatened.

Annika entered the U.S. Open at Pumpkin Ridge in Oregon as the overriding favorite. Not only was she coming off her impressive victory at Forest Hills, she had recently banked $220,000 at the Skins Game. The only question seemed to be whether she could continue rolling to a record third straight U.S. Open title. In an uncharacteristic collapse, however, Annika shot 77-73, and made a shockingly early exit from the tournament.

Annika shrugged off the disappointment of her Open failure with a sizzling finish to the year. In October she defended her title at the Core States Betsy King Classic. Six weeks later she held on in the ITT LPGA Tour Championship to force a playoff with Lorie Kane and Pat Hurst, then beat both with a par on the third extra hole. The victory gave Annika a new LPGA earnings record of $1,236,789. The Vare Trophy, claimed by Webb by the slimmest of margins, slipped from her grasp, however.

Though the next three years produced more wins and bigger paychecks for Annika, something seemed to be missing. In 1998, she posted three LPGA victories and four second-place finishes, and again won the tour's money title and the Vare Trophy. She also played well in the Solheim Cup in Ireland, winning three of her five matches, though the Europeans were unable to regain control of the trophy. What troubled Annika, however, was her performance in the majors. Her best finish was a tie for eleventh in the British Open.

The following season Annika's earnings dropped below $1 million. She won twice, at the Michelob Light Classic in a playoff and at the New Albany Golf Classic, but failed to make the cut at the U.S. Open. Though she got a measure of redemption by placing second at the British Open, her drought in the majors now stood at four years.

It dragged on to five in 2000, as she failed to seriously challenge in any of the big four. Annika did, however, produce some memorable moments. In March, she went into playoffs in back-to-back weekends, losing to Karrie Webb in the LPGA Takefuji Classic, then beating Pat Hurst in the Welch's/K Circle Championship. Later she exacted some revenge against Webb in the Evian Masters, defeating the Australian star with an eagle on the first extra hole of their playoff. With victories in the Firstar LPGA Classic, Jamie Farr Kroger Classic and Japan Airlines Big Apple Classic, Annika pushed her earnings past $1.4 million for the year. But that was only good enough for second on the money list behind Webb, who was fast becoming the LPGA's favorite daughter. Annika's best news of the year came when Europe broke America's hold on the Solheim Cup.

On the surface, it appeared that Annika had returned to form in 2000. She knew different. Her record in the Solheim Cup was a mediocre 2-2, including a Sunday spanking at the hands of Juli Inkster in their Sunday singles match. At the U.S. Open, she failed to card a round under par and came in at a distant tie for ninth. Her performance in the British Open, a 17th-place tie, was the worst of her career. In addition, Webb finished her second year in a row as the world's top-ranked player.

MAKING HER MARK

Realizing that success had made her complacent, Annika was determined not just to rebound, but to assert a new level of dominance on tour. To do that, she rededicated herself on the course and took better care of her body off it. Annika began working with Dave Stockton Sr., a Senior PGA star and one of the world's best putters. Throughout January and February of 2001, the two visited the practice green twice a day. Putting had always been the weakest part of Annika's game; with Stockton's help she started to develop a smoother stroke and better feel for speed. He also accompanied her to driving range, where they concentrated on the accuracy of her irons. Stockton arranged cones from distances ranging from 35 yards out to 165 yards, and Annika fired away at them. Steadily, she was regaining the confidence needed to take dead aim at pins in crucial situations.

Annika also hired a personal trainer who put her through a grueling fitness regimen, which included at least 750 sit-ups a day. Kickboxing, cycling, running and swimming were also regular activities. She rejoined the LPGA tour in February leaner and more muscular than ever. Her mind was clear, too. Rather than obsessing about her failures of the past few years, Annika was focused on just playing good golf.

That was apparent immediately. After recording a pair of second-place finishes in her first two events, she ran away from the field in the Welch's/Circle K Championship, carding four rounds under 70. She was even better the next week at the Standard Register Ping at the Moon Valley Country Club in Arizona. On the tournament's second day, Annika became the first women to shoot a 59 in a professional round. She birdied the first eight holes, hit every green in regulation, and ended the day with only 25 putts, holing 11 of at least nine-feet long. (Thank you, Mr. Stockton!) Annika rode her record-setting round to another easy victory.

Annika's next event was the LPGA Nabisco Championship, the first major of the year. Again she was stupendous. After three solid rounds at Mission Hills Country Club in California, Annika salted away the tournament with a 69 on Sunday, ending her major championship jinx. Her performance was all the more amazing given the fact she had battled a stubborn cold all week long. With her husband, father, and sister in attendance, Annika needed an extra moment to avoid a tearful press conference. Charlotta was so excited she pushed her big sister into the lake near the 18th green.

With the victory, Annika raised her season earnings to $640,000, a staggering total through three months of the season. She also joined Marlene Hagge (1956), Mickey Wright (1964), and Kathy Whitworth (1971) as the only players to win three consecutive LPGA events, including a major.

Within days the media was back on Annika's bandwagon. Golf World put her on its cover, and SportsCenter made her its lead story. Callaway celebrated her 59 with a series of ads in all the major golf publications. Meanwhile, she debuted in her first television ad, a spot for Michelob Light.

After a three-week rest, Annika caught up with the tour in California for the Office Depot hosted by Amy Alcott. Again she sizzled, shooting a 66 in the final round to force a playoff with Mi Hyun Kim. Thanks to a par on the first extra hole, she walked away with the winner's check of $120,000. In May at the Chick-fil-A Charity Championship, Annika found herself in another playoff, this time with Sophie Gustafson. When Gustafson plunked one in the water on the second extra hole, Annika needed only a simple two-putt for the title. With more than half the season remaining, she was just one victory short of her career high, and on pace to challenge Mickey Wright's 1963 record of 13 LPGA wins.

In what could qualify as a slump only for Annika in 2001, she didn't take another title until August, at the Bank of Montreal Canadian Women's Open. It wasn't that she didn't play well during the stretch. It was more a case of talented players like Webb and Se Ri Pak stepping up their games. In fact, when Pak won the British Open, she temporarily seized first place on the LPGA money list. Annika quickly shot back to the top. Later, in October, the pair hooked up in the final of the Cisco World Ladies Match Play Championship in Asia, and Annika showed her mettle with a 1-up victory. She finished the year with a win in the Mizuno Classic, and a second-place showing in the Tyco/ADT Tour Championship, which was won by Webb. For 2001, Annika recorded eight victories and finished second five times. She earned more than $2 million and was named Player of the Year for the fourth time.

Interestingly, for Annika the defining moment of her season was the last loss to Webb. A late charge in the final round of the November tournament had fallen short, as Webb slammed the door on her. Annika stewed all winter, thinking about other missed opportunities.

Annika served notice in her first tournament of 2002 that she planned on having another big year. At the LPGA Takefuji Classic, Annika fired three rounds under 70, then birdied the first hole of a playoff against Lorie Kane to win the event. A week later Rachel Teske got the best of her in extra holes at the Ping Banner Health, but Annika was thrilled with her game nonetheless.

In late March she defended her title at the Kraft Nabisco Championship, capturing the fourth major of her career. She followed with victories in four of her next eight starts, which helped make her the favorite going into the U.S. Open at Prairie Dunes Country Club in Kansas. Annika hung around near the top of the leader board all weekend long, but Juli Inkster seized the title with an emotional run on Sunday. Though Annika missed the cut at the British Open in July, she rallied for victories in each of the next three weeks. That gave her nine wins for the season and pushed her prize money over the $2 million mark for the second straight year.

Annika became increasingly consumed with reaching Wright's record of 13 victories in one season. With that goal in sight, she added an event in Korea and one in Alabama to her schedule. Entering the second weekend of November, Annika had 11 wins (nine on the LPGA and two overseas). She made it 12 at the Mizuno Classic in Japan, posting a three-round score of 15-under.

To equal Wright, Annika had to take the LPGA's last event of the year, the ADT Championship at the Trump International Golf Club in Florida. Annika methodically shed her pursuers over the first three rounds, and by Sunday Rachel Teske was the last woman standing in her way. Annika held a one-stroke lead as she teed off on 17. When she birdied the 169-yard par-3, the tournament was hers.

Annika closed out 2002 as indisputably the top player in women's golf. For the year, she won more than $2.8 million, set a new record for scoring average (68.70), and secured her spot in the LPGA Hall of Fame.

Of course, the focus in 2003 was on Annika's debut on the PGA tour. In the year's opening months, she entered five LPGA events, and registered five Top-10 finishes, including the 43rd win of her career, at the Office Depot Championship Hosted by Amy Alcott. But her continued strong play took a backseat when she announced she had accepted an invitation from the organizers of the Colonial to play in the annual Fort Worth event, in May at the course known as "Hogan's Alley."

Reaction to Annika's decision was mixed. A handful of PGA players—Vijay Singh most notable among them—spoke out against her, maintaining their tour was reserved for men only. Others were clearly in Annika's corner. Attitudes in the media were also split. The one thing certain was that everyone, including those who didn't know a sand wedge from a sandwich, had an opinion. Annika tried to remove herself from the growing controversy, but it was impossible. For her part, she contended that she wasn't interested in making a statement for women worldwide; rather, she simply wanted to test the limits of her game.

That was probably only part of the truth. In any other sport, Annika's 2002 performance of 13 wins in 25 events would have been heralded as one of the great all-time achievements. But the golf world—and by extension the golf media—greeted her achievement with a kind of ho-hum attitude. That likely spurred Annika on to try her hand at the next level.

Cagey PGA officials had to smile as Annika waved to the huge gallery that greeted her on the first tee at the Colonial. From her first swing, the crowd was squarely behind her. So were her playing partners, Aaron Barber and Dean Wilson. As anonymous as tour pros get—neither has a photo accompanying his profile and career stats at the PGA's own web site—both talked about how honored they were to be part of history. Throughout the first round on Thursday, they engaged in pleasant conversation with Annika, helping calm her jittery nerves.

Once Annika settled down, she put together one of her typical rounds. Hitting fairways off the tee and limiting her mistakes around the green, she shot a 71 (that could easily have been a 67 or 68), and gave herself every opportunity to make the cut on Friday. But the strain of playing in front of massive crowds—not to mention having to be perfect with her woods and long irons—took its toll in the second round. Perhaps pressing to please the thousands of fans following her, Annika never got in gear. Too often, she had to scramble to make par. Whether it was a stray tee shot, a muffed approach or chunky chip, Annika stood over far too many testers on the greens. When she didn't respond with her putter, her score ballooned. A stretch of five bogeys in eight holes led to a 74, and kept her from teeing it up over the weekend.

But not all was lost with Annika's failure to compete past Friday. When ehe parred her final hole, she received the largest ovation of the weekend. After Wilson tapped in for a 67—he ended the second round at 2-under, while Barber finished at plus-6 (one stroke off Annika's pace)—the emotion of the week began to overtake her. For the normally unflappable Swede, it was a touching scene. Minutes later, with her eyes still red from tears, she said the experience was exhilarating, but that it was a one-shot deal. When Annika added that she was in over her head against a PGA field, a collective sigh of relief could be heard from male chauvinists nationwide.

For Annika, it was back to salt mines or, in her case, the gold mines of the LPGA. Her primary goal was to reach 50 tour victories, which she did with strategy and power.

In June of 2003, Annika won the McDonald's LPGA Championship in her return to the women's circuit. She tapped the ball in on the first hole of sudden death to defeat Grace Park and capture her fifth major in ten years. Within weeks, Mercedes-Benz showed its faith in Annika's abilities, extending its marketing deal with her through 2005.

She fired a sizzling third-round 67 in the U.S. Women's Open in July, but lost to relative newcomer Hilary Lunke, who was forced to qualify earlier in the year. Annika settled for fourth place—missing a three-way sudden death playoff by only a shot.

A few weeks later, Annika brought home the crystal trophy in the Women's British Open. She and Se Ri Pak matched each other shot for shot through the final round until the 18th hole. Pak drove it badly off the tee and flubbed her putt for par, allowing Annika to sink an eight-footer for the victory and the career Grand Slam.

In September, Annika showed uncharacteristic emotion—albeit just a sliver of joy—when she helped Europe win the elusive Soldheim Cup in Denmark. To the shock of nearly everyone in attendance, she jumped fully clothed into the Barseback Golf and Country Club pool after the victory. A month later, her joy turned to disappointment and anger, as she learned that she wasn't eligible for a coveted sixth Vare Trophy, presented for the lowest scoring average. Though she was at the top of the list with an average of just over 69, she wouldn't have the requisite 70 rounds by the end of the season to secure the hardware.

Annika continued to sparkle in November, taking her third straight Mizuno Classic in Japan. Her 24-under performance set an LPGA record for a 54-hole tournament. It was her sixth win of the year and garnered her LPGA Player of the Year honors. Accuracy was key for Annika as she consistently stayed in the fairway and didn't record a single three-putt throughout the event.

In a break from the women's tour, she played in two separate skins games, both in competition with men. She earned four skins against Retief Goosen, Jesper Parnevik and a local pro in Singapore. Two weeks Annika made history by becoming the first woman to participate in the The Skins Game. Playing against Fred Couples, Phil Mickelson and Mark O'Meara, Annika finished second and walked away with $225,000. Afterwards, her opponents had nothing but praise for her.

At the end of 2003, Annika added to her growing list of accolades. Voted Associated Press Female Athlete of the Year, she was also inducted into the World Golf Hall of Fame. For the third year in a row and record seventh time in her career, Annika was named Golfer of the Year in Sweden. In addition, her native country presented her with the Jerring prize, one of the most prestigious Swedish sports awards, and honored her with the title of Female Athlete of the Year.

Among Annika's accomplishments for the season were finishing in the top 10 fifteen times, winning six tournaments, leading the LPGA money list and becoming the first woman in 58 years to compete against the men. She also honed her short-game, an improvement she credited to her experience at the Colonial.

Annika's goal heading into 2004 was to achieve what no woman golfer had ever done: win the Grand Slam. She started out the new year with a four-stroke victory over England's Karen Stupple in the ANZ Ladies Masters. The victory marked her third in the Australian tournament. A few weeks later, in her first LPGA event of the season, she cleared the field by two strokes to take the Safeway International in Arizona.

Off the course, Annika padded her bank account by inking an unprecedented agreement with Upper Deck as an official spokesperson for the company. She joined Tiger Woods in this capacity, and became the first female athlete ever signed by the trading card manufacturer.

The number-one female golfer in the world had a goal-altering setback in April. In the first major of the season, the Kraft Nabisco, she tied for 13th. Grace Park bested her in the tournament by eight strokes.

A short time later, Annika carded her treasured 50th LPGA victory in the Office Depot Championship in Tarzana, California. All weekend long, she attacked the course, and her aggressive style paid off. Afterward, tournament volunteers and the media helped her celebrate with cake for everyone. Annika's 51st title came in New York at the Corning Classic, where she crafted a four-under 68 to take home her third victory in six tourney starts.

Weeks later, a little rain—and a little drama—accompanied Annika's first and only major win of the season at the LPGA Championship. After taking a convincing lead after the first round, her second day of play was rained out. She passed the time watching "My Big Fat Greek Wedding" in her hotel room.

Forced to walk 36 holes on Sunday, she shot an over-par round for the second (and final!) time of the season, but still brought home the win. On the 10th hole of the last round, Annika let her six-shot lead slip to two, and then responded in classic fashion. Looking at a 40-footer for birdie on the 12th hole, Annika sank the long putt. She sent her drive at the 16th so far off the fairway that she had to play it down the 11th to get back into position. Still, she was able to pull off a birdie. She finished the tournament at 13-under, three shots ahead of Shi Hyun Ahn.

In July, Annika had near misses in the US Open and Ladies' Masters, finishing two strokes back of Meg Mallon in the former and a shot behind Wendy Doolan in the latter. The Masters loss was an uncharacteristic one, as Annika held a lead going into the final round. Doolan had a miracle front nine and held off a charge by Annika to squeak out the victory.

After finishing in a 13th-place tie at the British Open, Annika closed out the season with four wins in her final six events. She won the Hammons Hotel Classic, Samsung World Championship, Mizuno Classic and the LPGA's final event of '04, the ADT Championship. At the ADT, she defeated Cristie Kerr on the first hole of sudden death after a thrilling duel down the back nine. Annika, playing from one stroke behind, tied Kerr on the 16th hole and just missed a winning birdie putt on 18. Kerr, a very promising young player, was shooting for win number four, but she choked in sudden death, plunking a seven-wood into the water.

It was Annika's eighth tour victory in a year that saw remarkable parity among the golfers chasing her. The victory was the 56th of Annika's career, breaking a tie with Betsy Rawls and putting her just two wins shy of Louise Suggs, who stands fourth on the all-time list.

Annika's goal of playing fewer tournaments—and practicing less—did not affect her performance in the least. She logged a total of 66 rounds, won eight of the 18 LPGA events she entered, finished with a scoring average of 68.7, and also took a pair of non-LPGA tournaments.

After winning the ADT Championship, Sorenstam decided to take some much needed time off. Unfortunately, the break turned out to be tumultuous one. News began to spread that her marriage was on the rocks. Always active in Annika's career, David had quit touring with her in 2004, and in December the couple separated. Two months later she filed for divorce, ending their marriage after eight years.

Annika returned to the course in March for the MasterCard Classic in Mexico City. Appearing unphased by her personal problems, she won by three strokes. Next on her schedule was the Safeway International in Arizona. Annika jumped out to the first-round lead, but stumbled on Saturday and found herself trailing Lorena Ochoa by three strokes with only four holes to play on Sunday. But she got a gift when Ochoa double-bogeyed the 16th, and then took advantage by birdying 18 to force a playoff. Annika calmly parred the first extra hole to capture her 58th career LPGA event.

Looking for her record fifth straight tour victory, Annika teed it up at the Mission Hills Country Club in California for the Kraft Nabisco Championship. She never gave the rest of the field a chance to breath. Annika posted a dazzling 15-under, good for an eight-stroke win. It was her eighth major title, and the third time she took the Kraft Nabisco.

It doesn't look like anything is about to stop Annika. Again, her objective in 2005 is to become the first woman to claim the LPGA grand slam. If her victory at Mission Hills is any indication, she can mark down this date with destiny on her calendar now.

Annika has one other goal in the back of her mind. She has stated publicly that she wants to start a family. Of course, now that her marriage has ended, having kids is something she may have to put on the back burner. This means she will be able to devote all of her time to her game. While that's great news for golf fans, it's the last thing her fellow touring pros want to hear.

ANNIKA THE PLAYER

It's hard to pinpoint Annika's greatest strength on the course. She's a fabulous iron player, and her driving—already good—improved by an astounding 13 yards a swing in 2002. Her mechanics are near perfect, and her tempo and rhythm are superb. This allows her to strike the ball with amazing consistency.

Annika is as mentally tough as anyone in golf, man or woman. She pens reminders and short inspirational notes on the bill of her cap, falling back on them when the pressure of a tournament intensifies. Many have tabbed her as being totally devoid of emotion. In reality, she is often the victim of nerves, but has learned to control those feelings. That's partly because she prepares so meticulously for every tournament she enters. Few things on a golf course ever surprise her.

Annika will say that shots from the deep rough are the most troublesome part of her game. Of course, for whom aren't they a problem? She hits the ball from the tall, thick stuff constantly in practice. Her philosophy is to work on the impossible recovery shot as often—and with the same intensity—as she practices 100-yard wedges from the middle of the fairway. That ethic carries over into her putting, which she has turned into one of the best parts of her game.
View the full website biography of Annika Sorenstam.