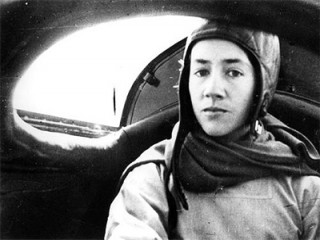 Anne Morrow Lindbergh
Date of birth : 1906-06-22
Date of death : 2001-02-07
Birthplace : Englewood, New Jersey
Nationality : American
Category : Famous Figures
Last modified : 2010-12-07
A talented author and aviator in her own right, Anne Morrow Lindbergh was also known as the wife of the famous flyer Charles A. Lindbergh.
Anne Morrow Lindbergh was born in Englewood, New Jersey, on June 22, 1906, one of the four children of Dwight Whitney and Elizabeth Reeve (Cutter) Morrow. Her father, the future ambassador to Mexico and from 1930 to 1931 the Republican senator from New Jersey, was a lawyer and partner in J.P. Morgan & Company before entering public service. Her mother, an educator and acting president of Smith College in 1939-1940, was also a poet.
A shy, quiet child, from an early age Anne Morrow wrote plays and discovered through writing her own personal connection with the world. In 1924 she entered Smith College, where she majored in English. She graduated with prizes in creative and expository writing in 1928, the same year one of her poems appeared in Scribner's Magazine.
In December 1927, at an official reception at the United States Embassy in Mexico where her father was serving as American ambassador, Anne had met the young aviator and international hero Charles A. Lindbergh. Publicly adulated for his 1927 transatlantic solo flight from New York to Paris in The Spirit of St. Louis, "the Lone Eagle" was considered America's most eligible bachelor. Anne Morrow was thought one of the luckiest women in the country when on May 27, 1929, the two were married in Englewood, New Jersey. Ironically, these two intensely private people were spotlighted in the press for most of their adult lives.
As the wife of the world's most famous aviator, Anne accompanied Charles on many goodwill tours and business trips promoting aviation. She even learned to fly herself, in 1930 becoming the first woman to obtain a glider pilot's license. In 1934, she was awarded the Hubbard Medal of the National Geographic Society, the first woman so honored.
On June 22, 1930, at the age of 24, Anne gave birth to the couple's first child, Charles Augustus Lindbergh, Jr. In March 1932 the young Charles was kidnapped from the family's 400-acre home near Hopewell, New Jersey. The case of the missing "Lindbergh Baby" became the most famous kidnapping in the country's history. The publicity was enormous and the hunt for the child and the abductor intense. When the child's dead body was found in the woods near the small New Jersey town on May 12, approximately two months after the ordeal had begun, the country mourned with the parents. Law enforcement agencies vowed to find the murderer and bring him to justice. In September 1934, Bruno Richard Hauptmann, a carpenter, was arrested as a suspect. He was later tried, convicted, and executed, although subsequent investigation has called that conviction into question.
Fearing for the safety of their second child, Jon Morrow Lindbergh, born on August 16, 1932, and eager to escape the sensationalism and the publicity surrounding the kidnapping and the trial, Anne and her family sailed secretly to England on Dec. 21, 1935, where they rented a cottage in Sevenoaks, Kent.
During this period, Anne re-established the literary career she had put on hold after marriage. In 1934 she published, in National Geographic Magazine, "Flying Around the North Atlantic, " a narrative of one of her expeditions with her husband in search of transatlantic airline routes. Harcourt published her first book, North to the Orient, in 1935; it was an account of their 1931 Arctic-Asian journey. Her work was warmly appreciated by a reading public eager to learn what they could about the hero worshipped around the world and how this famous couple reacted to the tragedy of their murdered child. In the Saturday Review Glendy Culligan wrote, "The letters and diaries achieve both spontaneity and art, thanks in part to her style, in part to a built-in plot and a soul-searching heroine worthy of a Bronte novel."
The years leading up to World War II were spent by the Lindberghs in semi-seclusion on a four-acre islet near Port-Blanc, France. The United States military had enlisted Charles to perform occasional aviation intelligence missions to assess the air strength of the European powers. Lindbergh concluded that Nazi Germany's air power was overwhelmingly superior to that of the other countries and recommended appeasement of Germany's expansion. On a visit to Germany in 1938, Lindbergh was awarded the Service Cross of the Order of the German Eagle by Marshal Hermann Goring.
This decoration and expressions of pro-Nazi feelings made Lindbergh an increasingly unpopular figure in the United States. His advocacy of a strict isolationist policy ran counter to public feeling, and in 1940, after having resettled her family in the United States, Anne published The Wave of the Future. The book was intended to explain Lindbergh's position and to help restore her husband's reputation in the eyes of the American people. During the war, family was a strong pull in Anne's life. Between 1937 and 1945 she gave birth to four more children: Land, Anne, Scott, and Reeve. Her aviator husband died in 1974.
With the end of the war, Anne continued to write, publishing in 1955 Gift from the Sea, a series of autobiographical essays which was on the nonfiction best-seller list for weeks. A book of poems, Unicorn and other Poems, 1935-1955, came out in 1956. A novel, Dearly Beloved: A Theme and Variations, was published in 1962. By the early 1970s she had begun to edit and publish her voluminous letters and diaries. After Bring Me a Unicorn in 1972, she published four more volumes: Hour of Gold, Hour of Lead (1973); Locked Rooms and Open Doors (1974); The Flower and the Nettle (1976); and War Within and Without (1980). Altogether, two thousand pages of Anne's diaries and letters have been published. As one critic has observed, "Anne's works are unified by one theme, or rather one dilemma, namely, that 'eternal struggle' of what 'I must be for Charles and what I must be for myself."'
Anne Morrow Lindbergh's best known works include Gift from the Sea (1955) and Hour of Gold, Hour of Lead: Diaries and Letters of Anne Morrow Lindbergh 1929-1932 (1973). Books commenting on her life include Dorothy Herrmann, Anne Morrow Lindbergh, A Gift for Life (1992); Judy Lomas, Women of the Air (1987); Joyce Milton, Loss of Eden: A Biography of Charles and Anne Morrow Lindbergh (1993); and David Kirk Vaughan, Anne Morrow Lindbergh (1988).
View the full website biography of Anne Morrow Lindbergh.