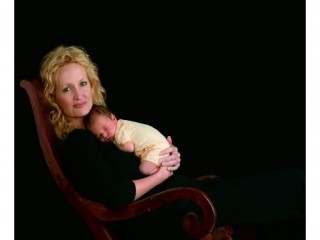 Anne Geddes
Date of birth : 1956-09-13
Date of death : -
Birthplace : Home Hill, Queensland, Australia
Nationality : Australian
Category : Arts and Entertainment
Last modified : 2010-07-27
Anne Geddes, born September 13, 1956 in Home Hill, Queensland, Australia is an Australian-born photographer, clothing designer and businesswoman who now lives and works in New Zealand. She is known for her stylized depictions of babies and motherhood. Typical images show babies or young children dressed as fairies and fairytale creatures, flowers, or small animals. She has described herself as "a baby freak".

The work of Anne Geddes, a photographer known for her engaging pictures of babies, has become phenomenally popular in Australia, New Zealand, the United States, and other parts of the world. Geddes's pictures of chubby babies in various settings, such as gardens, flowerpots, and cabbages have appeared everywhere: in books, calendars, posters, and greeting cards. She and her husband, who is also her business manager, direct three companies established because of her work and are primarily responsible for the rapid growth of Cedco Publishing, a formerly small firm in San Rafael, California.

PERSONAL LIFE

Born in Queensland, Australia in September of 1956, Geddes established herself as an excellent photographer without any formal training in the craft. She had a varied career as a young woman in such fields as fashion, television, and public relations before seriously embarking on a career in photography. She has lived in Hong Kong; Sydney and Melbourne, Australia; and Auckland, New Zealand. Today she lives with her husband Kel and their two daughters in Parnell, a suburb of Auckland.

CAREER

As a young woman, Geddes simply decided she wanted to be a photographer and apprenticed herself to an experienced one. At first working in her native country, especially in Melbourne, she began to develop the distinctive style, which would later make her famous. When her husband's job took him to Hong Kong, she set up her own business and began photographing babies, children, and whole families. She explained in an interview on her own web site that she simply loved babies and children and also wanted to develop a kind of photography that others had not done. She emphasized the importance of creating one's own style, with simplicity, in photographic images. "I never saw pictures I thought were real so I set out to do what I thought was real," said Geddes in a 1996 review.

Working exclusively with babies poses some challenges. In a story about Geddes on the American Booksellers' web site, she indicated that it is easy to use newborns up to four weeks for sleeping pictures; by five months, they are awake too much. Infants six to seven months old sit up, smile, and are cooperative; while older ones tend to crawl or walk away. At any rate, she prefers working with all of her subjects in the mornings to avoid naptimes. She will also include several babies in a photo session. One time she assembled and photographed 123 babies, each nestled in a flowerpot.

After moving to New Zealand in 1986 with her family, Geddes established her first real studio near Auckland. She was good at promoting her work, setting up exhibitions wherever she could. Soon, she became well known for her photographic specialty. Moving away from strictly portraiture, she produced the "Cabbage Kids" calendar, which was associated with the Child Protection Trust in New Zealand, and found a ready market for these charming pictures. By 1991, her husband decided to quit his job as a television program director to run three companies associated with his wife's photography. The Especially Kids Company is related to her studio work; Next Generation Enterprises produces calendars and datebooks; and Kel Geddes Management does marketing and promotion.

Geddes's popularity attracted the attention of a national magazine, significantly increasing her clientele and her name recognition. She was invited to join the New Zealand Institute of Professional Photographers in 1990 (NZIPP), an organization, which presented her with several awards in 1992. Geddes was the first woman to receive an honorary fellowship from NZIPP for her contributions to photography. These included the "Commercial Photographer of the Year" and "Portrait Wedding Photographer of the Year" awards. In 1997, she was asked to give the keynote speech at the convention of the Professional Photographers of America (PPA) in Las Vegas and was awarded a lifetime membership in that organization.

In 1996, Geddes produced Down in the Garden, which quickly became a bestseller. The book is full of humorous gardening advice and pictures of babies in garden settings. Her stylist, Dawn McGowan, created unusual costumes for the babies, portraying them as flowers, caterpillars, butterflies, and the like. One particularly memorable foldout section features baby "earthworms" in a network of underground tunnels. After two and one-half years of work on the project, Geddes promoted the book in a nine-city tour across the United States. Three spin-off books, Down in the Garden Book of Days, Down in the Garden Addresses, and Down in the Garden Birthdays soon followed.

Down in the Garden became the top-selling gift book in the United States in 1996, and by 1999 had sold more than 1.5 million copies. Additional spin-offs have included Down in the Garden Counting Book, Down in the Garden Alphabet Book, and multiple versions of Down in the Garden Journal. Geddes's retrospective collection, Until Now, was the best-selling illustrated book in France in 1998, and received Germany's prestigious Kodak Fotobuchpreis award that year. By 1999, sales of Geddes's books topped 12 million copies worldwide.

Geddes's work has also appeared in a number of well-known magazines, such as Time, People, Life, and PPA Magazine. In addition to her numerous publications, Geddes began focusing on such items as calendars, date books, stationery, gift wrap, and even sleepwear in 1999. Her line of plush toys, based on photographs from Down in the Garden, features soft baby dolls dressed as bees, butterflies, flowers, bears, squirrels, ladybugs, and bunnies.

Social and Economic Impact

Since 1996, Cedco Publishing Company, a once rather small firm in California, has substantially grown, largely because it has Geddes as a client. The company reported a 250 percent sales increase between fiscal 1996 and fiscal 1997. Geddes's first full-length book, Down in the Garden, was the top-selling gift book in the United States in 1996, remaining on the bestseller list for more than a year. Geddes appeared on the Oprah Winfrey show and several other nationally broadcast talk shows to promote the book. By 1998 it was in its 11th printing, and it has been translated into eight languages. By 1999, the book had sold more than 1.5 million copies worldwide. Another bestseller for Cedco and Geddes was Until Now, a 10-year retrospective of Geddes's work. The book was the number one illustrated book in France in 1998, and reached #15 on the London Sunday Times bestseller list. Such spectacular sales have enhanced the Geddes product line and literally turned Cedco around. According to an article in Publishers Weekly, Paul Kelly, publisher and CEO, asserted that the company, previously known mostly for its calendar collection, expects to become a premium gift illustration book company. In 1998, Cedco employed over 50 people.

The popularity of Geddes's images has had an impact on the greeting card industry as well. Gibson Greetings, based in Cincinnati, Ohio, has entered a licensing and distribution deal with Geddes and others to distribute cards it sees as relationship-based.

Geddes has contributed to a variety of charities, especially those involving prevention of child abuse. She was involved in forming the Child Protection Trust in New Zealand, has worked with anti-child abuse causes in Australia, Britain and the United States, and donates $.75 from each calendar sold to the KEMPE Foundation in Colorado.

Geddes and her husband have established the Geddes Philanthropic Trust, which works with several organizations worldwide, particularly in the prevention of child abuse and neglect. The Trust has awarded grants to such organizations as the Henry Kemps National Center for Child Abuse and Neglect, Childhelp USA, Garden of Angels, Inc., the national Association for the Prevention of Child Abuse and Neglect, and Doctors for Sexual Abuse Care. In addition, Geddes sometimes makes her images available for organizations to use in their work. As she has repeatedly said "I feel that when you are successful you have a responsibility to give back."

CHRONOLOGY

* 1956: Born.
* 1986: Moved to New Zealand.
* 1990: Accepted into New Zealand Institute of Professional Photographers. (NZIPP).
* 1991: Founded Next Generation Enterprises Ltd.
* 1992: Achieved "Master of Photography" designation from NZIPP
* 1993: Won six gold and five silver merits at AGFA/NZIPP competition.
* 1996: Down in the Garden became top seller among giftbooks.
* 1997: Awarded honorary fellowship for services to photography in New Zealand by NZIPP.
* 1997: Awarded lifetime membership in the Professional Photographers of America.
* 1997: Cedco Publishing reported 250 percent increase in sales since 1996 because of Geddes's work.
* 1998: Awarded Kodak Fotobuchpreis; Until Now became top-selling illustrated book in France.
* 1999: Sales of Down in the Garden topped 1.5 million copies .
View the full website biography of Anne Geddes.