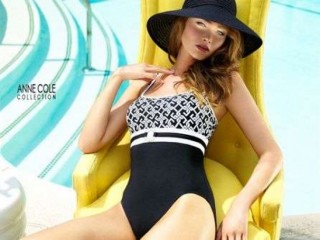 Anne Cole
Date of birth : -
Date of death : -
Birthplace : California, U.S.
Nationality : American
Category : Arts and Entertainment
Last modified : 2011-08-31
Anne Cole is the actual woman behind the California swimwear label that bears her name. Launched as an offshoot of her family's pioneering swimsuit company, Cole's label has won scores of devoted female customers for its classically cut designs in fashion-forward hues. In the late 1990s, her company introduced what was soon hailed as the first major innovation in women's swimsuit design in several decades: the tankini. Cole's clever two-piece, which blended the freedom of a bikini with the more modest coverage of a one-piece bathing suit, quickly captured nearly a third of all swimsuit sales.

Cole (born 1930) was one of four children in her family, and born just a few years after her father, Frederick, retired from his acting career. He had appeared in mid-1920s silent films such as The Dangerous Blonde and Daring Days , but Cole's mother was reportedly uneasy with the lack of steady income, and persuaded him to take a job instead with the clothing company his family owned. West Coast Knitting Mills was a Los Angeles apparel manufacturer whose best-known product was the drop-seat longjohn. Once Cole's father joined the company, he saw that its mills could be used to make swimsuits, too. The line proved such a success that by 1941 the company had changed its name to Cole of California and devoted itself entirely to swimwear.

Cole was a young model for the children's line her father's company launched. She grew up on a street in Beverly Hills that was also home to Lucille Ball and Jack Benny, two major entertainment-industry figures of the era. After graduating from Beverly Hills High School, she entered the University of California at Los Angeles but transferred to a Roman Catholic school, Holy Names College, in the San Francisco Bay area. She briefly considered pursuing a career in film, but as she told Michael Marlow in a WWD interview years later, "I wasn't a great actress because I was too self-conscious," Cole recalled. "I loved to laugh and tell jokes, but I couldn't memorize anything."

Cole formally joined her father's company in the early 1950s, and was sent to open its New York City office, because her father disliked the frenetic pace of the city and had previously confined his East-Coast business meetings to Boston. She worked in various positions in the company's sales, marketing, and merchandising divisions over the next three decades. In 1955, she scored a major coup for Cole of California when she persuaded Christian Dior, the French designer, to create a swimwear collection for the company. It would be Dior's only venture into swimwear.
When Cole's father sold the company to the conglomerate Kayser-Roth in 1960, she remained on board. A few years later, the company scored another publicity coup with the Scandal Suit, a one-piece made largely of black mesh fabric. It received an immense amount of press coverage, and the television-listings weekly, TV Guide , even provided air times for the commercials. A decade later, the company received another boost of publicity when evening-wear designer Bob Mackie designed a line for the label; Mackie was best known for the revealing gowns he designed for pop singer Cher for the weekly television variety show she co-hosted with her husband in the 1970s.

Both the Scandal Suit and the Mackie line, however, were symptomatic of the challenges Cole faced inside the company. She was the rare woman among management ranks, and even the design teams were largely male. "And their idea of a sexy woman," she explained to Los Angeles Business Journal writer Deborah Belgum, "was someone who wore a suit that was plunged to the navel and everything hangs out…. But women know they are sexy. They don't have to wear a bathing suit that says, 'I am sexy.' Woman should wear the swimsuit. The swimsuit shouldn't wear them and take over."

Cole began to consider venturing out on her own as a swimwear designer. "Most of my life I loved working for my father because it really meant something," she explained in the WWD interview with Marlow. "Then as I got older, I realized that I was going to be dead and gone without ever having done something on my own. Now that got to me." In 1982, she launched her own line, Anne Cole, within the main Cole of California business. Her initial efforts, she told WWD 's Marlow, were aimed at closing a gap in the swimwear market she had discovered. "I wanted to design a swimsuit that had the kind of Calvin Klein tailored-clothes look," she recalled. "I was aiming at the woman who wanted to wear to the beach the same kind of tailored but tasteful and sexy clothes."

Cole scored what would be her biggest hit in 1998 when her label introduced the tankini. A two-piece suit with a top half that covered more of a woman's torso than a standard bikini top, the suit was an instant hit with customers, and was quickly copied by scores of other swimwear manufacturers. Cole's original target customer was a younger, athletic woman, but when she took it to some stores in the Midwest to preview the coming resort collection for a few select customers, she was surprised to discover "all these women in their 40s and their 30s and those who hadn't worn bikinis for a long time were squealing in the dressing room. 'Ooh, look at me. I'm in a two-piece suit' They were taking in a rebirth of their youth," she recounted in the interview with Belgum for the Los Angeles Business Journal . The popularity of the tankini encapsulated Cole's perceptive knack for tapping into women's anxieties about swimwear, and her design philosophy revealed itself in an oft-repeated mantra. "There is no such thing as a bad figure," Belgum quoted her as saying. "There are just bad swimsuits."

Still active in her company though she is in her seventies, Cole even began making in-store appearances for the first time in 2003. Asked by WWD 's Rosemary Feitelberg about her favorite swimwear-scouting spot, she cited a French Riviera haunt called Club 55 as "the chicest beach I've ever been to," she said. "I once saw a woman in a gunmetal gray maillot. I've never forgotten that suit. I love the idea of using fall colors. Maybe they'll finally let me do it."

View the full website biography of Anne Cole.